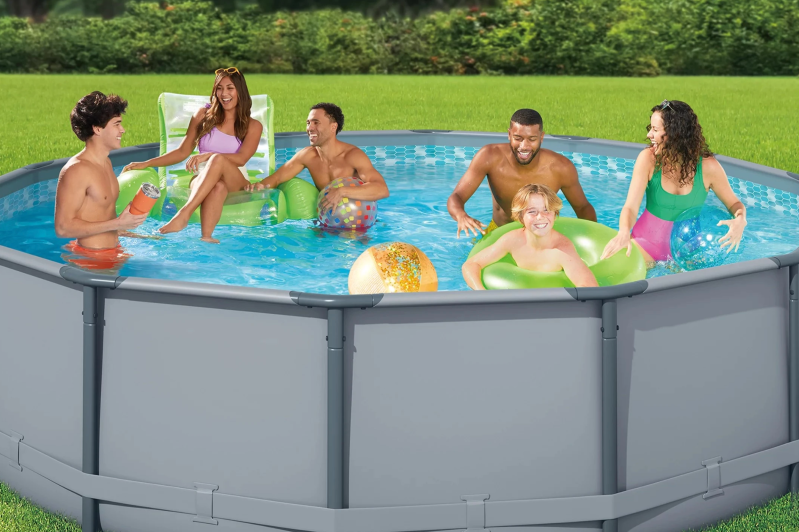 It's already looking like this summer is going to break the record books all across the country with high temperatures. Texas right now is an oven, with many areas preheating or soon to be close to the same temps. So, if you want to stay cool this summer, you're going to need a little help from something like, say, an above ground pool or any one of the other pool types. Walmart is currently offering the Funsicle 14-foot Oasis Round Above Ground Pool with a SkimmerPlus Pump to keep the water clear and clean at an incredible discount. Normally $358, it's yours for just $298, saving you $60. The pump alone is worth that much. Grab it while it lasts!
Why you should buy the Funsicle 14-foot Oasis Round Above Ground Pool
With your very own pool in your backyard, or front yard if you decide to put it there, it's a great opportunity to test the debate — should guys wear a Speedo or not? Other than your choice of bathing suit, however, this pool is one of the more convenient solutions, because it comes with virtually everything you need. For starters, the inflated size is about 14 feet by 42 inches (deep) which is enough for quite a few people to swim and move around freely. The oval metal frame tubing gives better support than traditional PVC, plus it comes with a ladder, so you don't have to hop over the sides every time you want to get in.
But most importantly, it includes the SFX1000 SkimmerPlus Filter Pump that cleans and filters the pool water to keep out algae and other nasties — that allows you to leave the pool water in without draining and filling every time you want to use it. Unlike kiddie pools, you can add some chemicals, and the pool will remain clean and ready to use even after a few weeks. That's going to save you a lot of money on your water bill too.
The SmartConnect design means it's super easy to put together as all of the pieces are meant to "click in" to each other. With a durable puncture-resistant liner — made of 3-layer polyester mesh — you don't have to worry about leaks or major disasters. It comes with a repair patch kit, just in case.
You can grab this pool, have it set up and filled, and get ready to enjoy a cooler, more relaxing summer — and the design means you can jump in any time thanks to the pump. Your family will love it, and it's on sale for $60 off at Walmart. That drops the price from $358 to $298, which is an excellent deal because the pump is included. The only thing you'll have to buy is some chlorine and chemicals to keep the water clean, besides the water needed to fill the pool up. Hurry, this deal isn't going to last all summer, and without the pool, you might not either.
Editors' Recommendations