Perhaps one of the most important pickups for a pickleball player is the pickleball paddle. If you play casually, you can often just go to courts (or even rent a pickleball court) and borrow a ball or two from the group you end up meeting to play with. That method typically saves you from needing a ball, as well. But you must have a paddle and community rentals are likely to be beat up. As a result, you'll want your own paddle. And, if you're going to bother getting a paddle, you might as well get one of the best pickleball paddles out there.
The best pickleball paddles you can buy
While we recommend an overall best pickleball paddle, we also talked with regular people and watched pickleball expert interviews to assess quality pickleball paddles for each skill level. We also took the time to assess what paddles are right for different skill and play types so you can spin and lob your way to victory. Plus, we found a perfect pickleball paddle for the budget-conscious player.
Best overall pickleball paddle — Selkirk AMPED Epic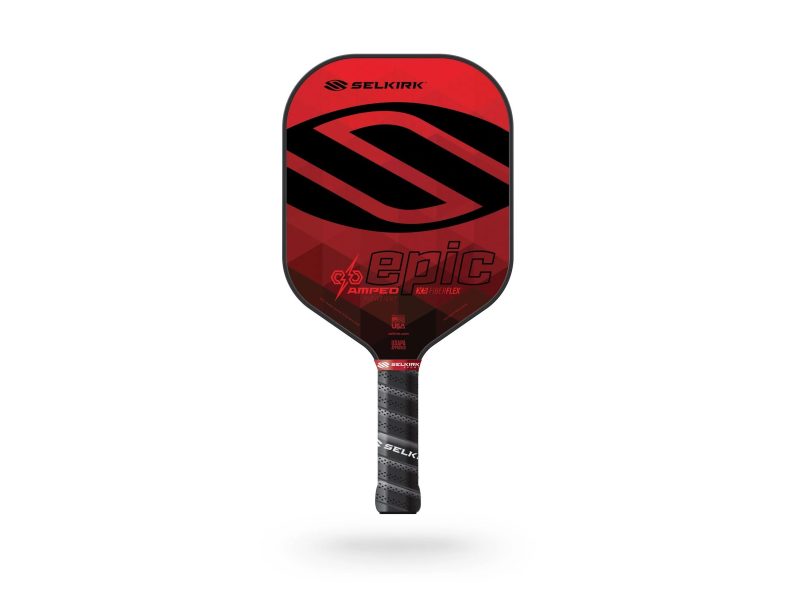 Why we chose this paddle: This is the best pickleball paddle for average people wanting a premium experience in their everyday games.
Width: 8 inches
Length: 15.75 inches
Grip: 5.25 inches long, 4.25 inches in circumference
Style: Balanced
Pros:
The right price for most people
A balanced experience
Premium materials and construction
Large (but USAPA legal) sweet spot
Cons:
A lot of the paddles on this list will, by definition, target certain niches of players. They do certain things astoundingly well, often at the expense of others. Selkirk's AMPED Epic takes the opposite approach and leans into doing everything well without over-tuning to any one play style. No matter what type of player you are, this paddle should suit you to some degree, especially if you're playing with more casual paddles. The AMPED Epic is also more affordable than other premium paddles, making it a perfect pickup for the vast majority of players who just want to improve the quality of their "for fun" games without overthinking.
The Selkirk AMPED Epic has a wide, flat end, long non-tapered body, and standard-sized handle. This gives you the maximum sweet spot without tipping over tournament paddle size guidelines or cramping your hand into a small handle. Selkirk purposefully tuned down the spin and power on this paddle from their more specialized paddles, allowing you to play as you naturally do, experiment with the game, and grow into your own style, not the paddle's. You'll also enjoy the comfortable grip covering and vibration dampening of the paddle, allowing you to play for lengthier periods without having as achey of hands afterwards.
Best for beginners — Onix V4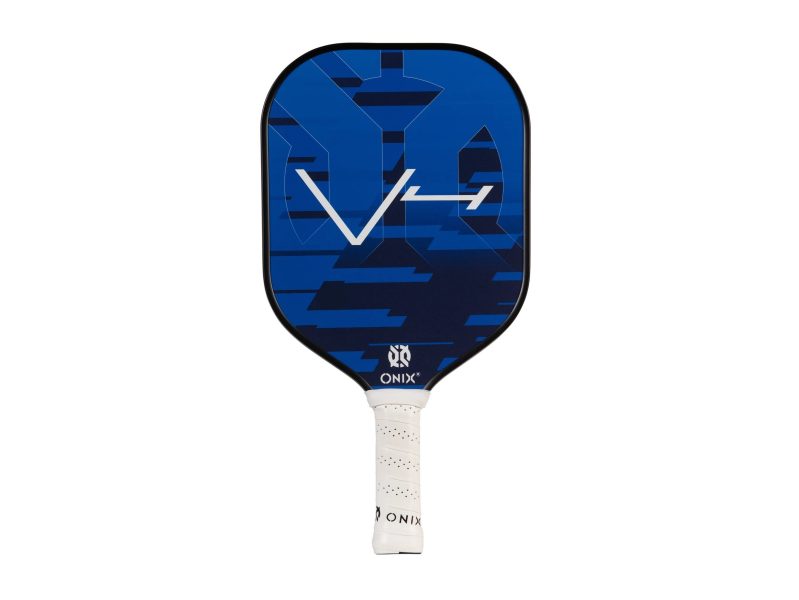 Why we chose this paddle: A slightly oversized frame and strong edge guard will gently ease you into the game.
Width: "Oversized"
Length: "Oversized"
Grip: Tennis style
Style: Beginner-friendly
Pros:
Helps beginners get longer volleys
Large sweet spot
High durability
Cons:
Won't be great for spin practice
Not for tournaments
When you're still learning how to play pickleball, getting a feel for the movements, and getting a handle on how hard to hit the ball, you need about any advantage you can get. Onix's V4 provides that advantage in multiple ways. Primarily, it is a bit oversized, which makes connecting with flying balls easier. This is offset a bit due to its edge guard (you're also more likely to hit the ground with your paddle in your early days) but the effect is still there and totally noticeable. You're not about to enter the professional leagues as a beginner, so why not take a paddle that can statistically help you get in a longer volley and some extra exercise per game?
You'll also enjoy the Onix V4's polypropylene honeycomb core, which gives a balanced hit and lightweight feel to the paddle. The tennis racket shape and style of the handle will, similarly, ease you into playing your best.
Best for intermediate players — Selkirk Vanguard 2.0 Invikta
Why we chose this paddle: Designed to increase consistency with unrestrained play.
Width: 7.375 inches
Length: 16.5 inches
Grip: 5.25 inches long, 4.25 inches in circumference
Style: Elongated
Pros:
Tuned to aggressive play
Long, comfortable handle
USAPA tournament legal
Cons:
Expensive for intermediates
By the time you reach an intermediate level at pickleball, you should feel confident hitting the ball but aren't necessarily a master of aiming. Overconfidence, even, can become a problem, with hits that are too hard for your own good coming out of you from nowhere. The Selkirk Vanguard 2.0 Invikta is designed, at least to some degree, to counter this kind of play's downfalls. While the paddle cannot prevent you from striking a misaligned shot from time to time, it is designed around giving consistent control for more aggressive play. In short, it is one of the best pickleball paddles for intermediate players' common faults.
Likewise, the Invikta's handle has a long grip and, though the paddle is customizable, comes with a wrapped VANGUARD Geo Grip surface. The paddle's sweet spot is covered with a proprietary bi-directional cross-weave of carbon fibers, which provide the aforementioned consistency across the entire surface of the paddle. It still uses an edge guard, though it is notably low-profile, reducing the chances you bump hard plastic instead of paddle. Unfortunately, the materials and design that make these things so great can also be somewhat costly, making this paddle best for the rising intermediate.
Best for advanced players — JOOLA Ben Johns Perseus CFS 16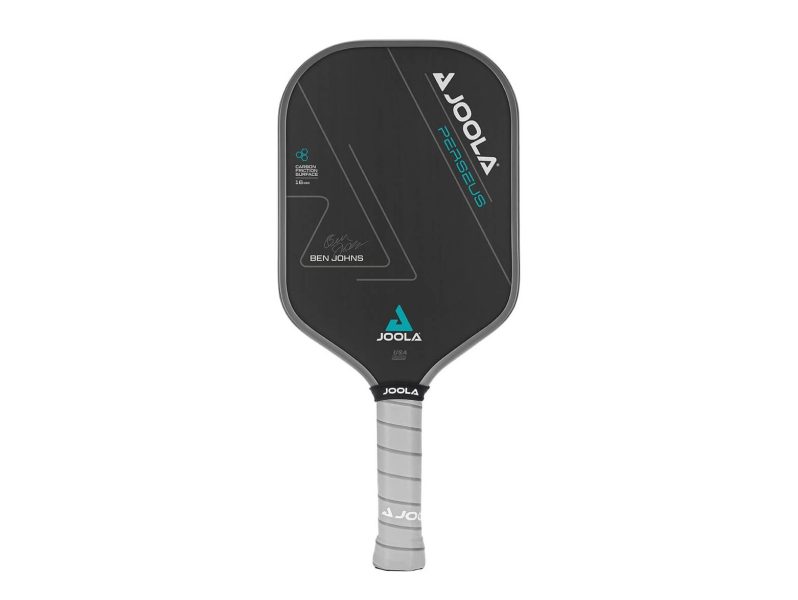 Why we chose this paddle: Because if you want to play like a pro, you should use a pro's paddle.
Width: 7.5 inches
Length: 16.5 inches
Grip: 5.5 inches long, 4.25 inches in circumference
Style: Balanced
Pros:
Made with direct feedback from top pro
Rounded corners, flat top
Uses a "tacky" Feel-Tec grip
Grippy surface for reliable spin
Cons:
Very expensive
Similar enough to Hyperion, if you have it
Ben Johns is one of the top professionals in the game of pickleball. As a result, his feelings and thoughts on the game matter not only to us but also to paddle makers. This is Ben John's 2023 pickleball paddle, which has slight tweaks and modifications from the Hyperion (our pick, below, for introducing curve to your game). In an interview about the Perseus, Ben Johns admits the two paddles are similar, but states that small changes make big differences on the pickleball court. The critical innovation is the broad, flat top and rounded corners, which he finds to be best in full extension and difficult points of the game.
If this paddle is for you, however, depends a lot on your playstyle. For standard, solid hits, you won't notice much of a difference from other premium paddles. Even Ben Johns quickly admits this. Where the Perseus shines are those moments where you just barely manage to make contact with the ball or are using it to get out of a tough spot. Ben Johns finds the paddle good for advanced techniques like "purposeful mishits" as well. If you're at this advanced stage, check this paddle out, it's one of the best pickleball paddles being made. Otherwise, this is an expensive paddle and you're likely able to find a good enough paddle for your level at a considerably lower price point.
Best for control pickleball — CRBN² (Square Paddle)
Why we chose this paddle: One of the founding CRBN paddles and master of their Control Series.
Width: 8 inches
Length: 15.75 inches
Grip: 4.75 inches long, 4.25 inches in circumference
Style: Square
Pros:
Maximized legal sweet spot
Premium materials
Cons:
The CRBN² is, in many ways, a niche paddle. While it is common to see elongated paddles, the type that trade width for length, you don't often see the reverse. The CRBN² trades in extra paddle length and gives itself a wider berth of 8 inches. When you're playing the control game, and need more of a chance to hit the ball where you stand rather than at the edges of your periphery, then this is the paddle for you. The makers also suggest it for anyone who likes standing up close to the net for these exact same reasons.
Additionally, the paddle is — as you might guess from the company name "CRBN Pickleball" — made with a carbon fiber face. CRBN Pickleball uses a special T700 carbon fiber for their 'Control' line of pickleball paddles, like the CRBN², which they initially developed for their own play back in 2020. This material, which looks sleek, has a great capacity for spin and control and encourages a lot of paddle-to-ball contact time.
Best for spin — JOOLA Ben Johns Hyperion CFS 16
Why we chose this paddle: Completely tuned to spin, this professional-endorsed paddle will help you bend it like Ben.
Width: 7.5 inches
Length: 16.5 inches
Grip: 5.5 inches long, 4.25 inches in circumference
Style: Elongated
Pros:
Designed by a pro for quality spin in real play situations
Carbon Friction Surface (CFS) technology on face
Firm, ridge grip
Cons:
Not the latest Ben Johns paddle
New 2023 spin rules
While new USAPA rules for 2023 forbid purposefully spinning the ball on the serve, spin is still a critical part of how the game is played. From a backspin that bounces like a dud to wild curves that arc the ball away from your opponent, control of the spin of the ball puts you in control of the game. For the most part, this spin is impacted on the ball by friction on the paddle, which the Ben Johns Hyperion racket does well via its Carbon Friction Surface (CFS) material. Another factor is the firmness with which the paddle connects to the ball. A paddle that wiggles upon contact is not a paddle that will impact maximum spin. This is why we think you'll like the Ben Johns Hyperion's 5.5-inch grip, which has ridges winding up it in such a way that you can really sink your fingers into them.
As mentioned when we discussed the Ben Johns Perseus, this is not the newest Ben Johns paddle. Things have changed and Ben Johns has had more time to refine the formula. But it is cheaper than the Perseus and will be highly suitable for advanced players and those aiming to gain the most spin from every hit, alike.
Best affordable — Brooklyn Pickleball Co. Paddle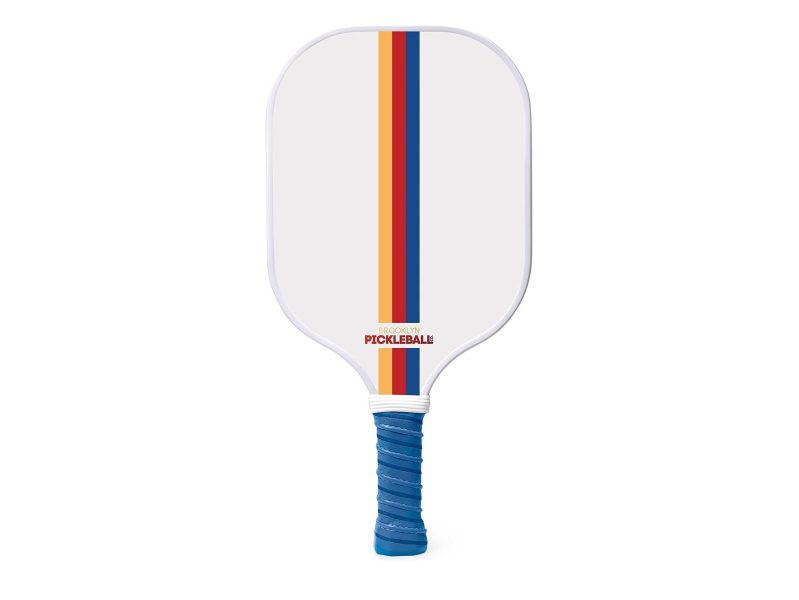 Why we chose this paddle: Here's a customer favorite for under $50.
Width: 7.9 inches
Length: 15.9 inches
Grip: 5.4 inches long, 4.1 inches in circumference
Style: Balanced
Pros:
Incredibly affordable
Lightweight design
Provides quality despite price
Cons:
Slick face
Not USAPA legal
If you want the best cheap pickleball paddle and are more interested in getting volleys in than going into the intricacies of the curve, this is the paddle for you. The Brooklyn Pickleball Co. Paddle, which comes in one of four color variations, is a paddle that feels premium despite budget pricing. Even if it lacks the advanced surface tech, it steps more towards the design and sensibilities of pro paddles than other budget paddles. For example, the handle has a meaty ridge grip and it uses the same polypropylene honeycomb core that the pro paddles use.
It's not all roses, though. Those who have experience with more premium paddles will quickly notice the slickness of the surface compared to the pro paddles they're used to. Additionally, there is no indication that this paddle is legal for tournament games. But, once again, so what? Get a budget pickleball paddle and go play if that's what you want! This is a paddle at the right price that the majority of customers end up enjoying, even if it is merely their first paddle on the way to pickleball success.
How to pick the best pickleball paddle for you
Picking a paddleball paddle requires a combination of knowing the latest USA Pickleball Guidelines and knowing your playstyle. Picking a paddle with a surface that matches your spin preference (friction and connection time increase spin) is generally explained by paddle manufacturers clearly, and varies from paddle to paddle. What we do find is that some simple concepts are ironically somewhat harder to understand or have hidden depths.
Length and width
The length and widths of pickleball paddles are regulated in tournament play. When added together they must equal less than 24 inches. If you're a beginner, feel free to somewhat disregard this, as you probably aren't headed off for the brackets anytime soon and, in fact, we recommend getting a slightly oversized paddle. It'll increase your time spent playing (and getting valuable exercise in) the sport.
The resulting calculations you must make are not unlike that of an engineer looking at surface-to-volume ratio. Getting a balanced paddle style is probably better for an all-rounded, but you can sacrifice pickleball paddle surface area to gain more reach, too, in extended paddle styles.
Grip
Grips come in a variety of sizes and styles, with ridges being one of the most distinguishing features you can be expected to find. Ridges will more or less force your hand's position on the paddle, but reduce wiggle and vibration after connection with the ball is made, increasing power, spin, and accuracy.
You'll also want to strongly consider the length of the grip. If your grip is too long it will eat into the length of your pickleball paddle surface, reducing total sweet spot area. On the other hand, if you have a grip that is too short for your hand your play and hits will be unstable. Most players prefer having a bit of wiggle room with their grip and we usually see handles 5.25 inches or longer.
Weight
Between thinking about the technical details, the regulatory size requirements, and other factors that make up a quality pickleball paddle, we admit that weight — no pickleball paddles are what you would call heavy — almost didn't make the important factors list. That all changed after a conversation with an amateur enthusiast who, without reflection, offered "You want something lightweight!" as her critical pickleball paddle picking advice.
While our amateur enthusiast did admit that men might like something a bit heavier, the key factor in pickleball playing for most players will be finesse, not power. If you don't watch it, you can overshoot the field altogether. Pickleball, and especially amateur pickleball, is a sport of getting the body moving. As a beginner, picking a lightweight paddle can help you move your hands more freely and keep wrist tension low. Experiment with heavier paddles as you advance in skill to see if they are for you.
The best pickleball paddles — FAQ
Still have questions? We still have answers. Here are your most pressing questions about the best pickleball paddles:
Is there really a difference between pickleball paddles?
Most pickleball paddles look the same from a distance but there really is a big difference between them all. Even within official regulatory rules, some paddles are going to be longer or shorter, heavier or lighter, and so on. Small differences tend to add up over time in a sport with as many hits and scores as pickleball.
Do you want a 16mm or 13mm pickleball paddle?
The choice of thicknesses for pickleball paddles, most typically somewhere between 16mm and 13mm, is largely about power and control. Paradoxically, we find that thinner paddles provide more power to the ball while thicker balls allow for more intensive control.
What is the best pickleball paddle for shoulder pain?
It may sound dismissive, but the best pickleball paddle for shoulder pain is one that you can use comfortably. Using an elongated paddle will extend your reach, reducing your tendency to jerk your arm outward, but only by so much. Instead, the best way to avoid pickleball injuries to your upper body is by increasing the quality and intensity of your footwork.