Sleeping in the woods is dreamy but if you don't have the right camping gear, it can also be hard to get a good night's rest. Sleeping bags and pads may be great for some occasions but generally speaking, they keep you close to the ground and soak up heaps of precious heat which denies you the ability to cool off. To top it off, they're often in close contact with bugs or dirt while providing minimal protection from sharp, pointy rocks that always seem to find the perfect way to dig into your back.
This is exactly why a proper sleeping cot can be a windfall while roughing it, thanks to its ability to elevate you off the ground, keeping the air circulating underneath you and dramatically cooling you off. Conversely, if you're winter camping — or even in the desert on a chilly summer night — sleeping above ground helps keep you significantly warmer. Since you're not making contact with the cold ground, you retain body heat much better and, as a bonus, the best camping cots even offer extra storage in your camping tent as gear can be stored beneath them.
At A Glance:
Therma-Rest Ultralite Cot

— $220

Teton Sports Somnia Ultralight Camp Cot

— $110

Chinook Padded Outfitter Cot

— $220

Helinox Cot Lightweight

— $300

Disc-O-Bed L Cot

— $398
Therma-Rest Ultralite Cot
Typically, sleeping cots and backpacking trips are mutually exclusive terms. However, Therma-rest attempted to prove this theory wrong with its backcountry-ready Ultralite Cot. As the name suggests, the sleeping cot is exceptionally lightweight, clocking in at just 2 pounds — easily the lightest option on the market.
It also packs down more compactly than any of its competitors, taking up just 16 by 4 inches of space. With aluminum poles, nylon feet, and a durable ripstop polyester top fabric, the cot is sturdy and stable, even at its smaller weight. It sets up in about three minutes and features ThermaCapture technology to retain your body heat on colder nights.
Cabela's Zonz Woodlands Camo Camp Cot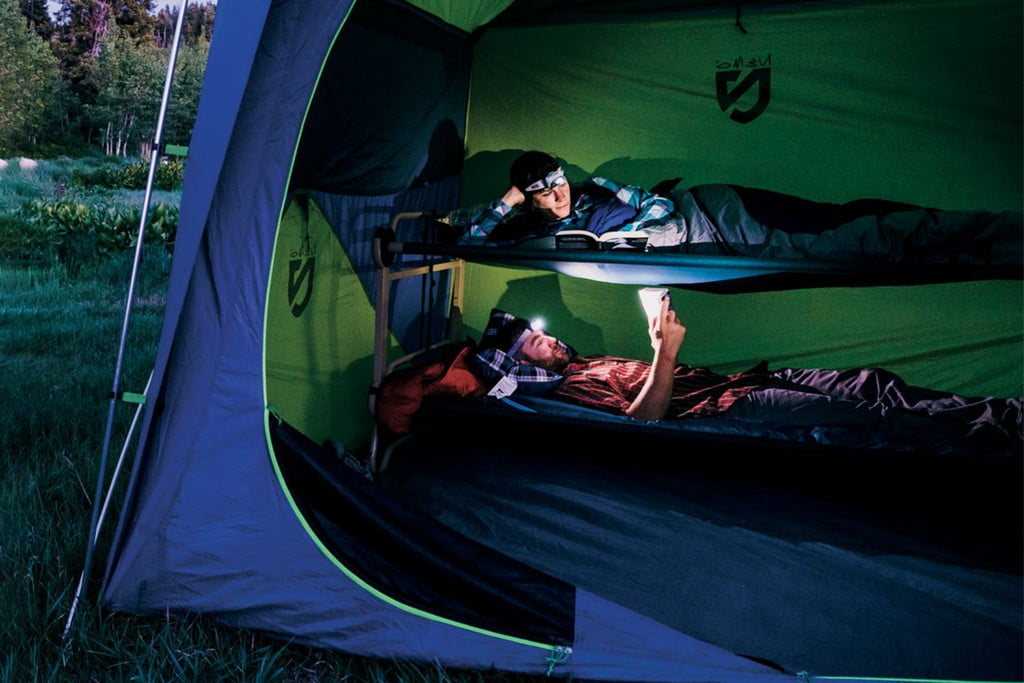 This awesome, bunk bed sleeping cot is an elevated two single beds built for saving space when camping with a larger group or family. Built with thick 600-denier PVC-backed oxford nylon, the cot is rugged and durable while also easy to collapse and pack in your travels. This compact folding bed is easy to set up. And the sturdy steel frame has metal-reinforced end bars and sleeps up to 500 pounds.
Teton Sports Somnia Ultralight Camp Cot
This sleeping cot is just over 6 feet long and about 2.3 feet wide, making it a great medium-sized sleeping option. It showcases a hook and loop attachment system combined with leg knobs which make it sturdy and free of wobble. The traditional X-frame design keeps it simple to set up and vertical aluminum supports reinforce the bed, allowing it to hold up to 275 pounds of weight. If you drive a truck, the inset legs are engineered to perfectly fit over a truck bed's wheel well, freeing up space for other camping gear.
Chinook Padded Outfitter Cot
Chinook's Padded Outfitter Cot is made for people who hate setting up camp in the woods. Be it tents, sun canopies, kitchen stoves, etc. — it's all a hassle, we get it. This spectacularly easy choice saves you the trouble, setting up in roughly 10 seconds by simply unfolding like a lawn chair. There are no poles to thread through fabric, no frames to snap together — it's all preassembled for you.
Aside from its easy setup, the padding is some of the thickest on the market with a giant sleeping surface and built-in pillow. It also features a strong welded aluminum frame that allows you to adjust the height to your personal preference. The tradeoff, of course, is that it's bulkier than other cots, resembling a folding chair more than a rolled-up bag.
Helinox Cot Lightweight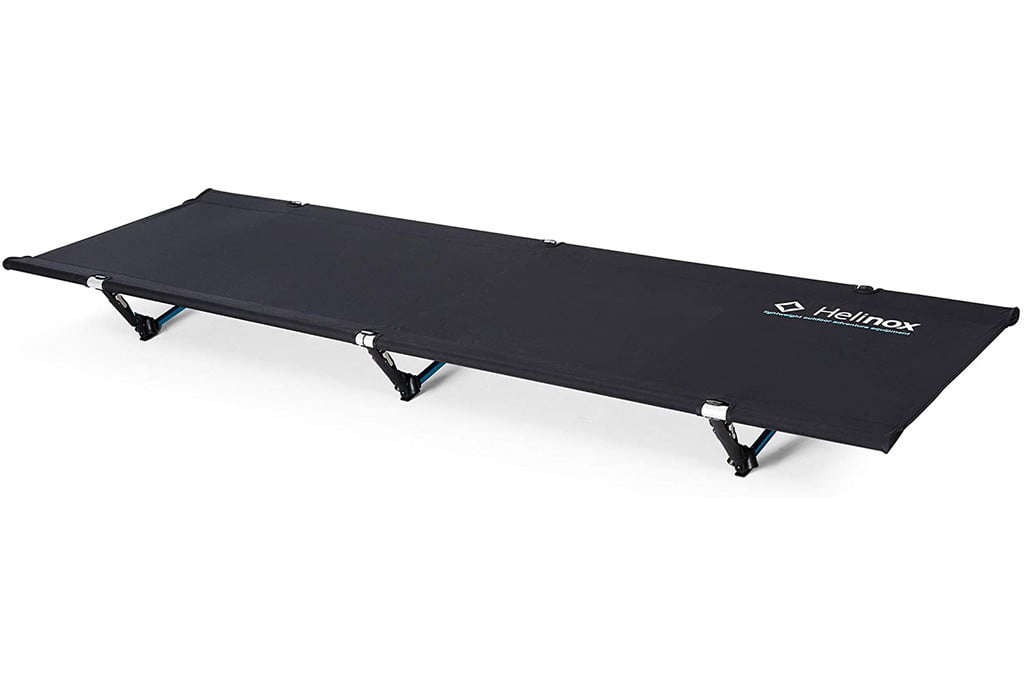 At a whisper-light 6 pounds, Big Agnes's Cot Lite is another ultra-lightweight sleeping option for backcountry adventurers. Forgoing steel frames in favor of premium Helinox alloy tubing, this folding cot uses a barely-there, minimalist design that hovers just 7 inches over the ground, reducing any extra bulk. Yet even with the simple, no-frills design, the poles are strong and sturdy, offering a weight capacity up to 320 pounds. It's quick to set up and packs into a slick, tube-shaped storage bag that's only 23 inches long.
Disc-O-Bed L Cot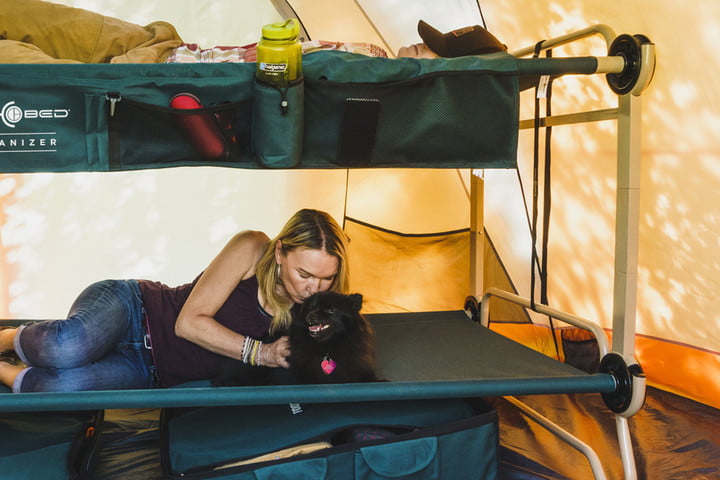 Whether you have kids, limited tent space, or just think bunk beds are cool, the Disc-O-Bed L Cot offers a fun, efficient way to sleep in the woods. The 60-pound, stackable double sleeping cot is exceptionally durable, withstanding 500 pounds of weight per single cot. Each unit is three feet wide and almost seven feet long, so you definitely won't have to worry about being too big to fit.
Kids may love this cot but it wasn't exactly built with them in mind. The bed is made of 600-denier, PVC-coated polyester fabric and a tough-as-hell, rust-free steel frame. It's loaded with storage spaces to stuff personal items and the unit can also be converted into two side-by-side single beds for those trips where no one can decide on who gets the top bunk.
Are camping cots comfortable?
When shopping for a sleeping cot, there are several things to keep in mind. First is weight: Do you plan on carrying your sleeping gear long distances? If so, you'll want a lightweight option that's not only easy to pack but compact enough that it doesn't take up valuable space in your car. Additionally, purchasing a cot that's easy to assemble and take down is important and improves anyone's overall camping experience.
The next is comfort — even with a sleeping pad below you, stiff padding or rough fabric doesn't always equal quality sleep. The more comfortable your sleep system, the better your night's rest. Plain and simple. Finally, don't forget to factor in how small or big you are. You want to make sure the cot fits your body type properly and that your legs aren't hanging off the end. To help, we've gathered a list of the best camping cots designed to make roughing it a little less rough.
Editors' Recommendations