Coffee. It's the fuel that drives us to perform at our best at work, school, and other essential activities in life. When it comes to camping, though, most people don't think about bringing their favorite cup of joe with them, but here's the good news: You can!
We're sharing our favorite camp coffee makers and coffee mugs so you can brew a delicious cup of fresh, hot coffee whenever the heck you want. Whether you're camping in the wilderness or hiking to the top of a mountain, know that you can certainly utilize one of our recommended coffee products below to get that much-needed energy boost.
Our Best Camp Coffee Makers
Wacaco Nanopresso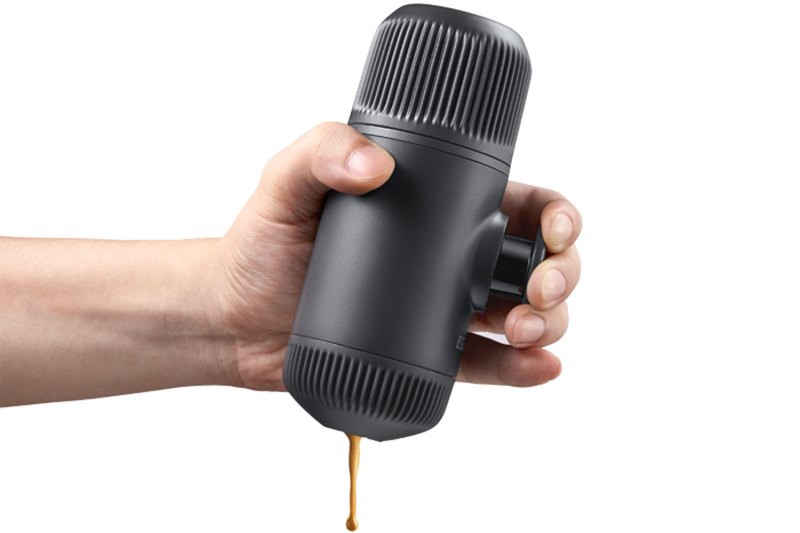 Craving a cup of espresso for a jolt of caffeine? The Wacaco Nanopresso will be your go-to, hand-held espresso machine. Its small size and lightweight feel make it easy to pack and carry, and it presses a shot at 18 bars or 261 PSI. To use, just fill the cup with fine coffee grounds, then tap it with some force to remove excess grounds. Wait a few moments, and you'll be treated to high-quality espresso and dense crema, which comes out at the bottom. And be sure to rinse the cup prior to your next use.
Stanley Classic Stay Hot French Press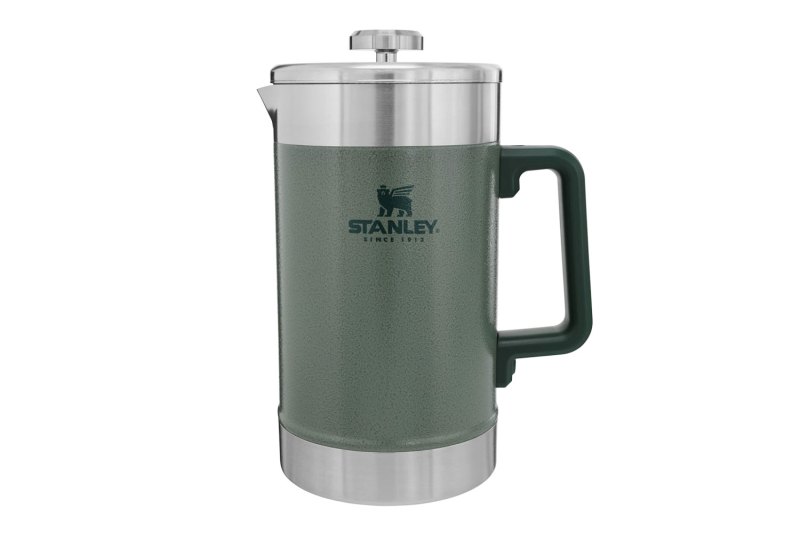 Early mornings may be rough, but it's nothing that a French press can't handle. And this one by Stanley is naturally BPA-free, vacuum-insulated, and keeps coffee hot for up to four hours. You can also brew up to six 8-oz cups thanks to its 48-oz size. And the best part? It's super easy to use. Simply pour in your favorite coffee grounds, add hot water, press, and feel that jolt of caffeine we all crave. Afterward, you can unscrew the filter from the lid for a breezy clean-up process.
Planetary Designs Ovrlndr Press
The OVRLNDR French Press has a whole lot of features, and some of our favorites include its heat-retentive lid that's also spill-proof and its Bru-Stop plunger for a smooth and rich taste. The double-walled insulated design ensures hot coffee for several hours and its removable bottom makes cleanup a snap. What makes this French press different from its competitors is that no brew is ever acidic or bitter (shoutout to that Bru-Stop plunger once again). And if you love colorful coffee makers, you're going to fall head over heels with OVRLNDR's four different color designs.
Stanley Classic Perfect-Brew Pour-Over Set
Stanley's pour-over set is versatile, easy to use, and comes in several different colors to make your camping set pop with vibrancy. The BPA-free set comes with a pour-over with a filter, as well as a camp mug with a lid. The heat stays within the vacuum-insulated sides and the 20-ounce size is equivalent to 2.5 cups of coffee. Known for its sustainability, this Stanley set doesn't require paper filters, and the stainless filter is also reusable. Just add your coffee grounds and hot water and wait a few short minutes for fresh and tasty coffee.
Aeropress Go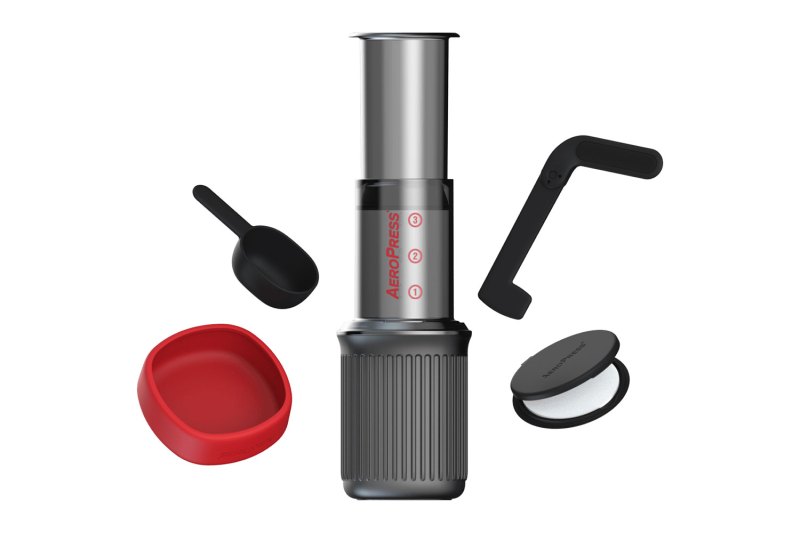 The Aeropress Go is a lightweight version of the OG Aeropress machine. "The Go" brews everything from espresso to cold-brew style coffee and comes with a mug/lid combo, micro filters, a filter storage carton, a filter cap, a stirrer, and a scooper. So essentially, you'll be brewing high-quality coffee without the acid and bitterness thanks to this wide array of accessories. There's even a case that holds up to 20 paper filters. Talk about convenience! This fancy camp coffee maker is thankfully super simple to use. Simply add coffee grounds plus hot water and press away. So whether you're traveling, working, or on a camping expedition, the Aeropress Go provides that comforting, home-brewed coffee taste on the go.
Best Camping Mugs
Otterbox Elevation 14 Mug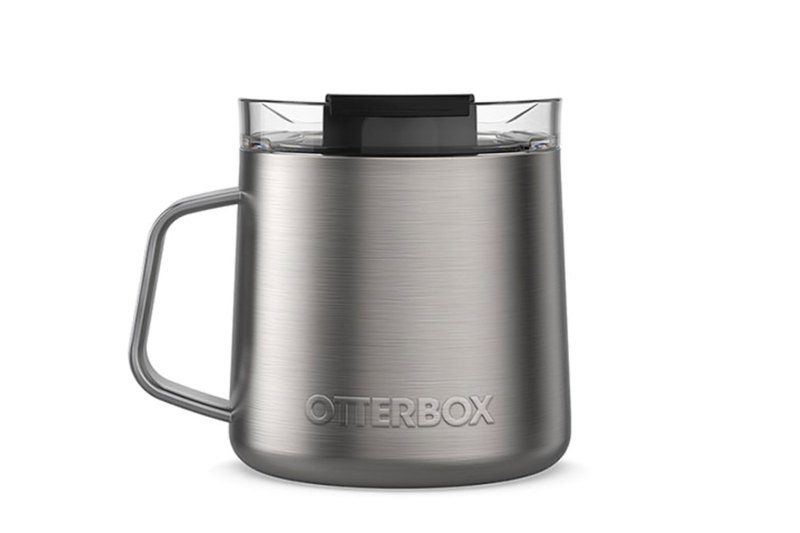 Does Otterbox sound familiar to you? You've probably seen this brand on phone cases, gaming controllers, and cooler accessories. Well, today, we're introducing you to our favorite product by them: the Otterbox Elevation Mug 14, which features a stainless steel finish, internal copper lining, and a closed lid (aka, your coffee isn't spilling anywhere). And no need to worry about pesky coffee rings thanks to its sweat-resistant design. Your coffee will also stay hot for hours and the mug handle is super comfortable to hold as well. Vibrant color options include big teal, silver panther black, and blue steel, among many others.
Yeti Rambler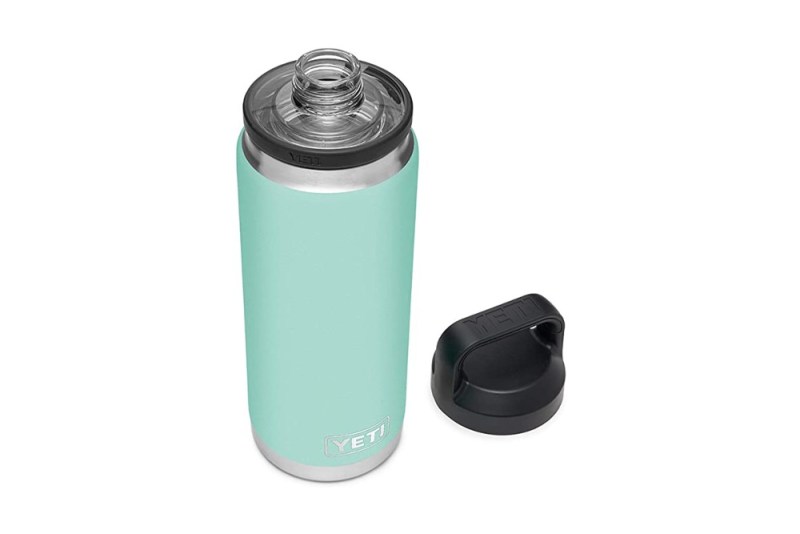 Here's a riddle: What's double-wall vacuum insulated, made with stainless steel construction, and comes in over 20 color options? Answer: The Yeti Rambler, which is known for its durability and sleek look. This BPA-free bottle is also shatter-resistant and features a chug cap. Though the cap itself is not suitable for hot beverages, it's very easy to twist and sip on the go. The DuraCoat Color also ensures zero fading or peeling, making this bottle long-lasting for years to come.
Snowpeak Ti-Double 450 Mug

This Snow Peak Titanium Mug shines with its lightweight feel and durable construction, specifically with regards to its double-wall insulation (aka hot drinks stay hot and cold drinks stay cold and crisp). The handles are foldable, making them super easy to pack and carry. You can also drink soup from this mug, as it's large enough to hold hearty meals. And don't be surprised if envious eyes become fixated on this mug's sleek design and minimalism.
Camelbak MultiBev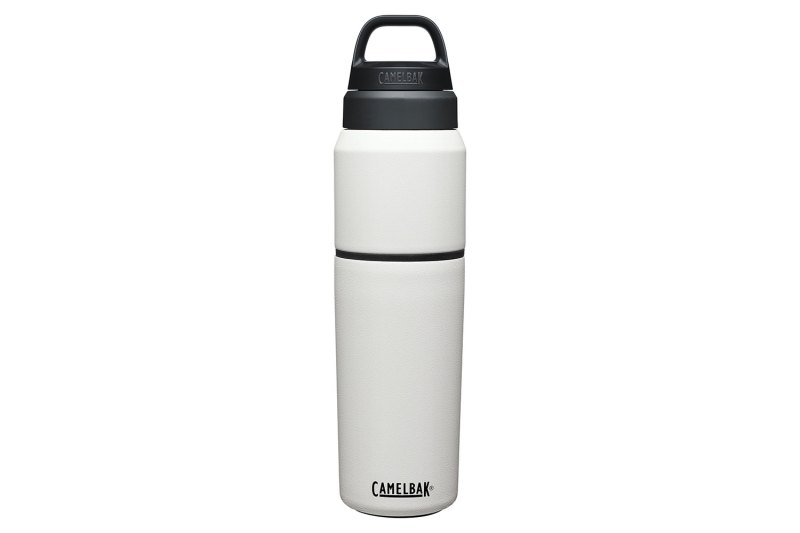 Is it a mug or is it a vacuum bottle? Answer: The Camelbak MultiBev is both! This versatile bottle + mug combo is designed with sweat-proof insulation and is durable thanks to its powder coat finish. The bottom won't budge either, as it's made with a non-slip silicone base. Two size options are also available: A 17-ounce bottle with a 12-ounce cup or a 22-ounce bottle with a 16-ounce cup, because there's no such thing as too much coffee. And if you're looking for easy cleanup, the cap, lid, and components can be broken down to wash separately, or if you happen to have a dishwasher nearby, just throw everything in it and wash away!
Editors' Recommendations