The Alps are one of the great mountain ranges in Europe, stretching across Switzerland, Germany, France, Austria, Italy, and Lichtenstein. Switzerland is typically the first country that springs to mind when referencing the Alps, however, the largest portion lies within Austria — the region also twice hosted the Winter Olympics. While the Austrian Alps have been made famous by The Sound of Music, there's more to this area than twirling through alpine meadows.
There are six regions within Vorarlberg, the westernmost state that houses the Alps: Lech Zürs am Arlberg, Bregenzerwald, Montafon, Kleinwalsertal, Bodensee-Vorarlberg, and Brandnertal-Alpenstadt Bludenz-Klostertal-Grosses Walsertal. Here are three that need to make your short list — it's not too early to break out your essential gear and begin making preparations for your next hiking adventure.
Hiking the Vorarlberg Region
Bregenzerwald
Bregenzerwald is known for its alpine cheese and hiking can offer the opportunity to explore many dairy farms. The 22 villages in the region have sought to remain true to their heritage with both traditional and contemporary architecture that creates a harmonious relationship with the surrounding environment. Some of Bregenzerwald's peaks can be reached by cable car or serve as a launching pad for exploring the diverse landscape.
Lech Zürs am Arlberg
Known as the birthplace of alpine skiing, the region welcomed its first skiers in 1906. Alpine meadows are set against a backdrop of mountain lakes and staggering peaks. The ski infrastructure of the region provides a catalyst for reaching new heights providing access to trails like the Green Ring and Lechweg. As you stroll, keep an eye out for some of the more than 20 orchid varieties and possible fossil sightings from the ancient ocean that once covered the landscape.
Montafon
Anchored by the region's highest peak, Piz Buin, the most southerly of the aforementioned regions is a 24-mile, high-alpine valley that is ideal for all outdoor activity. The valley is dotted with almost a dozen villages to utilize as basecamps. Hiking trails range from gentle and rolling to summit tours of some of the imposing peaks. Some interesting trails to consider include the Smuggler's Trails, which were used to run items across the border into Switzerland, and the Knappenkapelle ("miner's chapel"), which offers a peek into the area's mining history.
Essential Gear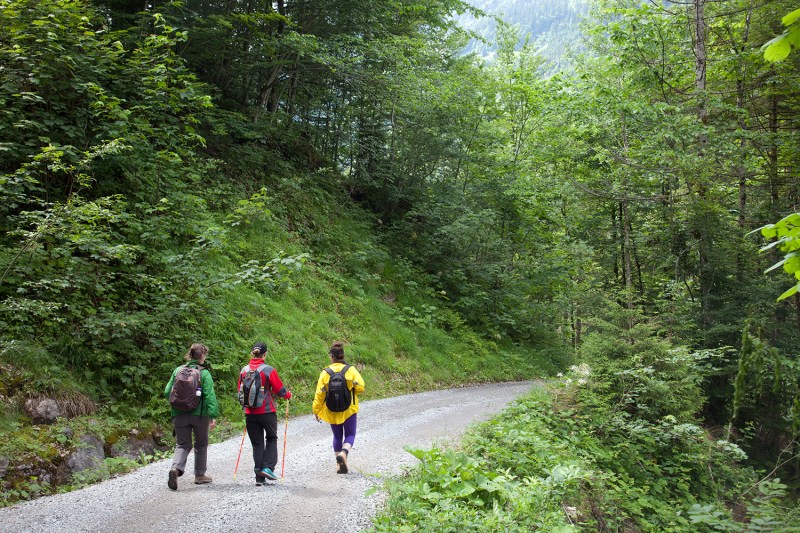 Hiking is one of the most engaging pastimes and is great for people of all ages. If often requires very little gear and minimal preparation. However, as your foray into the sport increases, it is advantageous to acquire a few items of essential gear. Here are a few of our favorite products for enjoying the great outdoors.
Boots
Boots provide great ankle support while walking over uneven terrain. Paired with natural (wool) or synthetic fiber socks, a great pair of boots are undoubtedly one of the most underrated pieces of gear you can own. Recommendation: We like the LOWA Locarno GTX Mid. These boots work great on trail and are stylish enough to wear around town.
Daypack
While shorter hikes can be achieved without carrying additional items, packs are ideal for transporting extra water, snacks, emergency gear (first aid kit), and rain gear. Recommendation: The Osprey Skarab 32 is ideal for carrying the essentials and so much more.
Trekking Poles
Trekking poles are almost always necessary. They provide extra points of contact and therefore increase your stability while trekking over varying terrain. Recommendation: The LEKI Micro Vario Carbon Black Series is our trekking pole of choice.
Rain Gear
There's a saying that notes, "There's no such thing as bad weather, just bad preparation." A good rain jacket (waterproof pants optional but often worthwhile) can protect against rain and wind, as well as aid in conserving body heat. Recommendation: Norwegian brand Norrøna knows a thing or two about making products to wrangle tough conditions. The new Bitihorn 3-layer jacket is highly compressible and easily stashed in an outer pocket for quick accessibility.
For more gear suggestions on what to carry on your hikes, check out our picks for day hikes and thru-hiking treks.
Editors' Recommendations