Freeride snowboards let riders explore the whole mountain. From powder days to park laps, these versatile shapes can do it all. And for winter 23/24, Arbor Snowboards has one of the best: the CANDLE Rain.
Designed in collaboration with noted big mountain rider Pat Moore, the Rain combines innovative features with sustainable construction. Refined on Pat's home stomping grounds of Lake Tahoe, CA, it's a board made for steep drops and ripping turns. Add in bespoke craftsmanship, and you've got a deck that looks as good as it rides.
Let's take a closer look at the CANDLE Rain, Pat Moore, and Arbor's history.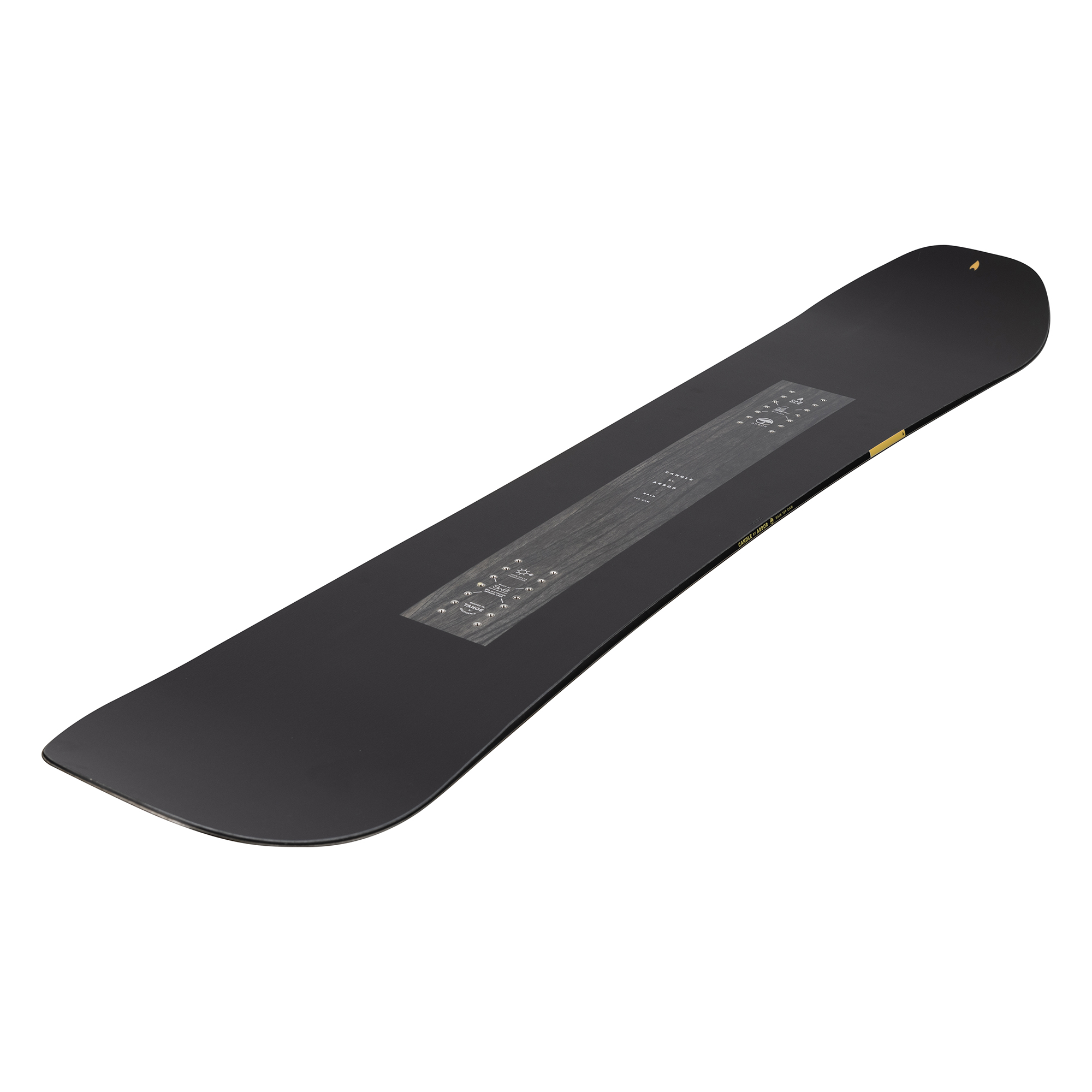 The Arbor CANDLE Rain Snowboard
The Arbor CANDLE Rain snowboard combines innovation, style, and sustainability for next-level freeride performance. The first in the company's series of CANDLE snowboards, the Rain leans on Pat Moore's vast experience on multiple terrains, along with his philosophy for "indefinite growth."
Underfoot, the Rain has a parabolic camber bend for enhanced power and control. Dual-radius nose and tail ramping prevent hang-ups and allow quick edge-to-edge transitions. A setback stance and directional twin shape ensure plenty of float and balanced spins. Topping it off is a hand-dyed ash inlay, showcasing Arbor's attention to detail.
As with every Arbor snowboard, responsible construction takes center stage. That includes 100 percent solar-powered manufacturing, recycled steel edges, and a bio-plastic topsheet. It's a board you can feel good about buying and riding.
While "Candle" might seem to indicate a wax stick with a burning flame, it means something different in this case. Here, Arbor uses an alternate definition, symbolizing the new line's philosophy of growth and possibility.
From Arbor:
"A thin, upright new shoot forming from a terminal bud on a pine tree in the spring."
Here are the specs for the Arbor CANDLE Rain:
Length: 153, 155, 157, 159, 161

Double Barrel II Core | Bio-Plastic Topsheet

AWD Carbon Uprights | 360 Degree Fully Wrapped Sidewalls

Effective Edge: 111.5, 116.9, 118.7, 119.5, 120.5, 122.3

Tip/Tail Length: 22.5/20.5, 22.7/20.7, 22.8/20.8, 22.9/20.9, 23/21, 23/20, 23.1/21.1

MSRP: $649.95
About Pat Moore
Pat Moore has a snowboarding resume among the best in the world. From his beginnings at Waterville Valley, NH, to competing on the Natural Selection Tour, Moore has demonstrated style and skill. In short, he rips.
Over the years, he's filmed numerous video parts, including an appearance in the groundbreaking film The Art of Flight. He's traveled the globe, hitting notable spots like Baldface, B.C., Hokkaido, Japan, and Chamonix, France. Today he's based in Lake Tahoe, CA, and continues exploring new terrain and experiences while evolving as a snowboarder.
In the fall of 2022, Moore joined Arbor Snowboards, setting a new course for his career. Expanding on why he joined the company, Moore says, "Arbor gave me this incredible opportunity to produce a line of boards that not only spoke to my own experience snowboarding but also the possibility to develop new ideas."
Having someone like Moore design boards is good news for everyday riders. That way, we can concentrate on ripping turns or hitting features, knowing we're on top-level equipment. And new ideas are always good, which Moore seems to have plenty of, as evidenced by the CANDLE Rain.
About Arbor Snowboards
Arbor Snowboards is a brand rooted in sustainability. Since its founding in 1995, the company's put an emphasis on environmentally-friendly sourcing and manufacturing. That includes responsibly sourced wood veneer topsheets, bio-plastics, and recycled materials. And with rider-driven designs, Arbor snowboards offer top-of-the-line performance.
From the beginning, Arbor's contributed to efforts to safeguard and grow forests. In particular, the company's donations focus on the Koa forests of Hawaii. That serves as a direct connection to modern board sports, with Native Hawaiians inventing Koa surfboards around 1,000 years ago.
Additional sustainability efforts include supporting causes like The Conservation Alliance, the Surfrider Foundation, and the Arbor Day Foundation. Clearly, Arbor cares about the planet.
From Arbor:
Since 1995, Arbor's mission has been simple and unchanged; blend innovative construction with aspects of traditional craftsmanship and a steadfast commitment to sustainable materials and methods. Arbor sees this as the best way to deliver the performance and quality required for pursuing snowboarding, skateboarding, and the good times that happen along the way.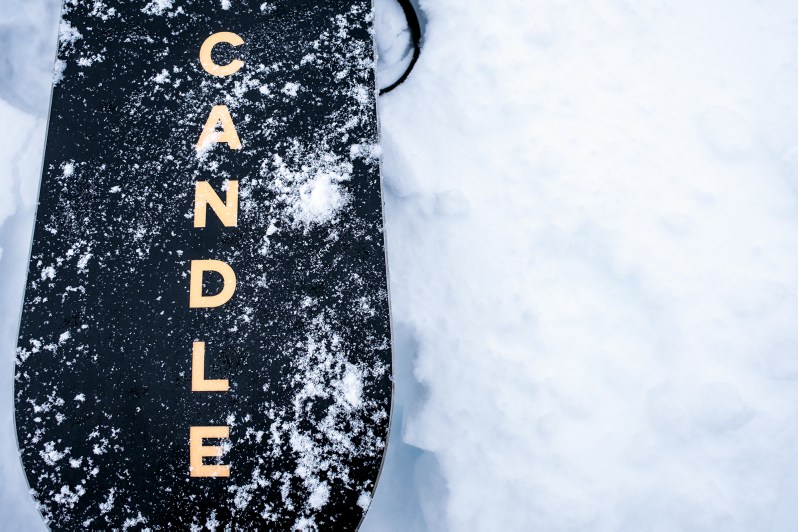 Where to buy the Arbor CANDLE Rain snowboard
When you're ready to buy an Arbor CANDLE Rain snowboard, you have multiple ways to add it to your quiver.
The direct route is going through the . In addition to receiving a board straight from the manufacturer, you can read up on the CANDLE Rain's tech and sustainability features. And if you need bindings with your board, the company's designs make an ideal pairing. We'd go for the freeride-focused Cypress model.
also sells the Arbor CANDLE Rain, with the added convenience of Affirm buy now/pay later payments. While you're on the website, you can also check out evoTrip adventure vacations and scope out places to take your new stick.
The 2024 Arbor CANDLE Rain snowboard combines leading tech and sustainable construction for superlative freeride performance. Tapping into Pat Moore's vast snowboard experience, the Rain can hit big lines and park jumps with ease. Parabolic camber adds pop and grip, while the dual-radius nose and tail ensure plenty of float. Add in sustainable materials and detailed craftsmanship, and you've got one compelling ride. The CANDLE Rain is a complete package.
Editors' Recommendations