Solar generators have been all the rage lately. For a long time, consumer-grade solar tech wasn't all that practical, but recent advancements in solar panel and storage capabilities have made them increasingly useful, and as a result, brands like Anker, Jackery, and many more have sprung up to provide van-lifers, RVers, off-grid workers, and homeowners with portable and emergency electricity solutions.
Anker has been among the industry leaders for several years, and now it has released its biggest portable power station yet: the Anker PowerHouse 767. So is it worth the upgrade? I've spent the past few weeks testing out the 767, and here's what I think.
More power
The first thing you need to know about the PowerHouse 767 is that it holds a lot of power. At 2048 watt-hours, that's about 33% more capacity than what was previously Anker's biggest power cube. That's enough power to keep a typical van conversion — with a small fridge, lights, and other devices — going for three to four days.
If your home power goes out, it will keep a light, Wi-Fi router, and microwave going for a few days, keeping your phone charged throughout. Suffice it to say that — it's solid capacity for the average user.
And it charges fast. When plugged into the wall, it will charge in about 90 minutes, or with a 1000-watt solar array, it fully charges in 2.5 hours. That's great for van-lifers. Top off with the sun, or stop at a restaurant for a long coffee and leave with a full box of juice.
It also has dual-power-saving modes, which ensure it wastes less and holds a charge longer.
Smart features
Anker has included several smart design elements.
While its 30-pound weight is already pretty mobile, it's doubly portable, thanks to its wheels and sturdy retractable tow handle. It's about the size of two shoe boxes, and its perfectly squared shape makes it easy to store or build into a van conversion. And a smartphone app allows you to monitor and control it from afar.
The Anker PowerHouse 767 is also well constructed. A lot of power stations aren't all that durable, but this one is. This is an impact-resistant, drop-proof, flame-retardant, and anti-UV solar generator, designed to hold up. And its battery remains healthy for up to 3,000 charge cycles or approximately 10 years of use. That's three times longer than what most competitors promise.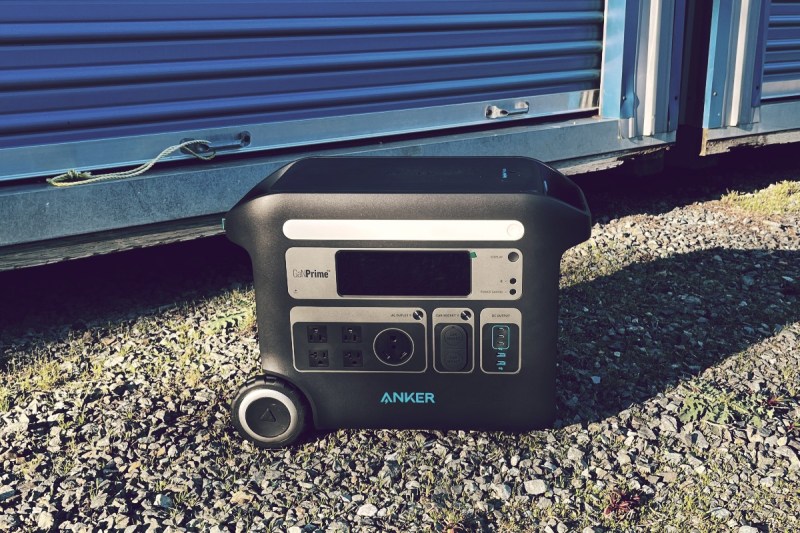 Conclusion: It's a buy
All in all, the Anker PowerHouse 767 is an outstanding portable power station by pretty much every metric. Its durability and long life span alone make it a top contender — you do want your pricey toy/tool to last, after all — but you also get solid capacity and plenty of well-thought-out features to boot.
With summer just around the corner, it's an outstanding option for campers, RVers, or van conversions.
Editors' Recommendations