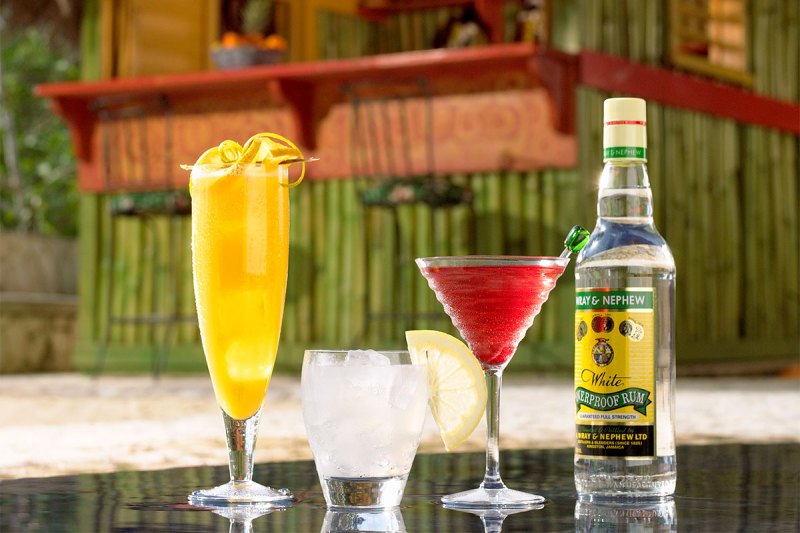 Wray & Nephew was established in Kingston, Jamaica in 1825 and has been one of the island's most beloved spirit ever since.
Wray & Nephew is used to christen new family members, sprinkled on the foundation of a newly built home to ward off duppies (spirits—not the drinking kind), and it also plays a prominent role in the dead yard, a nine-day wake/party to celebrate the life of a deceased loved one.
Made with molasses, Wray & Nephew is a crystal-clear white rum that has, because of its versatility, become the top-selling overproof rum in the world. In 2014, it was awarded Double Gold at San Francisco World Spirits Competition and 93 Points (Highly Recommended) "Tried & True" Award at the Ultimate Spirits Challenge. If you've never heard of overproof spirits before, we'll put it the easy way: Wray & Nephew clocks in at a hefty 63% ABV.
Overproof spirits are good for a couple of reasons. First, historically, they held up better during long trips at sea (on the British side, this was often also called "navy-proof"). Second, and perhaps more importantly (unless you're a Colonial-era midshipman), overproof rum flavors tend to stand up when mixed into drinks. The notes and palate that you'll get with a straight shot of the spirit will still be present when mixed with sugary liquids, such as juices or other mixers.
Below, you'll find a number of recipes from Wray & Nephew that help to showcase the molasses, coconut and sweet spice notes you'll get when drinking the rum.
Related: Rum Cocktails for Every Season
Wray & Ting
1 ½ oz. Wray & Nephew White Overproof Rum
4 oz. Ting™
Lime
Method: Combine Wray & Nephew with Ting™ over ice. Add a squeeze of lime and garnish with a lime slice.
Village Island Punch
Created by Marva Layne, Negril Village, NYC
3 parts Wray & Nephew White Overproof Rum
4 parts orange juice
3 parts pineapple juice
1 part Appleton Estate V/X Rum
1/2 part grenadine
1/4 part lime juice
Method: Shake with ice. Pour into glass. Garnish with pineapple top and cherry.
K 11 Rum Punch
Created by Nigel Jones, Kingston 11, Oakland, California
2 parts Wray & NephewWhite Overproof Rum
2 parts AppletonEstate Reserve Jamaica Rum
4 parts water
1 part lime juice
2 parts strawberry syrup
½ part cane simple syrup
2 parts orange juice
2 parts pineapple juice
Method: Mix all ingredients together in a large punch bowl and adjust to your own taste preference. To serve, put the punch in a cocktail shaker with ice, shake and pour in a glass over ice. You can add your favorite garnish (lime wheel, fresh pineapple for example) in the drink or on the edge of the glass.
Bompas Club
Created by John Codd, San Francisco
1 ½ oz. Wray & NephewWhite Overproof Rum
1 oz. cream sherry
½ oz. Cynar
½ oz. Campari
¼ oz. grenadine
Method: Combine all ingredients in a pint glass and stir together. Strain into a fresh rocks glass over cubed ice. Garnish with an orange peel.
Editors' Recommendations