It's just not the holidays without eggnog. And eggnog is markedly better with a little booze injection. Yet, not just any spirit will do when combining with this rich and decadent December drink.
Great with java, mixed into a nightcap, or paired up with spirits like rye whiskey, eggnog can do a lot. Just keep in mind that this is thick stuff and not something you'll want to sip all day on. Instead, it's more of a dessert treat you can enjoy in front of the fire or as you spin a holiday album just before bed.
Originally known as egg milk punch, or just milk punch, eggnog has been part of holiday traditions across the world for centuries. A mix of cream, egg whites, egg yolks, sugar, and booze, eggnog is a heavy, delicious treat when you need to warm your bones with something sweet and hearty.
Eggnog is a rich and full beverage on its own, but in our opinion, it is much, much better when booze has been added. Before you personalize your eggnog with your favorite booze, let's first go over how to make your own eggnog (or what types of brands to look for).
But first, a lesson in linguistics. The word nog has been popping up in the English language since the 1690s when, according to the Oxford English Dictionary, it was "a kind of strong beer brewed in East Anglia." An alternative definition (and one that also goes along with the current definition) is that nog is a derivative of "noggin," which was a Middle English term for a drinking vessel.
Either way, this somewhat silly word perfectly describes this ridiculous yet delicious drink. Now, back to eggnog basics.
What to mix with eggnog
It's best to stick with dark, amber-colored spirits with a higher proof because the higher alcohol content will neutralize some of the eggnog's sweetness. Don't bother dusting off that fancy bottle on the top shelf, as the other flavors in your eggnog will overpower the nuances of premium liquor. Simply add a shot of reasonably priced, high-proofed booze, stir it well, and pour it down the hatch.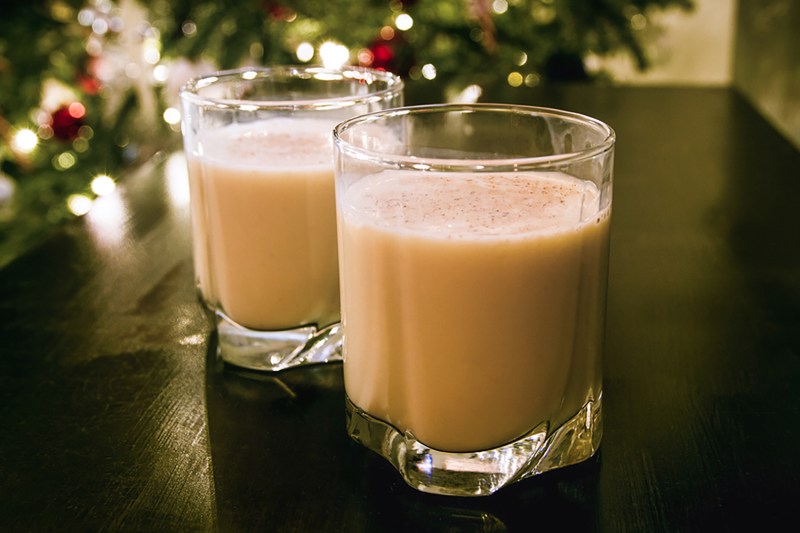 Best alcohol for eggnog:
Bourbon
Rye
Aged rum
Irish whiskey
Blended Scotch whisky
Brandy
Coffee liqueur
Additional ingredients to liven up your eggnog:
Once you mix your eggnog and liquor — and add a hint of nutmeg — you're all set to enjoy your festive beverage. To make your eggnog eggs-tra special, however, consider some of these traditional additions (especially if you're using store-bought nog):
Cordials: Ginger liqueur, peppermint schnapps, white chocolate liqueur
Spices: More nutmeg, cloves, allspice, cinnamon, vanilla extract
Other goodies: Coffee (highly recommended), light brown sugar, chocolate syrup, maple syrup
Feel free to play around with all sorts of eggnog concoctions. You really can't go wrong, as long as it tastes good to you and those who are imbibing. We advise against going overboard with ingredients, though. Instead, select one or two items from each category and try different combinations — ideally not all in one night. Why not extend the celebration all season long?
How to make eggnog
We understand if you're too lazy — or too hungover — to make your own 'nog from scratch. Any store-bought eggnog will work with the ingredients below, but we recommend indulging in high-quality eggnog because you can really tell the difference between that and the cheap stuff. If you're having trouble deciding, we suggest trying Organic Valley's Eggnog or another fresh, local brand in your area.
If you are feeling like playing mixologist for the night, making eggnog is pretty simple to make. Check out our basic recipe below, which serves 10-12. One thing to note: eggnog is a very rich drink. If you're looking to cut calories around the holidays, you're going to want to look elsewhere.
Ingredients
12 large eggs
8 cups whole milk
2 cups heavy whipping cream*
1 1/2 cups white granulated sugar
1/2 teaspoon salt
2 1/4 teaspoons vanilla extract
1 teaspoon nutmeg
1 teaspoon ground cinnamon
*Note: Some recipes call for using egg whites for whipping. We use heavy cream because we've found it to be easier to prepare when needing to make multiple batches (as opposed to separating egg whites and yolks).
Method
In a saucepan, whisk together eggs, sugar, and salt.
Slowly add the first 4 cups of milk to cook and stir over low heat for about 30 minutes (or until the temperature reads 165 degrees Fahrenheit). Do not let the mixture boil.
Once the temperature has been reached, transfer to a bowl and stir in the vanilla, spices, and the rest of the milk.
Place the bowl in an ice bath and stir until cool and transfer to the refrigerator until chilled.
When ready to serve, beat the whipping cream until soft peaks form. Whisk cream into the rest of the liquid. Garnish with additional nutmeg.
How to make spiked eggnog
More than likely, you're here because you want to know how to make eggnog boozy AF. We hear you — we think eggnog is better when it gets those oak, vanilla, and caramel flavors of a bourbon cutting through the thick cream like an icebreaker in the Arctic, too. The question then, is how much booze do you put into a pitcher of eggnog and when? The short answer is as much as you want and after the eggnog is ready, but for the sticklers out there, we've broken it down below.
With a spirit that falls into the 40-50 percent ABV area (we're talking most whiskies, rums, brandies, et cetera), you're going to want to have around 1.5 ounces per serving (you could do 1 ounce, but it's the holidays, after all). With the recipe above accommodating 10 servings, you're looking at about 15 ounces of spirit (a little more than half of a standard 750 ml bottle of alcohol). If you're using a stronger spirit (such as a barrel-proof bourbon or rye), then you'll want to cut that back — going overboard on the eggnog can make for a nasty hangover. (Don't ask how we know, just trust us.)
If you plan to use cordials, liqueurs, or other liquids, you'll also need to adjust the amount of the base spirit that you're using. Say you wanted to make a ginger bourbon eggnog. You'd use the recipe above, then add:
12 ounces bourbon
3 ounces ginger liqueur (such as Domaine de Canton)
Ground ginger, optional for garnish
You want the flavor of the liqueur to be there, but act in a supporting role and not take over as the star of the show. You can, of course, adjust from there to taste, but it's always easier to add more of something than to take it away. Taste as you go for best results.
Editors' Recommendations