Happy Waffle Day, everyone! While this may sound like a completely made-up holiday in line with holidays like Something on a Stick Day (March 28), Onion Ring Day (June 22), and Collect Rocks Day (September 16), Waffle Day is actually a Swedish holiday that dates back centuries.
The Swedish Waffle Day, which is celebrated on March 25, has been going on for centuries. Why? March 25 is the Christian feast day Our Lady's Day (otherwise known as the Annunciation), or Vårfrudagen in Swedish. Vårfrudagen sounds a lot like Våffeldagen, which translates to Waffle Day.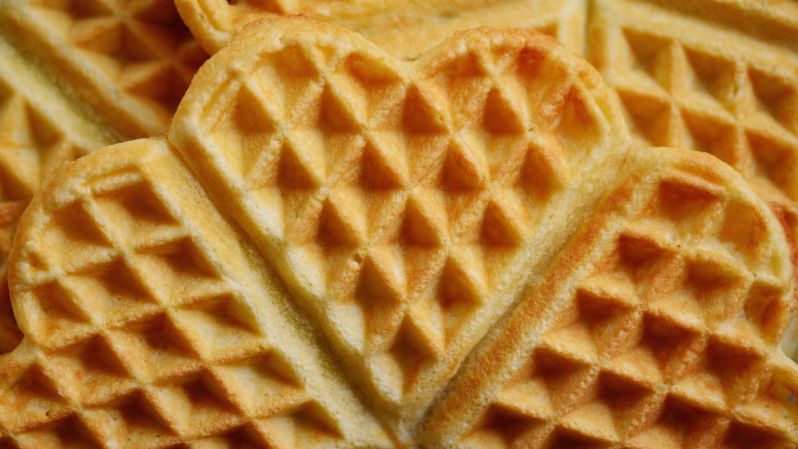 "Woah, woah, woah," the waffle purists are probably saying at this point, "I am a waffle aficionado and you are wrong about Waffle Day. It's actually celebrated on August 24, you newb."
Well, first, that hurts. Second, there are two legitimate Waffle Days. You heard right. Two chances to celebrate one of the top three batter-based breakfast foods out there.
The second — which is celebrated in the US alone, is traditionally celebrated in August (the 24th, to be exact) and marks the patenting of the first U.S. waffle iron, which was invented by Troy, New York's Cornelius Swarthout in 1869. Swarthout's patent built upon the stovetop waffle irons that had been around since the 1300s by adding the handle and clasp that allowed users to flip the waffle. (The electric waffle iron wouldn't come around until 1911.)
Yeah, we didn't think we'd learn a lot about waffles when we started this piece, either. Enough with the history lesson, though. Onto the delicious part!
If you're planning to celebrate Waffle Day, you should be prepared with a recipe with which to celebrate. Sure, you can just order some frozen waffles online … or you could take it a step further and make a delicious waffle grilled cheese sandwich. Below, you can find a recipe that utilizes the biggest, baddest waffles on the block (Belgian waffles, of course) and Jarlsberg Cheese, which is perhaps best known for having a giant wheel of cheese that every single one of us wants to buy every time we walk by it in the grocery store.
Sidebar: You can an entire wheel of Jarlsberg on Amazon for the low, low price of $282.20. That's approximately 22 pounds of cheese with free shipping.
For this recipe, you can use any type of Jarlsberg cheese, but we recommend going with the Hickory Smoked Cheese, which gives a nice slightly smoky flavor to the sandwich.
Jarlsberg Cheese Waffle Grilled Cheese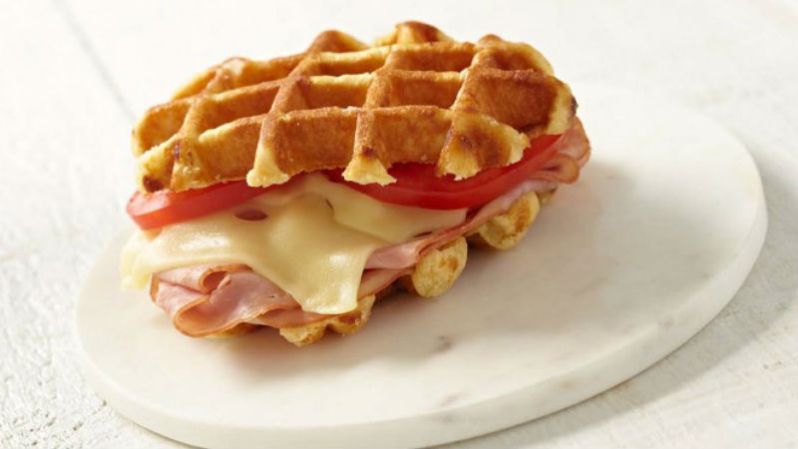 Ingredients:
8 square Belgian waffles
8 slices Jarlsberg cheese
8 slices deli ham
8 sliced tomatoes
1 tbsp butter or margarine
Method:
Spread margarine or butter on premade Belgian waffles. Toast waffles.
Prepare cheese and ham. Place cheese and ham on toasted waffles and place in oven for several minutes to allow cheese to melt.
Add on sliced tomatoes to your liking, or pair with Granny Smith apples for a sweeter taste.
Editors' Recommendations