Canadian beer doesn't get a lot of attention. Among the general populace, the brand most associated with the Great White North is more than likely Molson Canadian, a legacy lager that's been around since the 1950s. But if you ask beer nerds, the Canadian brewery they are most familiar with will probably be Unibroue.
While not as old as Molson, Unibroue is celebrating the great accomplishment of 25 years of brewing beer. The Unibroue story starts in Quebec, but the brewery relies on centuries-old Belgian brewing tradition for its ales. That blend of old and new world makes for a truly international portfolio of brews that run the gamut from the white ale Blanche de Chambly to the winner of the "World's Best Dark Ale" at the 2010 World Beer Awards, 17 Grande Réserve.
Standouts in Unibroue's core portfolio include Maudite, La Fin du Monde, and Trois Pistoles. Maudite, with its devil-adorned label, is one of the brewery's longest-running ales, in production since 1992. It also has the distinction of being Canada's first strong ale. La Fin du Monde, a Belgian Style Tripel, is Unibroue's flagship beer and is the most awarded beer in Canada. Trois Pistoles is a Belgian Style Strong Dark Ale that is no slouch either, with 35 awards of its own.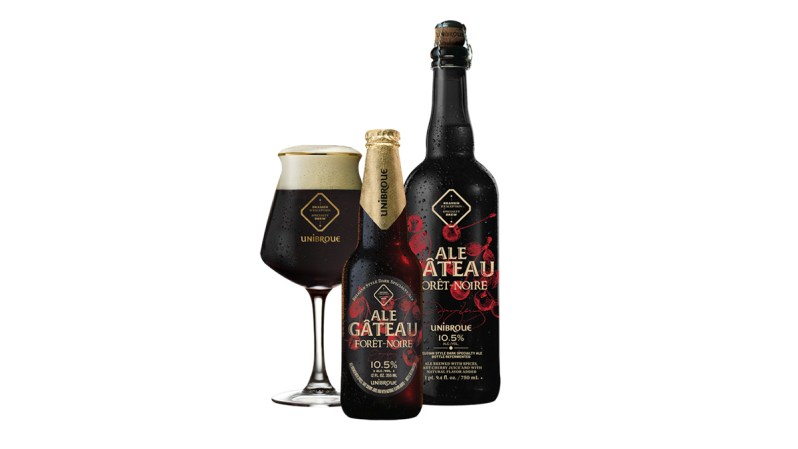 Not a brewery to revel in the glory of past successes, Unibroue has brewed a special anniversary ale to mark its 25th year. Gâteau Forêt-Noire hits store shelves this month. The name translates to "Black Forest Cake Ale" and is a Belgian-style dark specialty ale. At 10.5 percent ABV, the beer is meant for a celebration.
Brewmaster Jerry Vietz described the beer as having "roasted malt aroma, tart cherries, cocoa beans and dark chocolate flavors … pleasantly evocative of the classic Black Forest cake." The brewery's pairing suggestions for this ale include its namesake cake, Mexican dishes that utilize cocoa like mole, cheeses like Bourdin Chevre and blue cheese, and meatloaf.
But no matter what you choose to eat with Gâteau Forêt-Noire, the sweet, rich decadence of the ale is guaranteed. After all, Vietz said, "you can't have an anniversary party without a cake."
Gâteau Forêt-Noire is an exclusive, limited edition United States-only release. It is available now in the U.S. on draft, in 12-oz bottles four-packs, corked and caged 750-ml bottles, and as part of the Unibroue seasonal variety six-pack.
Editors' Recommendations