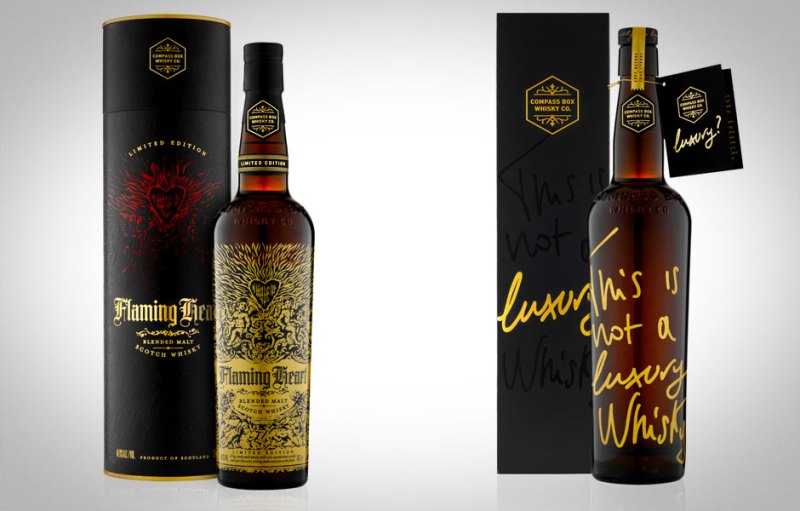 Here at The Manual, we keep a close eye on the innovators and creative thinkers in the world of whiskey. That's why we are always interested in what is going on at Compass Box Whisky.
Compass Box is Scotland's leading independent whisky maker. We've interviewed founder and lead whisky maker, John Glaser (not to be confused with Jon Glaser) and think he is one of brightest minds in the world of scotch.
Next month, Compass Box will unveil two new limited edition scotch whiskies in the United States: "This is not a luxury whisky" and Flaming Heart. Both of these releases coincide with Compass Box's fifteenth anniversary celebrations, which have ben going on all year.
"This is not a luxury whisky" is 19-year-old malt whisky that was distilled at the Glen Ord distillery in the Scottish Highlands; it is the only remaining single malt distillery on the Black Isle. The scotch was bottled at a natural cask strength (usually anything above the average 43%-45% alcohol by volume in most whiskies) of 53.1%.
RELATED: Try Two New Blends From Compass Box Whisky
The unusual name was inspired by a 1929 concept piece by the Belgian surrealist artist, Rene Magritte—"The Treachery of Images." Magritte's piece is a painting of a pipe, but below it, written in French script, reads "This is not a pipe." The Compass Box "This is not a whisky" is bottled without fancy or "luxury" labeling, just a plain bottle with the title of the edition scrawled across the glass in white font. The purpose is to remove the idea of luxury from the scotch's appearance and allow the flavor of the whisky to define what luxury actually is.
Meanwhile, the limited edition Flaming Heart is one of Compass Box's most sought after blends. Flaming Heart was first released in 2006 and was Compass Box's breakthrough bottle. Production has been on halt for years, but Glaser and Compass Box decided that their fifteenth anniversary was the perfect time to re-release such a crowd favorite.
Each of these special releases are already available in Europe, but will not touch U.S. shores until November 12th. All told, 4,992 bottles of "This is not a luxury whisky" and 12,060 bottles of Flaming Heart will be available for purchase once they hit the market.
If those numbers don't spell it out for you, then we will: find these special whiskies while you can, because they ain't going to be around for long.
Editors' Recommendations