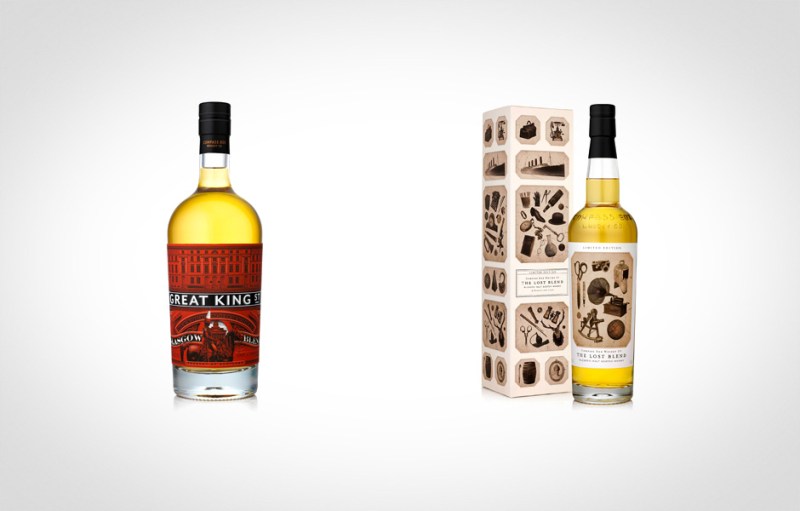 With cold weather settling in all over the country, now is the time to enjoy the smoky flavor of a high-quality scotch whisky. We here at The Manual are big fans of Compass Box Whisky, so we were delighted to find out that the craft whisky makers were releasing two new blends just in time for the holidays: The Lost Blend and The Glasgow Blend. Either of these two scotches would make a perfect gift for the whisky connoisseur in your life.
Compass Box's Lost Blend is a limited edition release comprised of a blend of three single malt scotches. It is an homage to the company's first ever, single malt blend, Eleuthera, whose recipe was retired in 2004. The Lost Blend is made up of a mixture of two fruity Highland single malts with a peaty Islay—the southernmost Island of the Inner Hebrides of Scotland—single malt. The result is a distinct flavor that comes on warm and strong, but leaves a sweet, lingering essence on the tongue as each sip fades.
Meanwhile, the Glasgow Blend is part of Compass Box's Great King Street range of scotch, which is "dedicated to applying a contemporary approach to the creation of Blended Scotch Whiskies in the full-flavored style of the late 19th century blending houses." The Glasgow Blend is full of rich, round flavors with notes of dried fruit and wine. The blend is aged in a combination of sherry casks and ex-bourbon barrels with a small portion of new French oak finishing, Compass Box says to look out for spice and vanilla upon sipping. While we did notice the initial blast of spice, we couldn't help detect a lingering, almost caramel taste through the finish. And now we plan on having a glass of this scotch after our own Christmas dinner.
It would be a cliché to say that a real man enjoys drinking scotch, so we're not going to. But if you're a man who wants to savor a quality moment in the middle of the holiday season madness, then Compass Box's newest whiskies are for you.
Editors' Recommendations