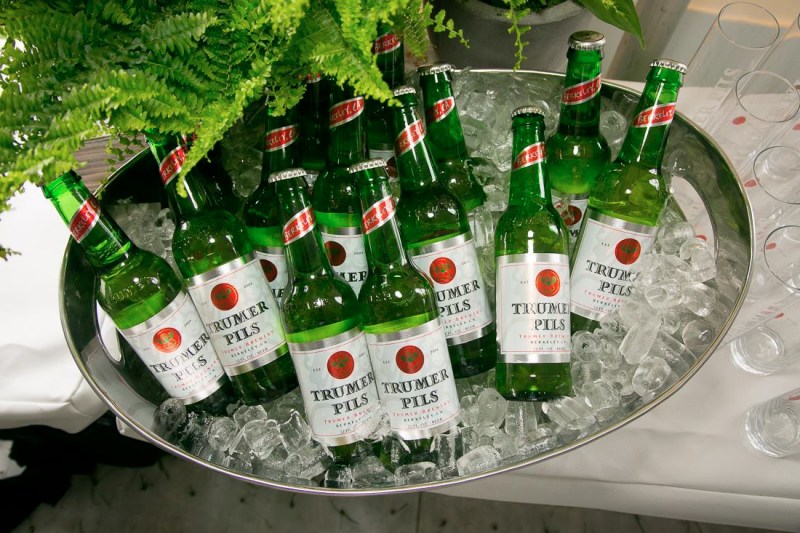 Most American beer drinkers might look at a Trumer Pils bottle and immediately think "import," but they'd be wrong. Well, sort of.
Sure, Trumer is an Austrian brewery with more than 400 years of history behind it, but since 2004, a sister brewery in California has brewed the pilsner in the U.S.
"There is a little confusion among people who look at our beer and see it as an imported beer," said Lars Larson, Trumer brewmaster. "We want to let people know that it's fresh, brewed in the U.S., but tastes the same as over there and we're happy to work with our sister brewery who generously shared the brewing knowledge and recipe with us."
As the craft beer movement has matured, drinkers have learned that it's best to drink IPAs as fresh as possible, but often beers like pilsners are left behind. Larson believes it might even be more important to drink pilsners fresh — and that's a big reason why it's been so beneficial for Trumer Pils to be brewed stateside. For many seasoned beer drinkers, there's nothing quite like the crisp refreshment of a well-brewed, clean pilsner.
"The flavor of beer simply changes when a beer is fresh," he says. "It's a pretty dynamic style. Yet when a beer is imported, very often it's a long supply chain and the flavors change."
To combat the negative aging, brewers who ship beer to the U.S. pasteurize their pilsners, which Larson says essentially pre-stales the beer and dumbs down the flavor by lopping off the top and bottom notes.
Instead, they let the original Trumer Pils ingredients shine. The brewery uses the same ingredients as the European brewery, shipping in malt and hops from Austria and Germany, but only using California water.
Another point of pride for Larson is the extreme difficulty of brewing a clean, delicious lager. There aren't many hops or dark malts to hide defects behind, so to achieve the clean, crisp drinkability of a perfect pilsner is often more difficult than a tasty IPA or stout.
"To have a good one, there needs to be a balance of the malt profile and aroma and bitters of hops," Larson said. "Not getting those two things to balance, it's not quite as drinkable."
When the brewery started in the San Francisco Bay Area, the craft beer industry was in its infancy and still largely an anti-lager movement against macro industrial light lagers.
Now as craft lagers see a surge in popularity alongside the industry's historical extreme beers and more modern takes like hazy IPAs and pastry stouts, offering a more subdued and classic beer style, Trumer Pils can rest on its brewing pedigree in the U.S. It's an oft-awarded pilsner, too, taking home medals at the World Beer Cup in 2006, 2008, 2010 and 2016 and the Great American Beer Festival in 2005 and 2010. It's also won gold for Best German-style pilsner at the European Beer Star in 2004, 2006, 2008 and 2012.
Aside from the 15 years of stateside experience, Larson also believes Trumer Pils gains an advantage by focusing on the pilsner style, as other breweries worry about the "rotation nation" idea of consumers constantly trying new beers. He worries a bit about the need to satiate that thirst for new beers but believes Trumer Pils' consistency will win out.
"It's great to see the craft beer consumer starting to recognize just because a beer doesn't have a ton of hops or is really dark, it can be craft still," Larson said. "It can still be flavorful and drinkable and not just a watered-down industrial lager."
Editors' Recommendations