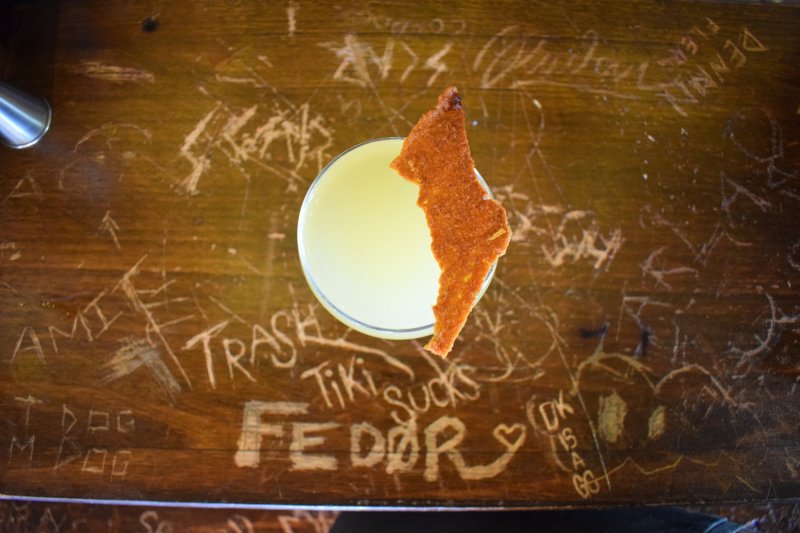 The craft cocktail scene is going straight to the dumpster — and it's the best thing to happen since bitters.
Woke bartenders, craft cocktail bars, and give-a-shit spirit brands are beginning to implement anti-waste methods into their daily grind by creating trash cocktails. Instead of tossing out three to four barrels of lemon and lime peels per night (per bar!), every piece of the fruit from seed to skin is being used in new, inventive (and delicious) drinks.
Getting Wasted
The scale of how much waste is produced by each bar in a given city can be lost on us when we order a deliciously bougie cocktail, but craft drinks and bars are hugely responsible for the global food waste issue. In the United States alone, food waste accounts for 30-40 percent of the food supply, according to the United States Department of Agriculture (USDA). Only years ago, anti-waste wasn't even a concept to bars.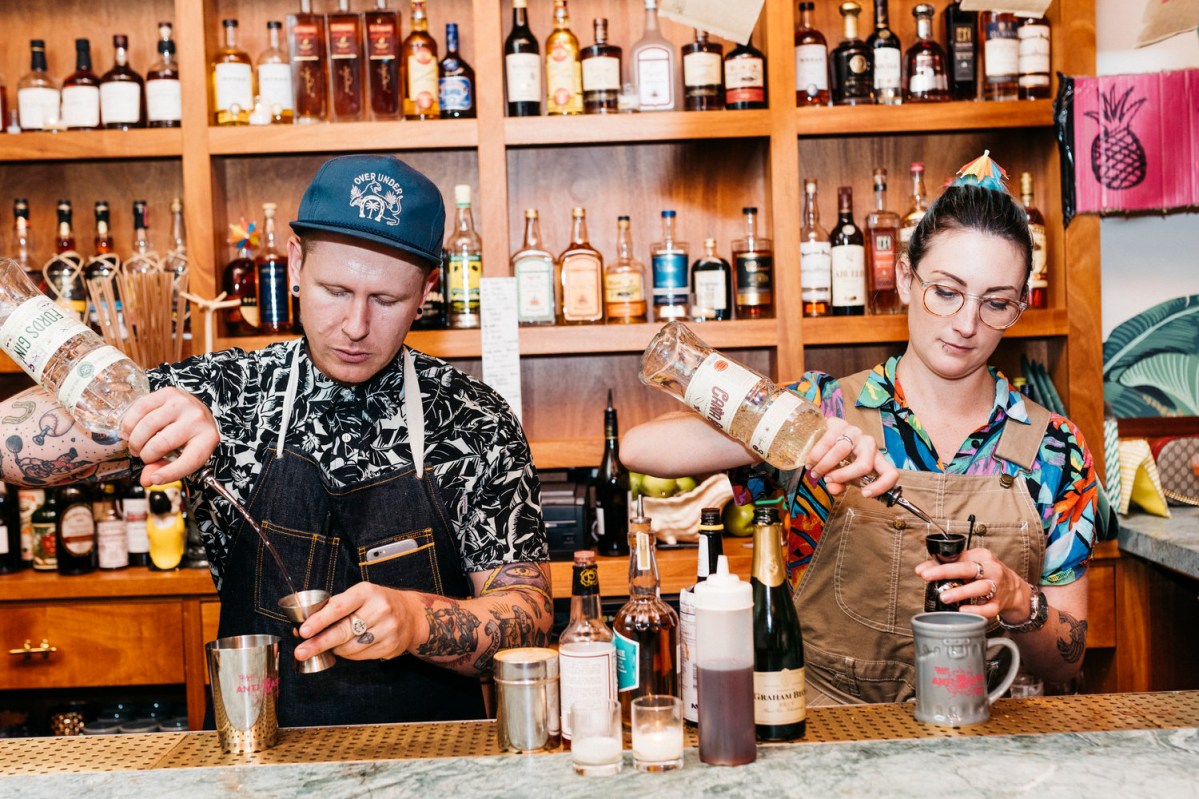 Bartenders Iain Griffiths and Kelsey Ramage, founders of anti-waste pop-up Trash Tiki, changed all that. Trash Tiki made it its business to invent new ways of using traditionally trashed foods and up-cycling them into cocktail ingredients.
Following the nose-to-tail movement among chefs, anti-waste bartending, or "trash cocktails," use "root-to-fruit," Ramage says. "We source ingredients people tend to throw away because they think it doesn't have flavor."
"We source ingredients people tend to throw away because they think it doesn't have flavor."
Trash Tiki has utilized the tops and tails of tomatoes to do a clarified Bloody Mary, watermelon rinds to make an oleo saccharum (used in punch), and end-of-the-day croissants and avocado pits for orgeat. "They're edible," Ramage laughs. "Avocado pits have been used in Mexican medicine for hundreds of years and pack a lovely toasted flavor."
When Trash Tiki sets up one of its pop-up bars (Trash Tiki is also an online resource to learn anti-waste tips), Ramage and Griffith take inventory of the hosting bar or restaurant's trash bin. At one pop-up, they created a coconut syrup from spent coconut fibers. During the Hong Kong pop-up, the entire city's bartenders were on a What's App thread and, with a simple text, Trash Tiki had bartenders and chefs around the metropolis dropping off throw-aways from their kitchens.
Trash Tiki launched in 2016 as a simple recipe platform, but Ramage and Griffith took the show on the road in 2017 for a 10-month trip to educate bartenders about anti-waste, particularly how to tell someone they're drinking from the trash.
Creating a new punk rock "language" of talking about cocktail sustainability has brought a spotlight to the trash cocktail movement. And everyone wants to go dumpster diving.
The Green Hustle with Absolut
Absolut Vodka just launched a sustainability initiative called The Green Hustle with the goal of reducing bar waste. Absolut enlisted Trash Tiki to help since, duh, Griffith and Ramage are the founding mother and father.
"Distilleries can be such big wasteful industries. Absolut is one of the most sustainable distilleries in the world, doing a lot of really cool shit to reduce their footprint. The Green Hustle is a new way to talk about it, a little more hip-hop," says Ramage. "We launched The Green Hustle at the Athens Bar Show where a big motor-powered bike with a cart on the back drove all over Athens and picked up waste from bars. They brought it back to the prep area and made about 8,000 drinks."
The Green Hustle's website includes simple "hustles" bartenders can start using to be more sustainable. There's also a recipe for "lime stock" that uses leftover lime husks, water, sugar, and some acid you can buy at a homebrew store, so instead of buying (and throwing away most of) a bushel of limes for your next house party, you can make this stock.
Green Distilleries
Mezcal brand Sombra not only grows agave naturally in the high mountains of Oaxaca, but it conserves water by collecting and purifying rainwater, up-cycling agave byproducts into adobe bricks to build local homes, giving fermented agave to local farmers for composting, installing solar panels on the distillery rood, using an electrical millstone to crush agave instead of working a horse or mule for 18 hours a day, and sourcing wood sustainably. (Oaxaca is a desert, for those who don't know.)
"Mezcal used to be very traditional and was made only during special times of the year. It wasn't mass produced until about 10 to 15 years ago," says Sombra's national brand ambassador director, Natasha Sofia. "There was never this much waste before."
Sombra designed its production around waste-awareness, and more brands will (and should) catch to the trend.
What happens when you have a bunch of agave waste? Byproducts are thrown into the water; spent agave fibers and the toxic liquid that comes from it absorb the oxygen in the water so fish can't live and the water becomes not potable. "Then people of the city who use this water to live and clean can't really use it," Sofia adds.
Sombra designed its production around waste-awareness, and more brands will (and should) catch to the trend.
Sombra also caught the trash cocktail bug this year and held a virtual bartender competition where professional bartenders submitted a sustainable cocktail recipe using five ingredients. The judges? Duh again — Trash Tiki!
Trash Cocktail Recipes
Start playing around in your kitchen or with trash cocktails. Here are Trash Tiki's favorites:
Daiquiri: "Made this out of apple pulp," says Ramage. "Using pulp leftover from a juicer, blend that apple pulp with sugar, water, and malic acid. Shake with a touch of lime and lime stock (blanched lime husks) and rum." Here are the basics for making a daiquiri.
Jungle Bird: "Use your same lime stock and mix with pineapple pulp syrup, Campari, and rum or gin."
Bartender Joseph Boroski of The 18th Room, an eco-friendly speakeasy in New York City, has more ideas for up-cycled cocktails you'll love. His twist on a Cameron's Kick uses a popcorn orgeat crafted by using the bar's leftover snacking popcorn and his Banana Daiquiri uses dried banana peels for an edible garnish. Like we mentioned above, he also has a clear Bloody Mary that is as delicious as it is sustainable.
Editors' Recommendations