The relationship between Mexican food and Texan culture can't be denied, as Tex-Mex cuisine amply proves. From El Paso to Houston and everywhere in between, Mexican ingredients and flavor profiles combine with "American" counterparts to create widely beloved dishes like queso, cheese enchiladas, and — of course — breakfast tacos.
These handheld treats offer Texas residents an excellent reason to wake up bright and early — they're quick, convenient, affordable, packed with protein, and they're flavorful enough to inspire constant cravings. So what sets these Lone Star State specials apart from other savory breakfast dishes? Read on to find out.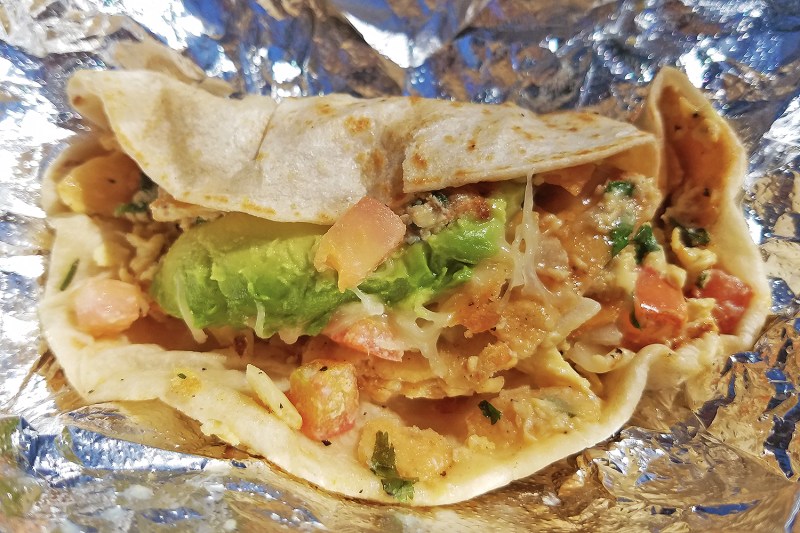 What is a breakfast taco?
A breakfast taco is, essentially, exactly what it claims to be: a griddled tortilla stuffed with eggs, cheese, and a protein of choice, then topped with salsas and wrapped in foil to make it easy for diners to unwrap and enjoy on the go.
While top-notch versions of breakfast tacos can be found throughout Texas, the capital city of Austin boasts an especially high concentration of restaurants, food trucks, and vendors specializing in this particular dish. Because the breakfast taco has become so embraced by Austin residents and so entrenched in that city's identity, we thought it best to ask a group of Austin chefs for their views on this culinary hometown hero and why it so deserves devotion from Texas locals and morning-meal enthusiasts of all stripes.
How can breakfast tacos be customized?
If you ask many Austinites whether they'd prefer their breakfast taco on a corn or a flour tortilla, you're likely to get an incredulous laugh or a "You must be joking, right?" brow furrow in response. That's because the classic Austin breakfast taco comes on a flour tortilla, end of story. Sure, many Austin taquerias will make a breakfast taco on a corn tortilla upon request (and some taqueros even like them better that way), but if that's what you're looking for in Austin, be sure to speak up, as it's not an assumed default.
"Breakfast tacos are whatever you want. Eggs, no eggs, potatoes, rajas, spicy or not-spicy salsa, beans … whatever your dreams allow, [that's] the taco you get to make!"
That said, breakfast-taco makers both in Austin and elsewhere prefer not to ascribe strict rules or formulas to their recipes. "Breakfast tacos are whatever you want. Eggs, no eggs, potatoes, rajas, spicy or not-spicy salsa, beans … whatever your dreams allow, [that's] the taco you get to make!" insists executive chef Rick Lopez of La Condesa in Austin. As for his personal breakfast taco preferences, Lopez swears by "chorizo and egg tacos. I use a spicy tomatillo salsa on top, [and I use a] corn tortilla. It is my go-to and something I cook at my own house for guests in the morning. My mom always made them when I was young. It warms the soul and provides a vibe."
Owner Lyle Lippincott of Güero's Taco Bar in Austin tells us that breakfast tacos are so appealing because "[they're] a fun way to get all your breakfast essentials in one bite! And who doesn't want to eat everything in a tortilla?" While Güero's certainly serves traditional breakfast tacos with scrambled-egg fillings, Lippincott's team also likes to mix things up by offering specials like their famous Taco Ricardo, which involves a fried egg placed atop a pork taco and drizzled with ranchero salsa.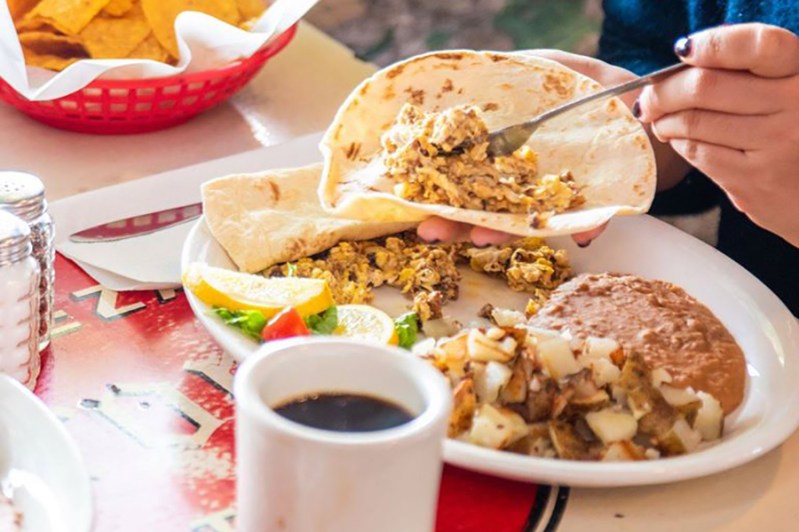 When we asked chef/owner Eric Silverstein of The Peached Tortilla in Austin to define the breakfast taco, he gave us a straightforward response: "At the minimum, [you need] a high quality scrambled egg, flavorful protein (whether it is braised, roasted or quickly cooked off on the plancha), and salsa."
As far as customization goes, Silverstein and his team like to play around with different proteins, ingredients, and cooking processes. For example, "we use a couple of our braised meats (brisket and pork belly), then try to add different textures. We use pasture-raised eggs in our breakfast tacos for a richer flavor. We top our pork-belly breakfast taco, for example, with avocado, tomatillo salsa, and fried shallots for texture. We don't want to overcomplicate the breakfast taco, but we also don't want it to be too simple."
Why are breakfast tacos so closely associated with the city of Austin?
"[Austin] is a taco-heavy town to begin with … and the idea of having a portable breakfast wrapped in a tortilla while drinking a cup of coffee in your other hand just makes sense. I didn't realize how unique to Austin breakfast tacos are. They have become ingrained in the culture," Silverstein says of the ubiquity of breakfast tacos throughout Austin.
Lopez agrees, adding that "breakfast tacos have always been a huge part of Central and South Texas' thick history, but I feel [that] the taco in breakfast form has really seen its energy pick up [thanks to] Austin's alignment with parties and music festivals. SXSW and ACL Fest open up the portal to the nation/world and invite guests to take part in our traditions and rituals. Guests of our festivals get to enjoy our daily routines, and [they also] shine a light on them via social media. The breakfast taco should not ever be taken for granted, [and] the breakfast taco is one of those things that is only getting more widely known. Brooklyn, NY [even] has Austin-style restaurants serving breakfast tacos! I love it!"
Get in on the breakfast taco action with this very Austin recipe:
Brisket Breakfast Taco Recipe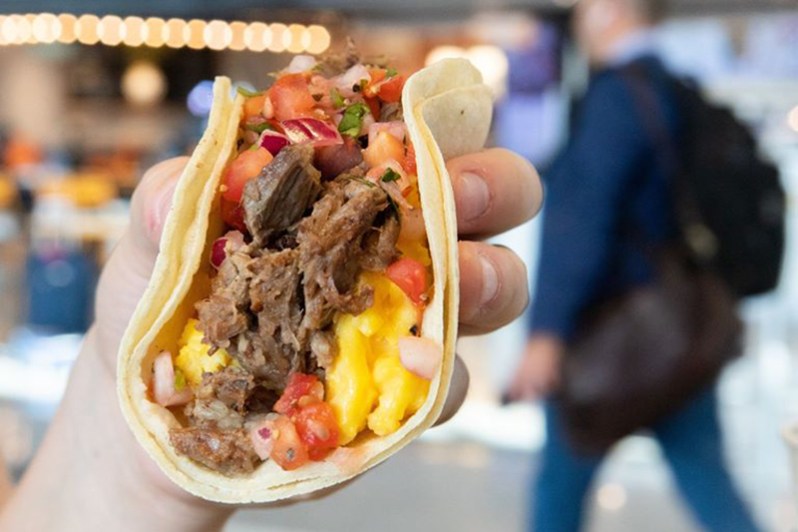 Austin is a major barbecue destination in the United States, and the city takes particular pride in its toothsome smoked brisket. Eric Silverstein and the Peached Tortilla team like to incorporate this iconic Austin meat into their breakfast tacos, melding two inextricable Austin culinary traditions.
Ingredients for the tacos:
8 flour tortillas
4 tbsps butter
12 pasture-raised eggs, beaten with a fork
Ingredients for the pico de gallo:
1.5 lbs Roma tomatoes, diced
1⁄2 cup cilantro, chopped
2 tsp lime juice
Half red onion, diced
Kosher salt, to taste
Cracked black pepper, to taste
Ingredients for the brisket:
1 4-pound piece of brisket, first cut (the leaner portion of brisket)
1 1⁄2 qt beef broth
5.5 tbsps vegetable oil
1 tbsp brown sugar
1⁄2 tbsp kosher salt
1⁄2 tsp mustard powder
1⁄2 tsp chili powder
1⁄4 tbsp freshly ground black pepper
1⁄4 tbsp garlic powder
1⁄4 tbsp onion powder
1 yellow onion, quartered
3 cloves garlic
3 bay leaves
Kosher salt, to taste
Method:
Make a dry rub for the brisket by adding kosher salt, black pepper, mustard powder, chili powder, garlic powder, onion powder, and brown sugar to a small bowl and stirring to combine.
Preheat the oven to 325 degrees F and drizzle ½ tbsp of vegetable oil over the brisket. Next, spread the dry rub over the oiled brisket.
Add 2 tbsps of oil to a Dutch oven or a heavy-bottomed pan and put on a burner over medium-high heat.
Add the brisket and sear on both sides for 3-4 minutes each. Remove the brisket and set aside.
Reduce heat to medium and add 3 tbsps of oil to coat the pan.
Add onion and garlic and brown for 3-4 minutes, then add bay leaves.
Turn off the heat and add brisket back to the pan with the fat cap facing up. Add beef broth until it comes halfway up the brisket.
Cover the pan and put in the oven to braise. After 2 hours, check the pan and add additional beef broth if the broth amount in the pan has lessened. Braise for an additional 2.25 hours.
When the brisket is fork-tender, remove from the pot and strain the braising liquid, discarding the onions, garlic, and bay leaves. Skim some of the fat from the top of the braising liquid with a large spoon. Chop the brisket while it's hot.
To make the pico de gallo, add the diced tomatoes and red onion, the sliced cilantro, the lime juice, and the kosher salt & pepper in a mixing bowl and stir to combine.
In two separate non-stick pans, heat 2 tbsps of butter over medium-high heat. Once the butter melts, add half of the beaten eggs to each pan and use a spatula to scramble the eggs once the bottom layer has solidified and started to cook. Once finished, set your scrambled eggs aside near your range so they stay warm.
In a separate skillet, warm both sides of your tortillas over high heat.
Assemble the tacos by spreading 1.5 oz of scrambled eggs over each tortilla, then topping with 1.5 oz brisket, 1 oz pico de gallo, and hot sauce to taste.
Editors' Recommendations