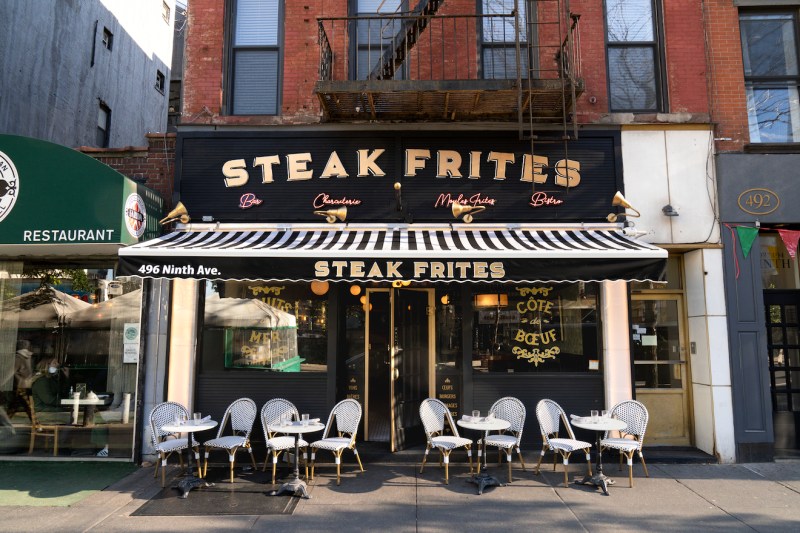 A perfectly seared steak with a pile of crispy French fries, not many foods are more delicious than this classic combination. And if you're curious about this Parisian classic of steak frites, we've got a full guide, complete with everything you've ever wanted to know about this carnivore's delight.
That's why we've enlisted the aid of Chef Adam Schop of Steak Frites Bistro, a new restaurant that specializes in French food in the Hell's Kitchen neighborhood of New York City. With a name like Steak Frites Bistro, Schop is an expert on everything steak and fries.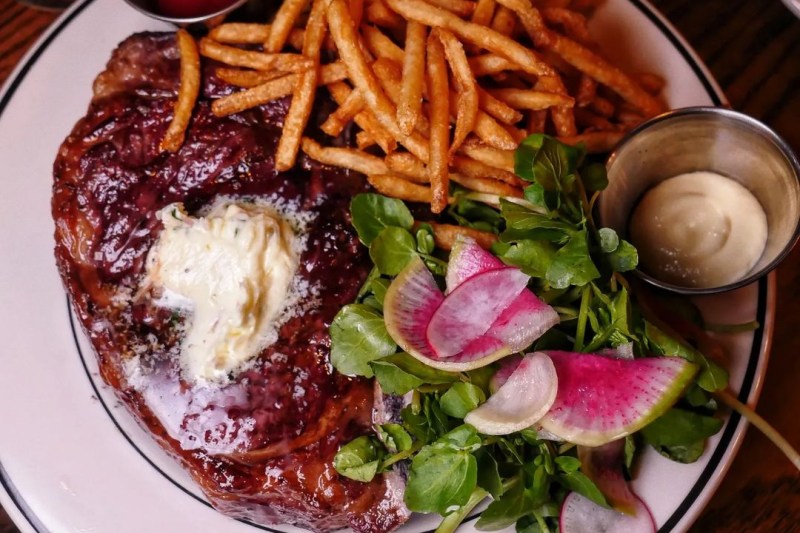 Choosing the steak cuts
When it comes to the star of the show, the choice of steak is important but also a matter of personal taste. For those who prefer something beefy but with more textural chew, lean rump, various sirloin cuts, or New York strip is the best. But for those who prize tenderness, the filet mignon is the optimal choice. Of course, then there's also grass-fed versus grain-fed, American or high-end Japanese wagyu, and more; the list goes on. However, the key thing to remember here is that steak frites is a flexible definition — any steak cut will do, as long as it's high quality and properly cooked.
Steak Frites Bistro offers four beef cuts: hanger steak, NY strip, Côte de Bœuf, and chateaubriand (the last two cuts are meant to be shared). The smallest of all four cuts, the hanger steak is a favorite among many meat eaters for its beefy, organ-y flavor. The NY strip at Steak Frites Bistro is bone-in and dry-aged for 28 days, giving this cut a deeply rich and nutty flavor. Also, a bone-in cut is a nice touch because the bone helps insulate the meat, slowing down the cooking and keeping the steak moist when it rests. Plus, it's a nice bonus to gnaw on the bone afterward.
For Steak Frites Bistro's larger cuts — Côte de Bœuf and chateaubriand — both are excellent. Chateaubriand is essentially a filet mignon roast and comes with sauce béarnaise, frites, and a petite salade. This elegant cut is tender, and because it's relatively delicate in beef flavor compared to other cuts, it's a great complement to a sauce béarnaise. But for Schop, there's one cut that reigns supreme — the bone-in ribeye, Côte de Bœuf.
"All our steaks are delicious, but our Côte de Bœuf is our most recommended," Schop said. "The meat quality and fat content ensure a perfect juicy mid-rare finish, which most of our customers enjoy."
How to cook
While grilling your beef for steak frites is a great option, pan-searing is equally as great. In fact, for steak frites, pan-searing is the classic method. The key to this technique is butter basting, ideally in a hot cast-iron pan with garlic and aromatics like thyme. To properly execute this traditional French cuisine technique, throw in some good butter toward the end of the cooking, tilt the pan, and spoon the melted butter liberally over the meat. As the butter browns, it will add a nutty flavor and spread the fragrance of your aromatics throughout the steak.
For the perfect temperature, remember that different cuts require varying cooking times due to the fat content. For instance, how to cook a filet mignon is going to be distinctive from a fatty, bone-in ribeye. Schop recommends a medium-rare meat temperature, perhaps medium if one chooses. Anything more than that and the diner won't be able to enjoy the quality of the meat.
The sauces
While a high-quality steak is delicious by itself, the steak frites experience can be heightened by several French sauces. Although for many, the simplicity of a classic French mâitre d'hôtel butter full of herby parsley is more than enough to accompany their steak.
For those looking for an extra boost, there are two classic French sauces to consider for any steak frites meal — au poivre sauce and bearnaise sauce. These sauces can be served on the side or poured liberally over your steak. And while both are tasty, they do tend to pair better with certain cuts over others.
"The bearnaise is paired with the Chateaubriand since it is a classic combination," Schop said. "For the rest of the cuts, it's a matter of one's taste depending on if you prefer a wine sauce with bone marrow or for a more meat-forward, like the sauce au poivre."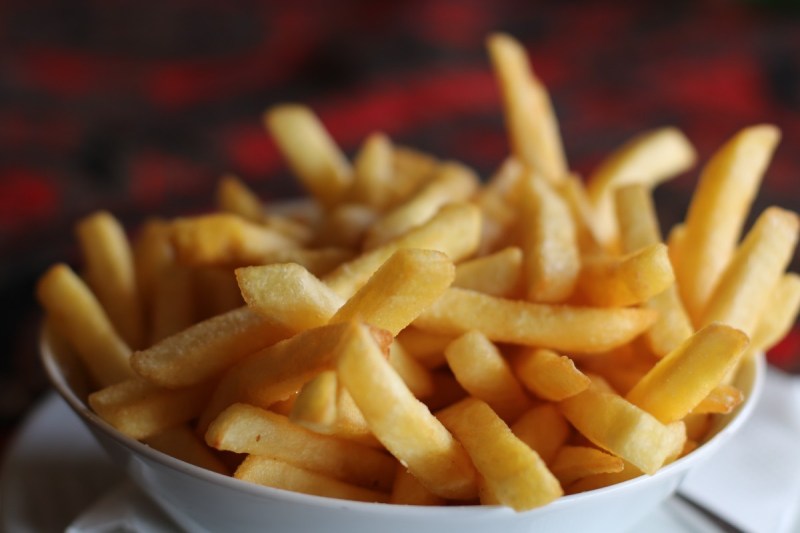 All about the frites
You can't have steak frites without the frites. In the classic steak frites style, thin fries, not thick-cut steak fries, are king. "Thinner is better since it gives a crunchier taste, clean fryer oil ensures the perfect golden French fries," Schop said.
What this means is that you'll need to cut your frites thin and soak them in cold water for 15 to 20 minutes to remove excess starch, which will help create crispiness. Make sure to use a neutral-tasting oil, not olive oil, to avoid burning your oil or any off-tastes. For the classic presentation, serve your fries on the same plate as the steak for that authentic steak frites look.
And while ketchup might be popular for fries in America, steak frites are best served with aioli or mayo as a dip. However, a great hack is dipping your frites in your choice of steak sauce. In our opinion, the pepperiness of an au poivre is the ideal dipping partner for frites.
Editors' Recommendations