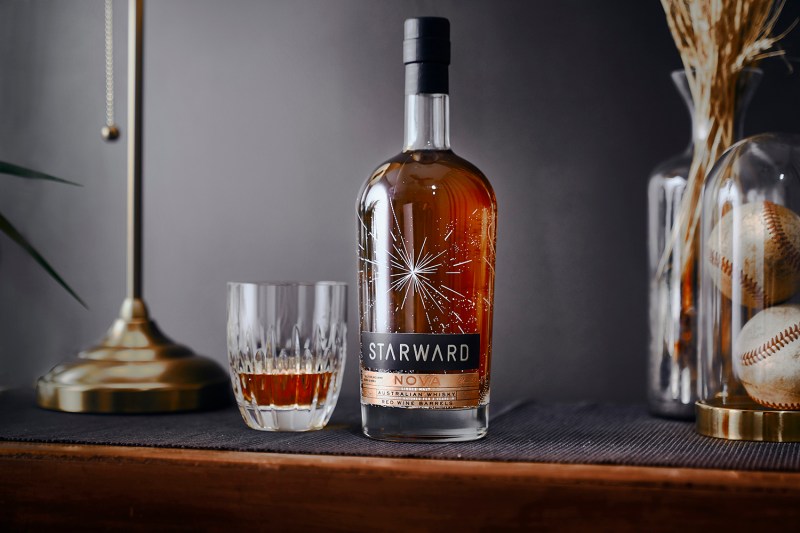 Whiskies from all over the world continue to flock to the U.S., and one of the latest is a new brand from Australia.
The Australian single malt whisky brand Starward is now available nationwide in the U.S. Like many whiskies of the world, Starward brings a unique set of whiskey characteristics to the American market.
"Starward began with a simple vision: to make a distinctly Australian whisky we could offer the world with pride," Starward Whisky founder David Vitale said. "I have long dreamed of being able to share our whisky in the U.S. It is a genuinely exciting time for the team as we take the next step on our Starward-bound journey."
Vitale started Starward in 2007 in his hometown of Melbourne after time as a business manager at a Tasmanian distillery. As with many of the other whiskies from non-traditional regions, Starward leans on some neighbors to stand out with an Australian flair. The distillery's proximity to the wineries of Southeastern Australia help lend a unique twist to its whiskies.
Starward spends its time maturing in un-charred Australian red wine barrels, and the first expression, Starward Nova, is a single malt that spends three "Melbourne years" in the barrels, which include Shiraz, Cabernet Sauvignon, and Pinot Noir barrels from local wineries.
The Melbourne climate is dynamic in temperature fluctuations, which helps accelerate the aging process, so three "Melbourne years" helps result in a "long, distinct and spicy finish that creates a complex single malt from a relatively young whisky."
According to the company, the barrels are wet-filled to "maximize the flavor of wine permeated into the oak." The whisky also takes on some of the red hues from the leftover wine and also plenty of fruity notes from Australia's strong wine industry.
On the nose, Starward has "bright red berries, orchard fruits, and soft oak spice," while the palate is hit with "vanilla and berries balanced with caramel and spice," before finishing "long, fruity, and slightly tart with hints of baking spice."
The whisky maker says because of the influence of the "vibrancy of big red wines" from Australia, Starward whisky is perfectly married with food.
A two-time winner of "Best Australian Single Malt" at the World Whiskies Awards, Starward Nova has a suggested retail price of $55 per bottle.
Editors' Recommendations