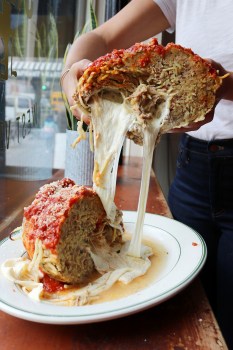 As should be expected at this point, meatballs have their own holiday. Yes, friends, National Meatball Day is coming up on March 9. And while we don't need a reason to make a batch of meatballs, we'll take it, as the humble meatball is a wonderful thing.
If you don't know how to make a basic meatball, you can check out a recipe here. If you do, then it's time to up your game a bit by adding spaghetti — and we don't just mean a bed of it on which to place your meatballs. Instead, we're going to teach you how to make a meatball that has spaghetti already in it.
Ever thought about putting spaghetti on your sandwich? Now you don't have to worry about it sliding out! (You haven't thought about it? That's just us? Well then.)
This recipe comes to us from The Meatball Shop, where you can go on National Meatball Day to partake in the Bucket of Balls challenge. If you and a buddy can eat all 25 meatballs in under 10 minutes, you both win a $50 gift card. If you do it in the fastest time across all of their shops, you'll win even more: an epic night on Daniel's Chicken Bus catered by The Meatball Shop.
(If you don't want to make these yourself, you can also get them at any of their locations for a limited time.)
Spaghetti 'n Meatball
(Yields 25 3-ounce meatballs)
Ingredients:
2 jars TMS tomato sauce
2 large eggs
2 lb 80 percent lean ground beef
1 lb Spaghetti (dry)
1 cup ricotta cheese
.5 cup bread crumbs
.5 cup grated parmesan
.25  cup chopped fresh parsley
2 tbsp olive oil
1 tbsp chopped fresh oregano or 1 tsp dried
2 tsp kosher salt
.5 tsp ground fennel
.25 tsp crushed red pepper flakes
Method:
Break spaghetti in half and cook according to the package until al dente. Drain and cool.
Preheat the oven to 375 degrees Fahrenheit.  Drizzle the olive oil into a 9-inch by 13-inch baking dish and use your hand to evenly coat the entire surface. Set aside.
Combine the ground beef, ricotta, eggs, bread crumbs, parsley, oregano, salt, red pepper flakes, fennel, and spaghetti in a large mixing bowl and mix by hand until thoroughly incorporated.
Roll the mixture into round, 3-ounce meatballs, making sure to pack the meat firmly.  Place the balls in the prepared baking dish, being careful to line them up snugly and in even rows vertically and horizontally to form a grid. The meatballs should be touching one another.
Roast for 30-35 minutes, or until the meatballs are firm and cooked through. A meat thermometer inserted into the center of the meatball should read 165 degrees Fahrenheit.
Heat the tomato sauce in a pot over medium heat, stirring often to prevent it from scorching.
When the meatballs are firm and fully cooked, remove them from the oven and drain the excess grease from the pan.
Transfer cooked meatballs to a large bowl, then spoon over the tomato sauce and garnish with the grated parmesan cheese.
Editors' Recommendations