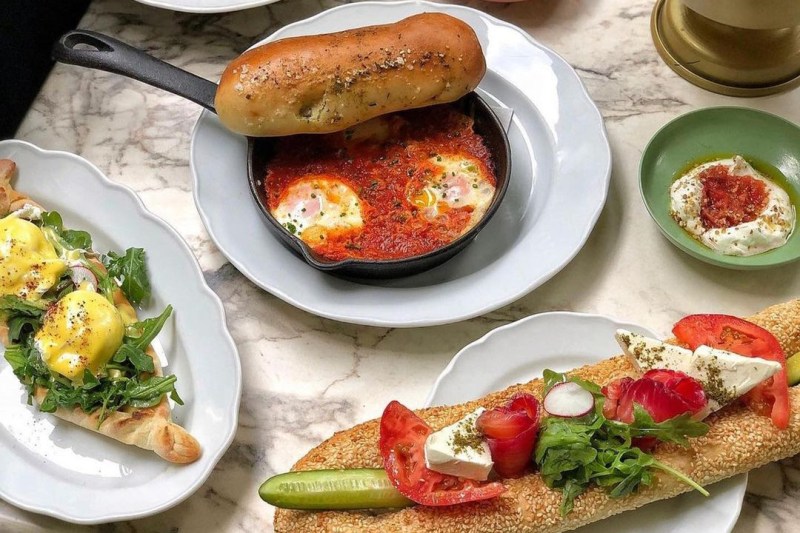 From creamy labneh to fresh bread and spicy eggs, Israeli cuisine features some of the most delicious breakfast and brunch dishes anywhere. Because Israeli, as a country and culture, is influenced by a wide range of global cuisines from Eastern Europe to North Africa and the Middle East, breakfast dishes can take on endless flavor profiles and ingredients. One popular favorite is shakshuka, a rich tomato sauce topped with eggs that originated in North Africa. This hearty dish is excellent with plenty of bread and it's also great for any meal besides breakfast, including lunch or dinner.
To help us navigate this breakfast classic is Dagon, a modern Israeli restaurant helmed by owner Simon Oren, his partners David Sasson and Gil Ohanaby, and Chef Ari Bokovza. Located in the Upper West Side in New York City, Dagon specializes in elevated Israeli food, serving some amazing mezze like chicken liver mousse with date syrup, mustard seeds, baharat spice, crispy shallots, and whipped eggplant with creamy tahini and vibrant preserved lemon compote. All the mezze is available during its stellar brunch, including its shakshuka dishes, a popular item that appears on almost every diner's table.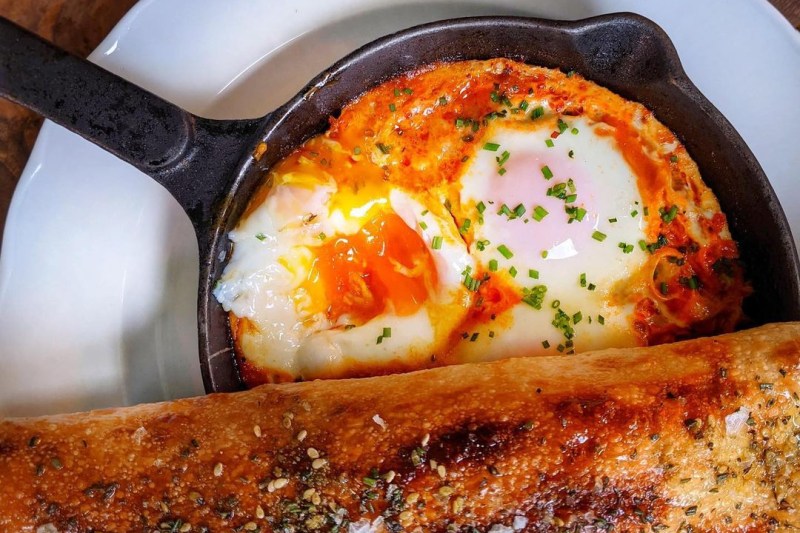 'Chamin' Brisket Shakshuka
Shakshuka by itself is amazing, but what if that rich tomato sauce was upgraded with delicious and hearty brisket stew? At Dagon, one of its shakshuka recipe variations is the inclusion of chamin, a meaty Middle Eastern stew that combines beef with potatoes and beans. Also known as cholent, this slow-cooked stew is traditionally served for the Jewish Shabbat meal.
While Dagon does have a standard shakshuka on the menu, its specialty brisket version hits the craving for anyone looking for something meatier for breakfast. While brisket is best slow-cooked, you can also use other stewing beef cuts, such as chuck. Also, this stew can be made well in advance. When you're ready to cook the eggs for the shakshuka, simply heat up the brisket stew and crack the eggs on top. Breakfast is served.
Ingredients:
3-4 pounds brisket or chuck, trimmed of fat and connective tissue, seasoned with salt and pepper
1 pound bone marrow, split
1/4 cup chickpeas, soaked overnight
1/4 cup gigante beans, soaked overnight
1/4 cup cannellini beans, soaked overnight (Note: It's OK to combine beans and soak together)
2 tablespoons beef fat
1/2 white onion, diced
2-3 sweet potatoes, unpeeled and whole
2-3 whole potatoes, unpeeled and left whole
3 tablespoons silan (date syrup)
5 tablespoons tomato paste
6 cloves garlic, sliced
1/2 green chili, sliced with seeds
1/4 teaspoon turmeric
1/4 teaspoon paprika
1/2 cinnamon sticks
1/2 teaspoon ground coriander
1/4 teaspoon ground cumin
1 bay leaf
2 quarts water
5 whole eggs
Method:
In a large pot, melt the fat, and sear all sides of the brisket until brown.
Once browned, remove the meat from the pot, and add the onions and sweat until soft. Next, add the garlic and chili and sweat until soft. Add the spices and toast until fragrant.
Add the tomato paste, bay leaf, and silan. Cook for a few minutes.
Add the potatoes, sweet potatoes, bone marrow, beans, and browned brisket. Cover with water and bring to a simmer. Then, cover the pot, and put it into a 200-degree Fahrenheit oven for at least 2 hours or until tender.
To add eggs, gently crack eggs onto the top of the stew. Then, cover it with a lid. Cook eggs to the desired doneness. Serve with plenty of fresh bread.
Editors' Recommendations