Editor's Note: Last November we had the pleasure of spending 10 captivating days in Scotland. Below is but one adventure of many from our stay. We hope the joy we experienced comes through in all our posts and missives from our adventure, which no doubt read better with a wee dram in hand.
Edinburgh's The Scran and Scallie is the dream pub: it has the food of a high-end restaurant and the relaxed, welcoming atmosphere you want out of a pub. It will, perhaps, come as no surprise then that it's the work of some of Scotland's greatest culinary minds: the youngest Michelin star winner in the world, Tom Kitchin and Castle Terrace's incomparable Dominic Jack.
At The Scran & Scallie (which means fun and food in Scottish slang)– Kitchin, Jack, and Head Chef James Chapman have revived Scottish recipes and use only the freshest and finest local ingredients, ensuring incredible home cooked meals in an artfully designed atmosphere.We can attest. We headed here for our first night in Edinburgh and their beef sausage and mash, baked cauliflower and cheese, and flight of beers sent us to the most satiated slumber, jet-lag be damned.
Head Chef Chapman talked with us about the pub, their butcher who lives down the street, Scottish culinary heritage, and good Scottish beers.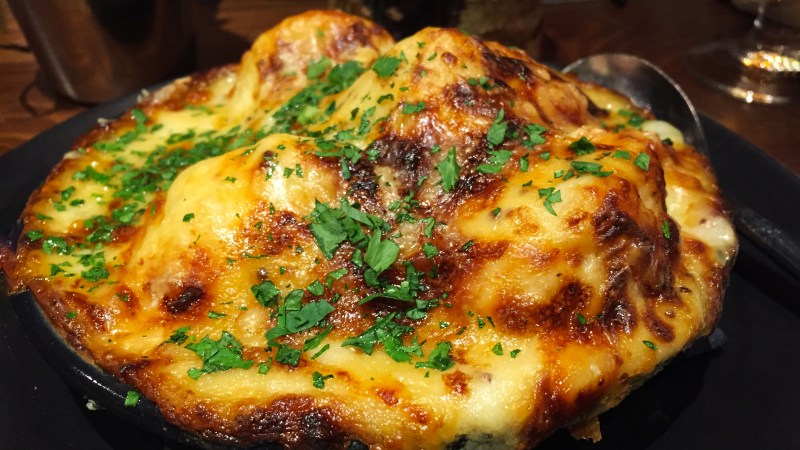 What is traditional Scottish pub food? Are you reinventing old recipes for modern palates?
Traditional Scottish pub food hasn't always enjoyed the best reputation but that perception is really starting to shift. At The Scran & Scallie, we set out to change perceptions by giving a fresh modern twist to classic Scottish favorites, using only the best finest produce from Scotland's land and sea.
All of our dishes hero the best Scottish flavors, whether it's our take on Cullen Skink using smoked haddock, mussels, and hake, or our game pie packed with local game that we receive in full fur and feathers and butcher in the restaurant.
When the restaurant first opened, we worked closely with the National Library of Scotland to look back into their archives into the history of Scottish foods and ingredients throughout the years. We have now evolved and adapted these to create the classic dishes with a modern twist that The Scran & Scallie has become recognized for.
Where do you get your meat and produce?
As with our sister restaurants, Michelin-star The Kitchin and award-winning Castle Terrace, our From Nature to Plate philosophy means we are committed to working with local suppliers and sourcing only the finest ingredients which are delivered to the restaurant and served to our guests that very day.
Bower's Butchers is a family run butcher and game dealer that has been established in Edinburgh for over 50 years.
The Scran & Scallie is lucky enough to have established a network of suppliers right on our doorstep in the Stockbridge area of Edinburgh. Bower's Butcher, just a couple of doors down, supplies the restaurant with some of our meat, game and poultry, George Mewes provides the cheese, and a selection of our fish and seafood comes from Newhaven Harbour, just a stone's throw from the restaurant.
Tell us a bit about your butcher and his/her process.
Bower's Butchers is a family run butcher and game dealer that has been established in Edinburgh for over 50 years. The team work hard to source only the finest meat and game in Scotland. At The Scran & Scallie, the meat arrives whole and all the butchery is done at the restaurant, ensuring every single part of the great produce is used and absolutely nothing goes to waste.
Do you notice a difference in the quality of ingredients when you use local suppliers versus larger, more industrialized suppliers?
As a team, we've spent years seeking out and meeting the very best suppliers. The benefit of developing relationships with local suppliers is you always have access to the very best produce and know what's fresh, what's in season, and what you can expect to get your hands on each day.
The Farm to Table movement has become quite popular: how do you interpret Farm to Table?
Since day one, we have always lived by our From Nature to Plate philosophy, which runs through the heart of the restaurant. It's more than just a philosophy for us; it's our passion and essence of our menus and seasonal focus. Scotland has such an amazing natural larder and I really do believe our produce is among some of the finest in the world. We're fanatical about working with the seasons and love experimenting with whatever ingredients are in season to create delicious dishes that our customers eagerly look forward to year on year.
We are dedicated to providing customers with an unforgettable dining experience, serving only the highest quality food, regardless of their dietary requirements.
There are several vegetarian items on the menu and gluten free is available upon request– how difficult is it to make adjustments like these? Do you think the gluten-free trend is here to stay?
We get a lot of requests from diners with dietary requirements and we are always happy to find ways to adapt our dishes or make suggestions based on a guest's preferences or diet. We even have a selection of gluten-free craft ales at The Scran & Scallie and always want to make sure no one misses out.
We are dedicated to providing customers with an unforgettable dining experience, serving only the highest quality food, regardless of their dietary requirements.
How do you go about curating your beer list? What's the most popular beer at the moment?
Just as our food is local and sourced from the best suppliers, our beer is carefully curated from Scotland's leading craft beer producers, offering our guests a unique selection of local ales.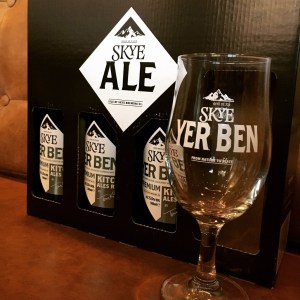 The Isle of Skye Brewing Company, Yer Ben Beer
We have a selection of over 20 craft beers. We have also recently introduced beer flights, giving diners the chance to try a trio of artisan ales. The expert bar staff create these flights by selecting beers that complement, not only one another, but certain dishes on our menu.
Tom Kitchin recently worked with Scottish brewery, The Isle of Skye Brewing Company, to create his very own craft beer, Yer Ben. Yer Ben was created as the perfect complement to hearty dishes such as those served at The Scran & Scallie, and has become a firm favourite at the pub. The ale is also used as an ingredient in several of our much-loved dishes including the Steak and Yer Ben Pie.
In line with our commitment to local suppliers, The Scran & Scallie works with a number of local breweries including; Campervan Brewery, our neighbor in Stockbridge, Stewart Brewing in Edinburgh and, of course, The Isle of Skye Brewing Company in The Isle of Skye, to provide the restaurant with a vast selection of craft ale.