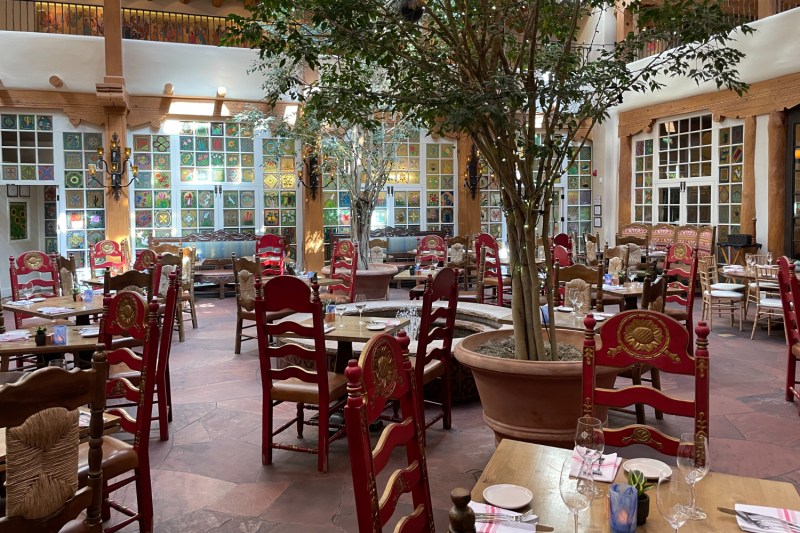 There's so much to love about the American Southwest. And in towns like Santa Fe, you not only get the charm and scenery of a high desert town, you get some serious food and drink options. Tourists may go for the adobe architecture and sunny skies but they'll stay for the New Mexican cuisine.
Santa Fe, located a short and stunning drive from Albuquerque, is a great place to eat. The rich culinary scene falls right in line with the town's major focus on the arts. As you might expect, the food is informed by classic Mexican cuisine but is also very much its own thing. Dining in New Mexico is a truly singular experience that pulls ingredients and customs from the immediate area. If you're lucky enough to get out there this summer, here's where to wine and dine.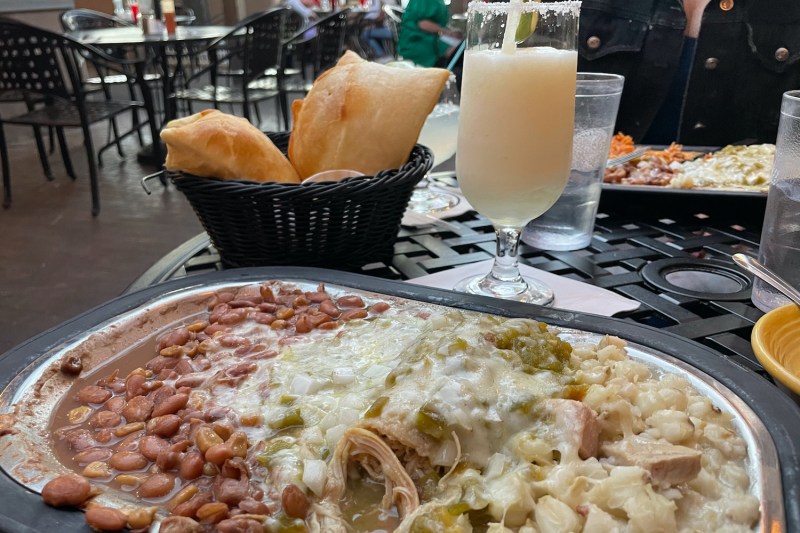 Tomasita's
With locations in Albuquerque and Santa Fe, Tomasita's is feeding the state what it wants most: incredible tortilla soup, arguably the best frozen Margaritas around, and generous portions. The restaurant has been drawing crowds for decades and first launched about 40 years ago. There's a reason why it's mentioned by every cab driver or gallery employee in town as it's a local favorite with a great atmosphere. Look out for the Flautas Compuestas, tamale plate, Chicos (only served Saturdays), and even the burger (get it with green chile, New Mexican style) and top it all off with a complimentary house-made sopaipilla.
La Fonda
Great just about anytime for a cocktail and bite, La Fonda really shines right around sunset. That's the best time to access the rooftop bar and take in the massive high desert panorama. If you're lucky, you can even snag a seat beneath the historic bell tower and take in both the shade and the view. Standout drinks include the Prickly Pear Margarita, Spicy Serrano, and the refreshing frozen Sangria. Ask about local beers on draft and be sure to snack on some chile con queso or burrata, served with a basil-piñon pesto. For more impressive food, head to La Plazuela on the main floor and order the quail breast with tellicherry pepper, chilled corn soup, or chile rellenos. Talk up your server about a great wine to accompany the meal as the hotel's list is quite solid. The green chile mac and cheese is all kinds of comforting, and the Huitlacoche Tamal and Corn is about as New Mexican as it gets.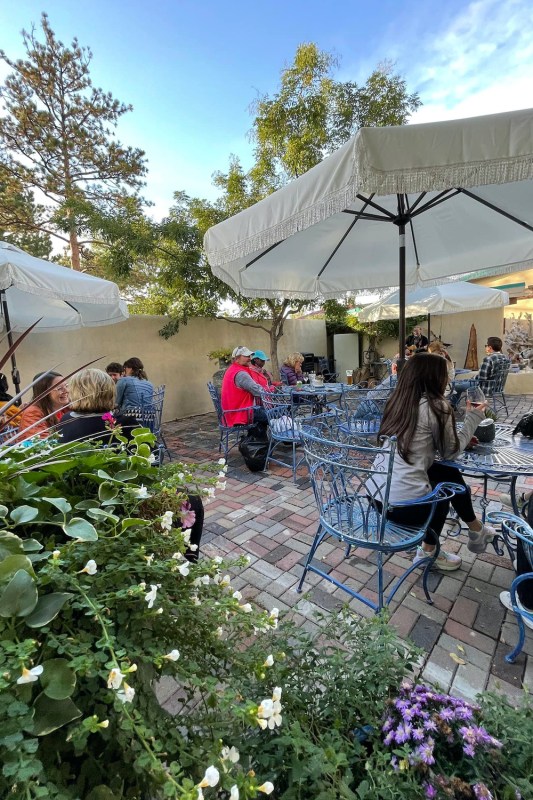 Ahmyo Wine Garden
A little gem hidden away on historic Canyon Road, Ahmyo Wine Garden is the ultimate pre-funk spot. There's a sprawling patio, often live music, and even a nature path through one of the coolest gardens in the city. Get a meat and cheese plate and wash it down with a wine slushie. While the food menu is a bit limited, there are plenty of small plate items to accompany you as you check out the offerings from New Mexican wineries such as Vivác. If it weren't for the New Mexican decor, you'd think you were in a small cafe in the foothills of the Mediterranean.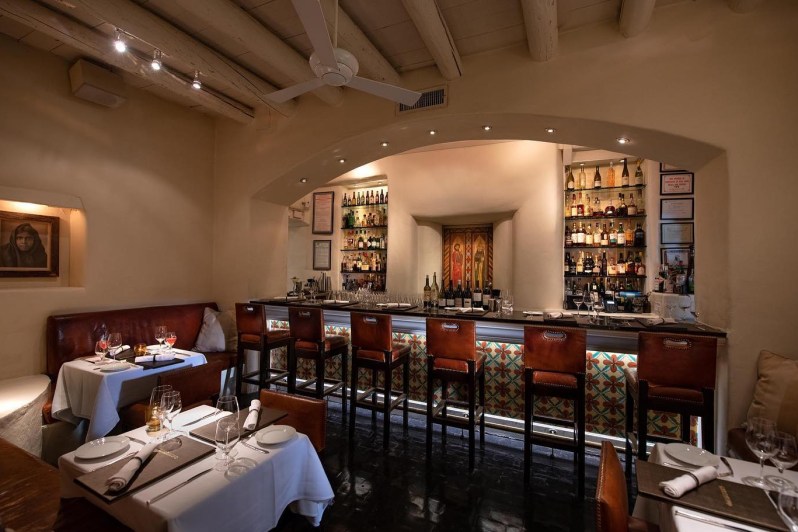 Geronimo
One of the fancier outfits in Santa Fe, Geronimo is appetizing from start to finish. The restaurant itself is housed in a mid-18th Century adobe home while the service and dishes satisfy to the fullest. This is where you go for fine cuts of Wagyu or pan-seared Foie Gras. Try the impressive vegetarian tasting menu or indulge in mains like the Green Miso Sea Bass, Tellicherry Rubbed Elk Tenderloin, or New Mexico Four Corners Grilled Rack of Lamb. Ask the wise staff to break down the cocktails of the day or select a great wine to match your meal.
VARA Winery & Distillery
A bar built with the wino in mind, VARA's Santa Fe Vinoteca is a great place to unwind and try some local fermented grapes and spirits. Enjoy a wine-centric cocktail or sample from varietal to varietal, trying things like Tempranillo, Garnacha, Albarino, and more. The theme is very Spanish (definitely peruse the tapas menu) and the approach is often local, per VARA's gin, made from New Mexico grapes and treated to juniper, coriander seed, sage, angelica root, nutmeg, star anise, cardamom, and more. The label's approach to crafting spirits is much like crafting wine in that it's all about details and blending the right complementary flavors.
El Rey Court
Easily the coolest hotel in Santa Fe, the vibe at El Rey Court is infectious, the pool is great, and the bites and drinks are superb. No, there's no hotel restaurant, just the aptly named Turquoise Trailer, a food cart turning out everything from breakfast burritos, tortas, and avocado toast in the morning to papas flautas, seasonal soups, and churros come evening. There's a great hotel bar called La Reina, which touts an impressive mezcal selection as well as great signature cocktails like a refreshing Ranch Water, Bonal and Bourbon, and Negroni Rosa. They even have a small but reputable beer and wine list, if that's your thing.
Iconik Coffee
Any good foodie guide is incomplete without a proper filling station full of excellent coffee. Iconik Coffee is that place, the first stop of the day to keep you fueled for a full shift of wandering and meal eating. Fortunately, the roaster has three locations in Santa Fe, where you can get excellent coffee and tea but also other great drinks like lavender lemonade and smoothies. Load up on pastries and if you need more fuel later in the day, check out the lunch and dinner menus, offering everything from tacos to Korean galbi steak.
Paloma
The menu at Paloma is as colorful and eclectic as New Mexico. Drawing from dishes south of the border, the restaurant features things like pepita salad, squash blossom quesadillas, steak fajitas, and short rib barbacoa. Pull from the great agave-centric drinks menu and don't leave out the roasted shishitos. You can get any number of great Margarita riffs or go for a Tiki Tomate (Charanda Anejo, Puro de Surales Rum Agricole, tomato, bananum, allspice) or Suelo Oscuro (Amaro Sfumato Rabarbaro, Fernet-Vallet, ginger, goji).
Thinking about heading to New Mexico? Read our New Mexico roadtrip feature and our guide to Albuquerque. And if you've got spicy cuisine on the brain, check out our tips on how to make a good spicy cocktail at home.
Editors' Recommendations