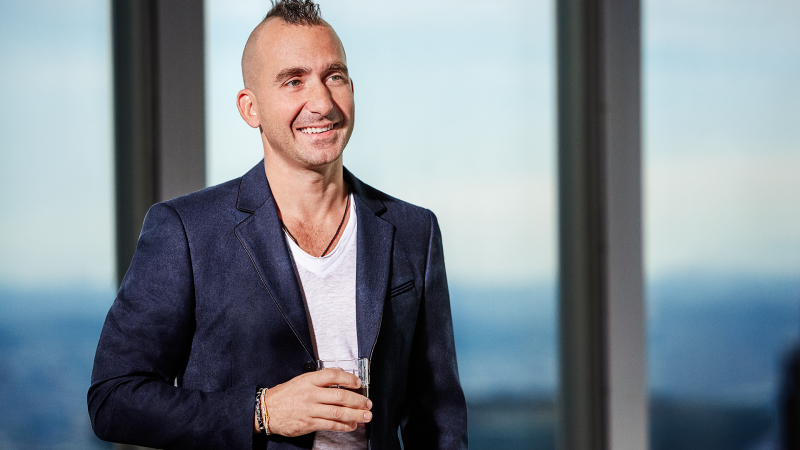 Are you the one who wows friends with elaborate dishes when there's a pot luck? Do you use words and phrases like "deglaze the pan" and "sous vide" in everyday conversation?
As a way of celebrating National Cognac Day while also showcasing the newest mentor in their Circle of Centaurs mentorship program, Cognac producer Rémy Martin may have the answer for you.
From now through March 15, you have the chance to win a mentorship from Iron Chef Marc Forgione (plus a cash prize to put towards growing your culinary skills) by simply creating and showing off a recipe that highlights how well Rémy Martin 1738 goes with food.
"The chef with the recipe that pairs best with Rémy Martin 1738 will win a mentorship with me and will cook alongside me for a National Cognac Day dinner in May," Forgione explained.
This opportunity for one-on-one mentorship is at the core of Rémy Martin's Circle of Centaurs program, which taps celebrities from various fields to inspire and encourage young up-and-comers to experiment, experience, and above all, achieve through creativity.
"I had the benefit of great mentors as I grew and learned in the industry and I believe that it's important to give back and help the next emerging chef," Forgione said, looking back on his own experience as an up-and-coming chef. "The early years in a young chef's career are extremely important. Any great chef whose name you know, 99% of the time was mentored by someone great. When you find a good one, absorb as much as you can before you move on," Forgione said of his own mentorship experiences.
Entering the contest is simple. If you're over twenty-five years old, upload a photo of your original appetizer recipe once on one of the following platforms: Instagram or Remy Martin's official Facebook page. You need to include the complete recipe and instructions in the caption of your post for review. Finally, tag with #RemyChef and @RemyMartin for your chance to win. The contest closes on March 15, 2017, at 11:59:59 and winner will be announced on March 30, 2017.
In thinking about what a winning recipe will look like, Forgione said he's seeking a few key things. First, they'll be looking for flavor and creativity. Perhaps more importantly, though, is showing off your personality.
"Try to show who you are on the plate," Forgione said.
Do you have what it takes to try your hand at becoming the next big celebrity chef? If so, what are you waiting for? Get cooking!
Editors' Recommendations