The old adage that if you can boil water, you can cook needs some updating. Thanks to RealEats, if you can boil water, you don't have to cook.

We've talked before about the magic of sous vide cooking and some of our favorite meal kits, but both of those have flaws for the cooking-averse or otherwise too busy. Sous vide requires equipment and planning and meal kits require you to cook. What if a chef could do all the work for you and you could just do the fun pouch boiling part?

Enter RealEats. This is a meal delivery service where chef-prepared meals are sent to you in little vacuum pouches. All you have to do is boil some water and put the pouches in it for the indicated amount of time. About ten minutes later, you have a healthy, gourmet, delicious meal. Your prep consists of pulling pouches out of the fridge and boiling water and your clean up is tossing plastic into the recycling and maybe washing your plate. Or just let it soak until tomorrow. Or like, next Thursday. You're busy! Just, not with cooking.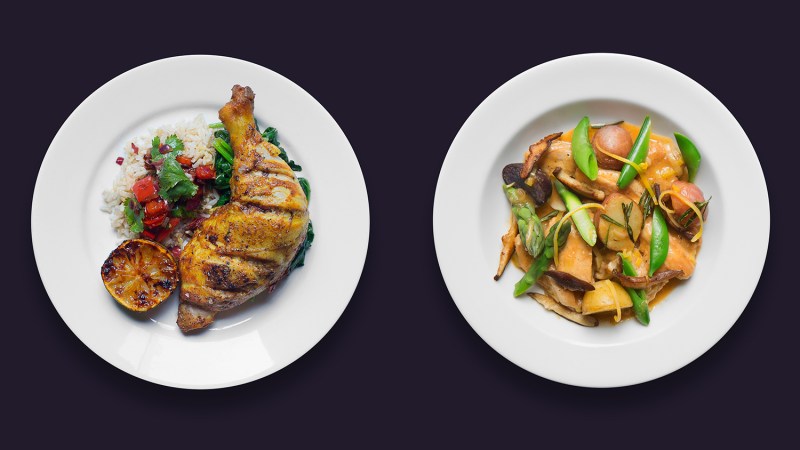 It will feel like wizardry the first time you try RealEats. For six minutes, you'll watch the meat in its vacuum-sealed bag sitting in boiling water and think, "There's no way this will work. It'll be rubbery and probably cold in the middle." And then you'll open the bag, plate your food, and taste tender, juicy, flavorful perfection. Science is weird, but the geniuses at RealEats have harnessed it for fast-paced, busy 21st century eating.
RealEats is also the most versatile meal delivery out there. There's no need to eat unhealthy take-out or tasteless frozen dinners anymore: anywhere you can boil water, you can eat their meals. Take them camping, chow down like a king in a dorm room, or at the office. It's the perfect solution for parents who are too exhausted after keeping small humans alive all day to cook. It provides you the space and time to sit down, relax, indulge, and reconnect over a meal.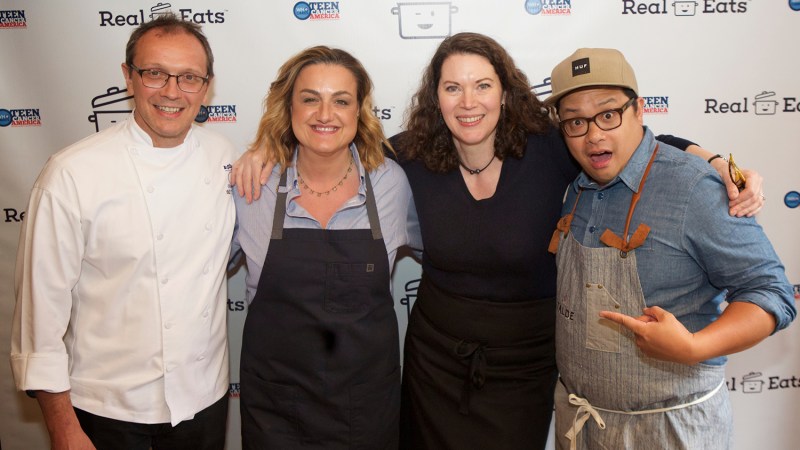 Chef Marco Ballatori whips up the food in the RealEats Kitchen in the New York Finger Lakes area using local, non-GMO, never processed, never frozen, responsibly sourced ingredients and the meats never have hormones or antibiotics. The meals are high in protein and always less than 800 calories. Each meal is designed with not just taste in mind, but are also nutritionist-approved, so there's no guilt in eating these restaurant-worthy dishes.
It also gives you the unique opportunity to sample the culinary visions of chefs you might not otherwise get to taste, all curated by RealEats' culinary specialist, Chef Katy Sparks. She brings together chefs like Dale Talde of Talde in Brooklyn, Bill Telepan of New York's Oceana, Chopped champ Silvia Baldini and this month, Kat Turner, a noted private chef. Chef Turner's serving up things like Moroccan Chicken with herb couscous and grilled eggplant covered in Chimichurri; Grilled hanger steak with bok choy and new potatoes, and the vegetarian option of whole wheat fusili with a roasted pepper tomato sauce served with corn, basil, and cheese. All the nutritional information is provided for you. For example, that pasta dinner is just 510 calories with 20 grams of protein and 14 grams of fiber, and let's face it, no one is getting enough fiber these days.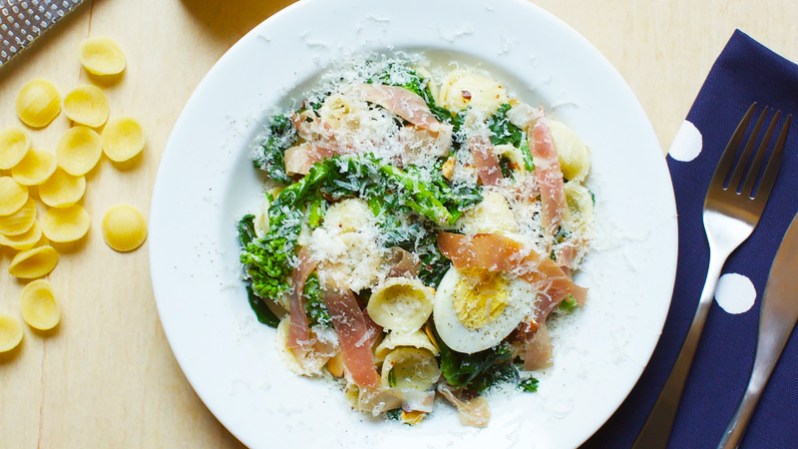 All of these high-end ingredients, high-end chefs, and high-end meals must cost a fortune, right? Wrong. They offer three plans: the Singles Plan, Couples Plan, and the Family Plan and each plan comes with three meals a week. For one person, it's $45 a week, for a total of $15 a meal. That's less than most Chipotle lunches. The Couples Plan, for two, comes to $85 a week, at $14.16 a meal, and the Family Plan, which feeds four people, is $162 a week, or $13.50 a meal. You can skip a week anytime or cancel– there's no commitment.
Not yet convinced that this is the greatest invention since sliced bread– especially since with RealEats you wouldn't even have to slice bread? Try it. You can test it out for yourself for $45 or, if your subscribe, you can get three meals free.
RealEats has taken away any excuse we have for not eating right and well.