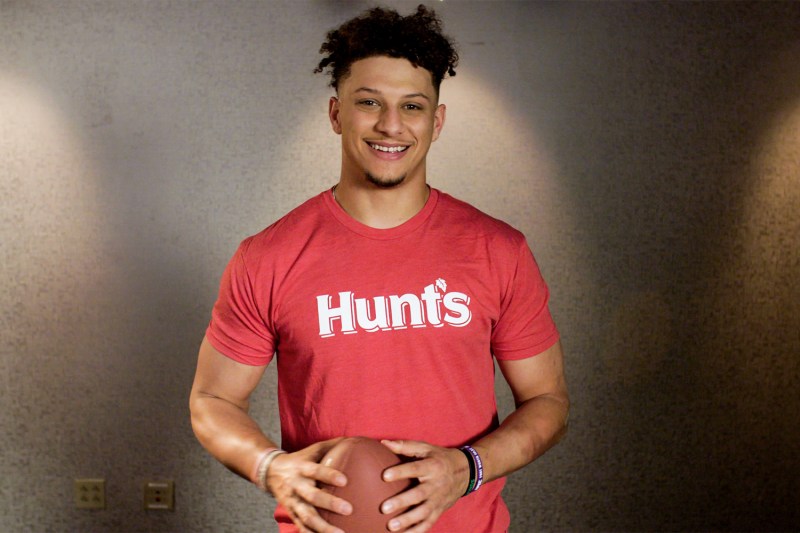 Patrick Mahomes used to get made fun of for his love of ketchup.
Now, last year's National Football League MVP is making the most of his obsession with the condiment in an endorsement deal with Hunt's. Once teased for that love, Mahomes is now free to eat as much ketchup as he wants.
"I would get ketchup at a steak house and get embarrassed," Mahomes said [Editor's note: while we don't endorse that, he's the NFL MVP, so we'll let it slide this one time]. "As I got older, it doesn't even matter anymore. My mom said something about how much I love ketchup and now it's blown up."
With his love of ketchup in mind, it might not be a coincidence he plays for teams in red; both his college team, Texas Tech, and his NFL team, the Kansas City Chiefs, have red as their primary color.
Mahomes, the Chiefs quarterback, had a breakout season in 2018, throwing for 5,097 yards and 50 touchdowns in his first season as a starter. Now, he's building a strong endorsement portfolio, including a brand of his favorite food: ketchup. The deal was announced back in December and as Mahomes prepares for his next season, he's sure to be eating plenty of ketchup.
While Heinz is the more well-known and, likely, loved brand of ketchup, Mahomes found a home with Hunt's because of its people and their mission. With the partnership, he's now the face of the brand's "Best Ever" product. "They're all about being the best and striving to be the best," he said. "I knew it'd be a great brand to be a part of and now the Best Ever is my go-to."
Mahomes didn't have many endorsement deals prior to his breakout MVP season, but his efforts last year sure seem to have paid off, as they've come in a flurry now that his value has surged. His deals include Adidas, Bose, Oakley, Essentia, Goodcents Deli Fresh Subs, and more. The Chiefs have a record of signing unique sponsorships. His teammate, tight end Travis Kelce, signed a deal last season with his brother, Philadelphia Eagle Jason Kelce, to endorse Old Spice's beard care line.
Now his main focus is not letting those endorsements get in the way of his play on the field. It's the same reason he held out for so long to sign deals. "I wanted to make sure people knew football was first," he said. "After having the great year, I was able to pick and choose the deals that work best with my brand and these brands know football is first."
It might be hard to live up to his MVP season, one in which the team also went to the AFC Championship game only to lose to the eventual Super Bowl Champion New England Patriots, but he's preparing the same way he always has.
"I'm trying to just keep working on the fundamentals," he says. "Last year, I made a lot of off-script plays and you want to keep doing that, but I'm always going to keep working on footwork and throwing mechanics, I do that each and every day."