Coca-Cola is getting frisky with its entry into the mixer space and we're all about it. The soft drink company has announced lines of mixers in the United Kingdom, indicating a strong potential play in the space for the long term.
In the U.K., the company worked with mixologists to come up with its line of Signature Mixers as the company steps up to occupy its place in the mixing world with "dark spirits making a comeback and the cocktail culture hotter than ever."
The U.K.'s line of signature mixers come in four flavors: Smoky Notes, Spicy Notes, Herbal Notes, and Woody Notes.
The Signature Mixers will come in Hutchinson bottles as "a nod to the silhouette of the first-ever Coke bottle from 1894." Each label is then signed by the co-creator mixologist responsible for the mixer.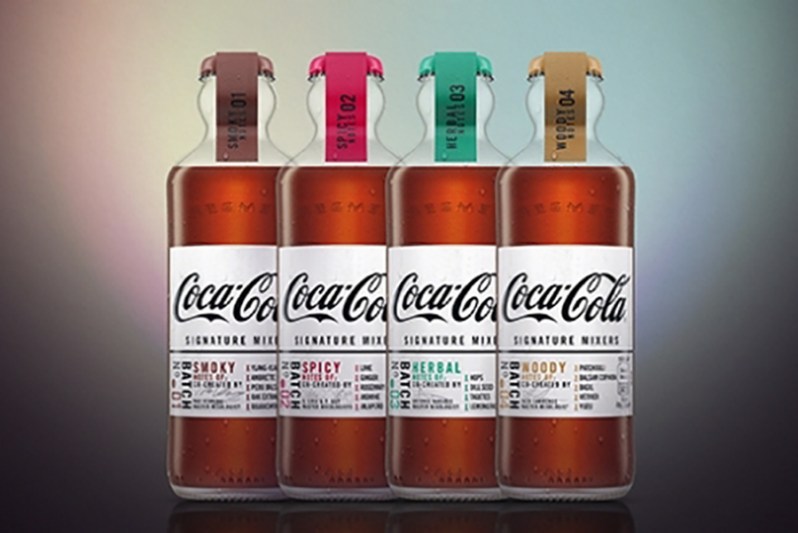 "Coca-Cola has always had a synergy with dark spirits and classic cocktails, from the inception of the iconic Cuba Libre in the late 1900s to the popular whiskey and Coke in the early 20th century," said Ana Amura, senior brand manager of Coca-Cola Great Britain. "With the rise of mixed drinks, we're excited to announce the launch of Coca-Cola Signature Mixers, a specific range uniquely created to mix with dark spirits.
Max Venning helped create the Smoky Notes Signature Mixer, meant to complement spiced rums and whiskies with its Ylang, ambrette seed, dried fruit, warm brown spices, Peru Balsam, and amber. Spicy Notes came from Adriana Chía and Pippa Guy and features lime, ginger, jalapeño, rosemary, and jasmine to go with spiced rums, aged tequilas, and spicy or sweet whiskies.
Antonio Naranjo brought together lemongrass, dill seed, and tagetes for a simple profile in the Herbal Notes mixer for amber whiskies and rums. Finally, Alex Lawrence rounded out the four expressions with Woody Notes' patchouli, yuzu, and basil for golden rums and smoky and woody whiskies.
The mixer endeavor comes a little more than two years after Coca-Cola introduced a Spanish line of mixers called Royal Bliss. The brand was the first new introduction by Cola-Cola in Spain in more than a decade.
The Royal Bliss line of premium mixers come in eight varieties: Creative Tonic Water, Bohemian Berry Sensation, Creative Zero Azúcar Tonic Water, Elegant Soda, Exotic Yuzu Sensation Tonic Water, Expressive Orange, Ironic Lemon, and Irreverent Ginger Ale.
As noted in the Signature Mixers announcement, Coca-Cola has already long been a staple in a mixologist's arsenal. The company's portfolio is also already loaded with potential spirits partners like Schweppes products and Sprite.
While it's a limited release in a single country now, who knows what the future could hold for Coca-Cola's new venture into the mixer space. If the forays into the space in Spain and the U.K. are any indication, there's probably some exciting potential in the U.S.