When you think of American wine, you likely think of Napa. But did you know California's most famous winegrowing valley is home to sixteen sub-appellations, all a bit different thanks to unique climates, soil types, and more?
Well, it's true, and if our nation's wine scene and love of terroir continues to grow, you'll only see more appellations like these, in Northern California and beyond. These unique geographical sectors offer one-of-a-kind conditions that tend to rub of on resident grapes. In turn, those unique qualities are expressed through wines after the requisite cellar work.
One particular part of Napa Valley has the tendency to turn out really distinctive juice. Mt. Veeder, a southern slice of the Mayacamas Mountains just northwest of Napa proper, is that place. It touts some of the highest vineyards sites at 2,600 feet, heights only a few other appellations reach (Howell Mountain, Atlas Peak, and Spring Mountain District). Many of the sites are set above a pretty typical fog line, meaning they enjoy cooler days and milder nights compared to their neighbors below.
As the mountain in the name suggests, the terrain is pretty dramatic. As such, much of the viticultural work is done by hand as heavier equipment can't handle the aspects. The vineyard slopes generally check in at anywhere from 10-30 degrees. The area enjoys an extraordinarily long growing season — so much so that some labels don't even harvest until November — and a nice, cooling effect courtesy of nearby San Pablo Bay. The mountain itself is an uplifted mass of ancient seabed in the form of shale and sandstone.
German farmers took a liking to the spot in the mid-18th century. Grapes were ultimately planted, including the valley's first rows of Petit Verdot. By 1993, these slopes of forest and vines gained official AVA credentials. Mt. Veeder continues to be lauded for its ability to produce both great classic varieties (Cab, Merlot, Chard) with a certain intensity. The elevation and climate lead to smaller, more concentrated berries, not unlike — but thanks to terroir not fully alike either — fellow appellations like The Rocks District of Walla Walla or Willamette Valley's forthcoming Mt. Pisgah AVA.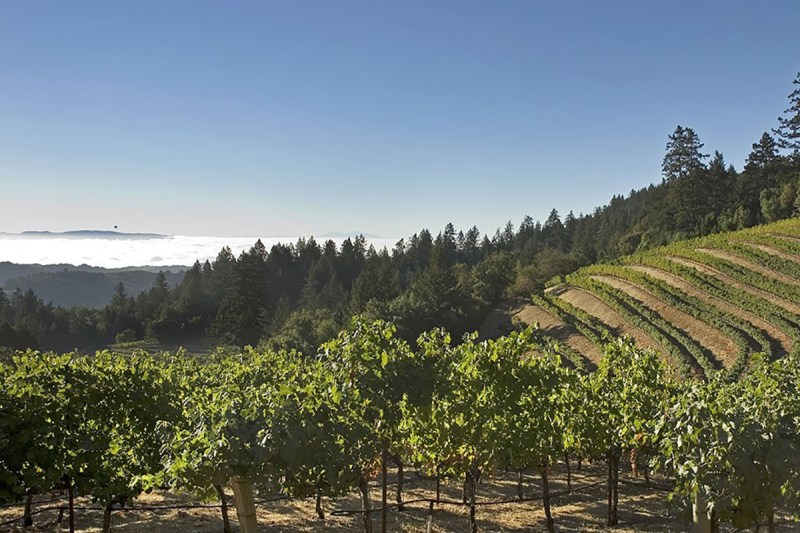 Mt. Veeder is home to some popular names like Hess and Chandon, but also a great many more lesser-known producers. And it remains quite small, accounting for only about 1% of the valley's overall wine production. Mount Veeder Winery is situated in the core of the appellation. A former prune orchard, the site turned to vines by chance in the 1960s, when a farm worker planted some cuttings and hoped they'd last. Not long later, it became Napa's first site to house all five classic Bordeaux varieties in one spot. 
The label launched in 1973 and has been honing in on the density of flavor at hand since. There's a robust wildness to Mount Veeder's Cabernets, which show more bramble and earth than most from the valley. Like a baby animal first learning to walk, these wines like to stretch out in the glass and eventually march to their own rhythm. In this part of the Napa Valley, they call them mountain wines and the name is an appropriate one.
Sure, there's consistency in the Napa Valley but sometimes you covet off-the-beaten-path flavors amid well-known varietals. Mt. Veeder's mountainous build shapes its fruit and resulting wines just so.
Editors' Recommendations