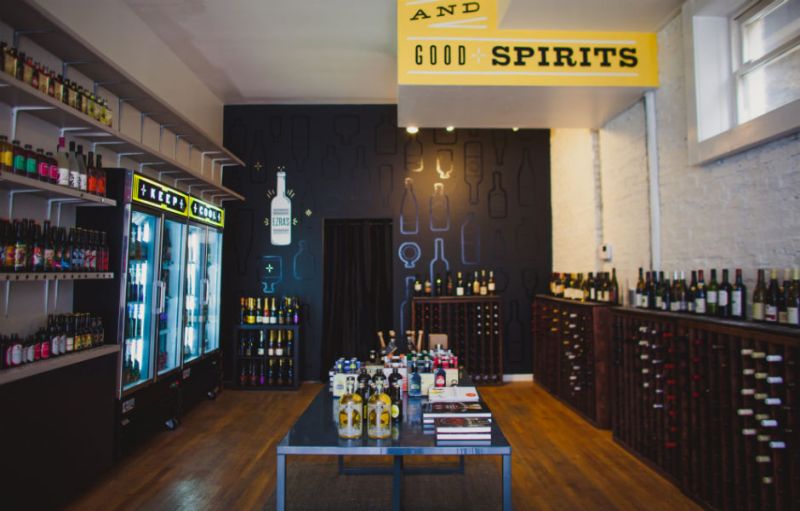 Craft spirits are all the rage these days, with everyone honing in on locally produced artisanal goods. Parker Newman, his twin brother Adam Newman and their childhood friend Scott Reich noticed the trend, but also discovered that the liquors they wanted to try were all too often not available outside of the areas where they were produced. So, they decided to do something about it and create Ezra's, the first e-commerce site that offers a carefully curated selection of locally produced craft liquors and a website dedicated to everything about them, from cocktail recipes to profiles on the various brands they offer, which includes High West American Prairie Reserve, a whiskey produced in Park City, Utah; St. George's Rye Gin, which is made in Alameda, California; and TINCUP Whiskey out of Denver. Ezra's also has a brick-and-mortar location in Chicago. The Manual caught up with Parker to discuss Ezra's, craft alcohol, and of course — drinking.
How did you come up with the idea for Ezra's?
We were following the happenings of the craft beer boom, and slowly started to see the same trend happening with spirit producers.  We loved seeing all the great new distilleries popping up and the innovation that was taking place, though we were frustrated that so many of the impressive new products were unavailable outside of their home state or region. Thus began our idea to figure out how to provide greater access and exposure for these emerging spirits and distilleries.
The other problem we wanted to try and solve was education related. Far too often we would go to a liquor store or see names on a menu and know virtually nothing about how to distinguish between the brands or sub-types of spirits. With our strong emphasis on editorial content, we hope to tell the stories behind each of the brands and educate drinkers about all aspects of the industry by covering everything from obscure spirits to the latest in cocktail creations.
What features will the website have?
The website will mainly consist of two parts. The first is our online store featuring detailed product descriptions and headlines to provide consumers with instant insight as they use our user-friendly interface to browse a comprehensive inventory of craft spirit and alcohol products. The second is The Swill, our enhanced online journal that will be published in issue format. Each issue will feature a variety of article types – features, bar visits, videos, slideshows, etc. — covering a diverse array of topics. While the main goal of this will be to provide deeper insight into the products and distillers featured on our site, we plan to include content reaching across the entire spirits industry, such as "how tos," opinion piece, travel articles and craft cocktail bar trends..
How do you go about discovering craft spirits for the website?
The craft world is moving extremely fast, so it's definitely a full-time job determining which brands to feature. Our retail store in Chicago gives us great access to information as we work with over ten distributors who are constantly attending conferences and tradeshows to find the latest and greatest brands. Daily interactions with walk-in customers also help, as we'll be constantly talking with them about new products emerging in various pockets of the country. Additionally, our East Coast presence also gives us access to a whole new slew of distilleries that may only have products available for purchase in that one region.
While the word "craft" has been a bit muddled to mean a lot of different things, our main criteria for finding new products and distillers is pretty stringent: small enough that they're still very hands-on with the product, brands attempting to innovate and do things differently, use of local ingredients, and interesting bios and/or back stories that resulted in their passion for the space. Anyone who is diving into distilling, whether it's a first or second career, generally has a lot of passion for their craft and it comes through in their product.
Have you ever thought about doing a subscription service where customers can sample different craft alcohols?
Yep!  This is definitely a feature we hope to introduce very soon after our launch. Small, sample bottles that give customers the ability to try lots of different tastes is something we hope to do as well as well as more standard "of-the-month" clubs. Be on the lookout for more developments along these lines.
Who is your target market?
We realize that there's lots of obstacles in reaching various target markets and that there still includes some sense of the old boys club exclusivity in the spirit world. Our goal is to shake things up by opening up the craft spirits and alcohol space to everyone. This is the backbone behind our whole mission as we want to provide as much access as we can to these products by building the most comprehensive online marketplace, and by educating and informing our customers through our online editorial content. The increased prominence of blogs and social media has pretty much opened up avenues for people to both share and devour the things that they're passionate about. We're looking forward to sharing that passion with the drinkers and distillers who form our community. Specifically, we think we'll appeal to individuals who appreciate artisanal, small-batch, craft products and love to find out the faces, stories and inspirations behind them.
You also have a brick and mortar store in Chicago. What can visitors find there?
Like our website, our store in the Lincoln Park neighborhood features a whole wall of craft spirits as well as ingredients and accessories to create great cocktails. Since we want to cater to the whole neighborhood, we also have coolers full of craft local beer as well as a wide-selection of wine and champagne. The space gives us a place to interact with customers and get direct feedback, and we also hope to offer classes and other educational opportunities in the near future.
What have you learned about the craft spirit industry since starting Ezra's?
We've learned that having passion for creating spirits is so important. Anyone entering this world knows how motivations become transparent very quickly. Those in it for just the money are quickly weeded out, leaving only those who are truly motivated to put in the long hours to innovate and delight as the success stories. Taking risks, innovating on the status quo, and being creative in every aspect from label design to the bottle itself, casts an impression and is important for success.
We've also learned that there is way more to the space than just the big spirits categories — whiskey, gin, vodka, etc. —  Some of our most delightful discoveries have been reinterpretations of long-forgotten or exotic alcohols as well as lots of great liqueurs.
What do you hope to achieve with Ezra's?
Our goal is to make craft spirits accessible, both through education and in getting unique, hard-to-find bottles into the customers hands. Beyond just selling you a bottle, we want to inform you about everything that went into producing it and how you can enjoy it best. If we can do this, and get people to move away from the run-of-the-mill products, then we'll feel like we've done a good job!
For more information, visit ezras.com.
Editors' Recommendations