Makgeolli, pronounced "mahk-oh-lee" or "mahk-ah-lee," should be added to the rice-based beverage category in your mind's archives. Finally, the likes of horchata, sake, and shochu will have some company. Like soju, this traditional Korean beverage dates back millennia, but millennials in South Korea are making it increasingly relevant and sought after. If you want to party like an ancient rice farmer, you've come to the right place.
Makgeolli is a grain spirit that uses rice in its fermentation process. The unfiltered result? A milky rice wine with approximately 7 percent ABV. The light carbonation enhances the sweet-tart flavor profile, adding nuance to each sip.
The magic starts with nuruk, a carb-laden dry cake made out of rice, wheat, barley, and a host of yeasts, bacteria, even mold. Still with us? Traditionally made in porous clay pots, makgeolli doesn't take much more than a week to make once the nuruk sets its sights on some cooked sweet rice. That cocktail of wild activating agents create the playful flavors of makgeolli, coaxing new life out of the carbs through the fermentation process. Unpasteurized, you get all the tasting notes you want from a Korean wine influenced by a culinary scene instead of the alcohol industry.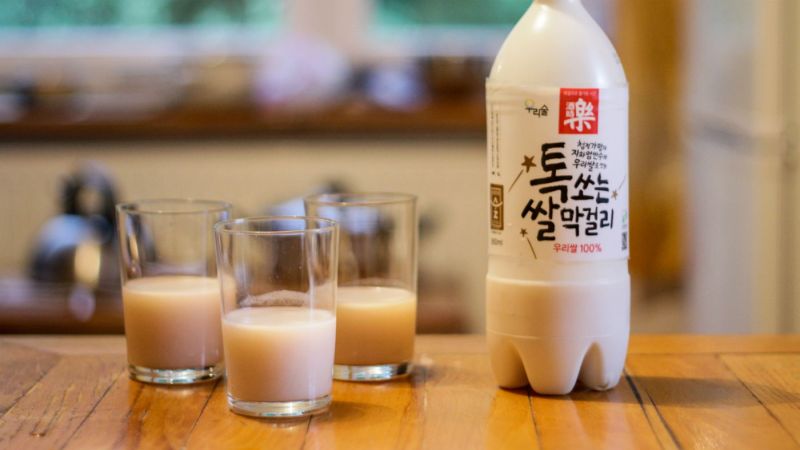 If you're lucky enough to find a bottle of makgeolli, it's probably a pasteurized version. Trade regulations require pasteurization in order for the wine to survive the trip to the U.S. As a result, the product errs on the sweet side and has a fixed level of carbonation. If you find yourself wanting to try imported makgeolli, at least make sure it's from Korea; Japanese versions are inauthentic, but increasingly more available than Korean competitors due to
makgeolli's popularity within Japan
.
The real deal needs to be sourced locally because, ideally, makgeolli keeps fermenting until it's no longer palatable. In this way, it earns its wine categorization by rapidly accelerating from fresh to "vintage." Each stage dramatically changes the tasting experience and elevates the effervescence, but most makgeolli makers aren't pushing the envelope too much. Since preservatives ruin the taste and even fermentation-friendly bottles (read: no exploding on the truck) are difficult to move, you should look to predominantly Korean neighborhoods near you for local brands and bars that serve makgeolli.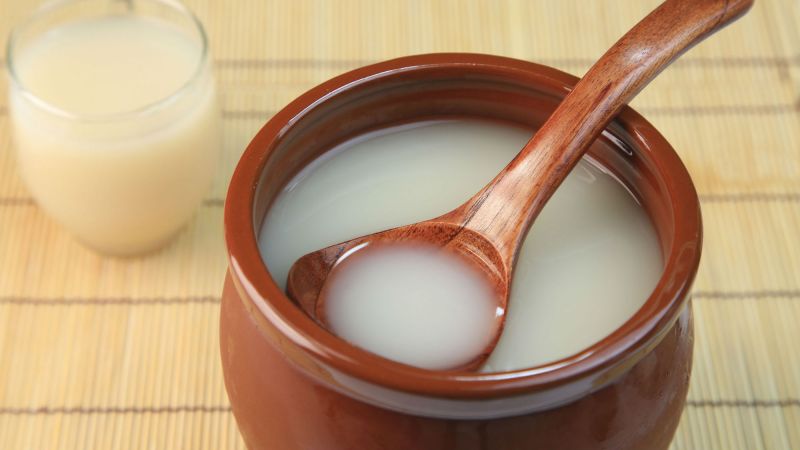 If you manage to find makgeolli on a menu, here's how you know it's the real deal. It will likely be presented as a batch in a wooden bowl (sometimes carafes or kettles make an appearance) and poured into small bowls via a large ladle. The carbonation makes it an ideal palate cleanser while its kombucha-esque qualities will help you digest just about anything. If you snag a bottle to enjoy at home, enjoy it quickly. After a month or two, your makgeolli will become rice vinegar which, while useful, is not the best liquid to drink straight.
You'll want to ease into your makgeolli habit. Everything about it will confuse your senses. It looks like milk, but tastes like tangy citrus and fizzes like a beer. Once your taste buds figure out what's happening, then — maybe — you can try out a cocktail or two.
The Rose of Sharon
(Created by Jung-Sik Yim, JUNGSIK, New York City)
2 oz makgeolli

1.5 oz soju

.025 oz sour mix

0.75 oz bokbunja (Korean fruit wine made from raspberries)
Method: Combine all ingredients except bokbunja and stir with ice. Strain into a martini glass . Pour in bokbunja last and stir after it's all settled to the bottom.
Ok Sun Fizz
(Created by Maria Carlin, Big Star, Chicago)
2 oz makgeolli

1 oz mezcal

1 oz ginger syrup
0.5 oz lime juice
0.5 oz lemon juice

1 egg white

Orange flower water

Soda water

Cucumber soda
Method: Add the first six ingredients to a cocktail shaker with ice and a couple dashes of orange flower water. Shake for two to three minutes. Pour a little soda water into a Collins glass , add the cocktail mixture, and top with cucumber soda and a couple more drops of orange flower water.