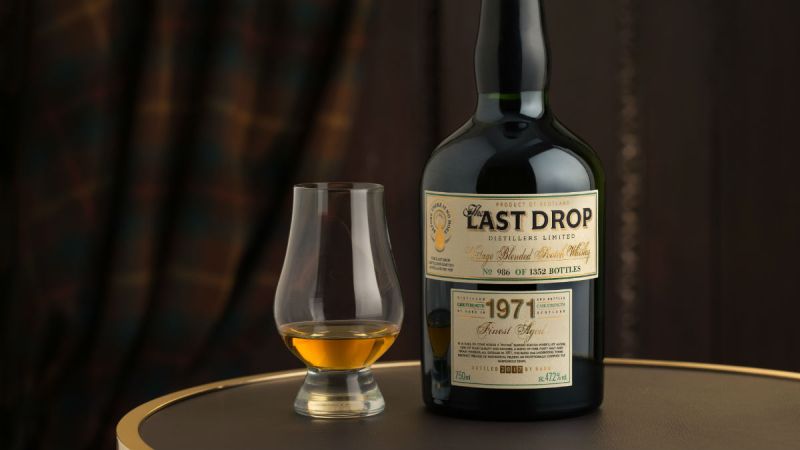 When it comes to aged whiskies, master distillers and blenders work tirelessly to understand the right moment to bottle their spirit. Even with all that work, sometimes, after a bottling run of a spirit has been completed, there is some leftover. This liquid then sits in barrels in some dark corner of a rack house for years, even decades, almost forgotten about. One of these whiskies that has just been brought to light is The Last Drop's 1971 Blended Scotch Whisky.
The Last Drop was formed around a decade ago by two men, James Espey and Tom Jago, both of whom had extensive experience in the spirits industry (they were responsible for the creation of Johnnie Walker Blue Label, Bailey's Irish Cream, and Chivas 18, just to name a few). Nearing retirement, both men knew that there were these barrels sitting around, and they decided that they wanted to find a way to pick the best ones and bring them to market.
The duo's newest release, 1971 Blended Scotch Whisky, was awarded 97 points and the title of Scotch Whisky Blend of the Year by Jim Murray in his 2017 Whisky Bible. Before being released, the whisky went through a process of triple maturation.
First blended in 1983 as a 12-year-old whisky, the leftovers were put into 11 ex-Oloroso sherry butts. There, they aged for nine years. Some of this whisky was used for bottling a 21-year-old blend, and the rest went into nine oak barrels for 24 years. In total, the blend contains more than 40 different single malt and grain whiskies.
On the nose, you'll find honey and vanilla, with some toasted almonds, a bit of stewed apple, and just a hint of citrus. The palate is soft and fruity, with orange and lemon mixing with oak, while the finish is a little smoky, with chocolate and orange notes. It was bottled at 47.2 percent ABV.
Seeing as there were not many barrels of this whisky to begin with, only 1,352 bottles of the 1971 were made available (compared to, say, the 750 that The Dalmore put out for their 40-year-old). If you manage to get a bottle, you're getting a whisky that is, as they say, fancy AF. The Last Drop's 1971 Blended Scotch Whisky comes in the company's signature forest green leather case and comes accompanied by a 50 ml miniature replica, a custom-made stopper, a luxury tasting book, and a signed certificate of authenticity. (If you're in the UK, you can check The Last Drop website to see where they are still available.)
Oh, and did we mention that it's only $3,999 per bottle?
Editors' Recommendations