What's better than floating in a pool all summer with a drink in hand? Floating in the pool all summer on a raft shaped like everyone's favorite Kentucky Colonel with a drink in one hand and a bucket of fried chicken in the other.
Okay, if there are a lot of kids around, splashing and doing kid stuff at the pool, the bucket of chicken wouldn't be the best idea (pretty sure chlorine isn't one of the secret 11 herbs and spices), but we're getting away from the fact of the matter: This summer, KFC is giving away Colonel Sanders-shaped floaties.
No fowl-ing. This is one-hundred percent real. We've already entered the giveaway.
This news shouldn't surprise you, though. KFC's creative team(s) have been on fire for a while. Remember when someone cracked the code of who they follow on Twitter? Genius. This pool float is just the next thing that shows how fun fried chicken can be.
Tangentially related to the new Crispy Colonel sandwich (and more directly to the Extra Crispy campaign that the brand runs), the Colonel floatie is described in the press release announcing the contest as "perfect for the on-the-go, summer lifestyle."
Now, you may be thinking, "That raft looks like more fun than a KFC Famous Bowl!" But the fun does not end there, friends. You can bet yer bucket of extra crispy on that.
Like we said above, not only is the raft made in the Colonel's likeness, but it comes with both a cup holder and a bucket of fried chicken holder. You can buy a bucket of Colonel's Original Recipe fried chicken and literally float on a pool with it.
Again, this is not a really late April Fool's joke.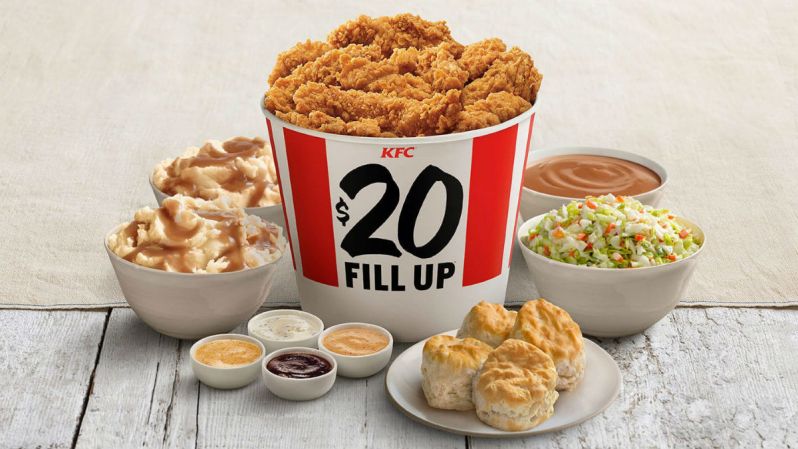 Winners will be drawn on June 23 and the floaties will be shipped out to arrive before the July 4 holiday.
If that's not enough Colonel in your life, KFC is also partnering with Snapchat to release a World Lens that will bring the Colonel to life in augmented reality. If you're a Snapchatter, you'll be able to enter the floatie contest through Snapchat starting May 28.
So what are you waiting for? Don't be a chicken. Enter now through June 22. If you win, make sure to tag us in the inevitable Instagram photo.
Editors' Recommendations