How in the world do you cook without carbs? If you're on the keto diet, this is a common plight. Sourcing the bulk of each meal's calories from fats, you'll find keto recipes online and in social media that rely on bacon, mayonnaise, cheese, butter, and more cheese. Gagging yet?
Here are three super-simple and mega delicious keto recipes created for the guys at The Manual by Green Chef's own registered dietician, Gabby Geerts.
Too busy in the gym to make your meals? Green Chef has a revolving keto menu that changes from week to week, but trust us, you'll want to make these keto fried chicken, nachos, and Philly cheesesteak dishes. Don't need a full meal and are having a snack attack? Munch on these keto snacks.
Keto Fried Chicken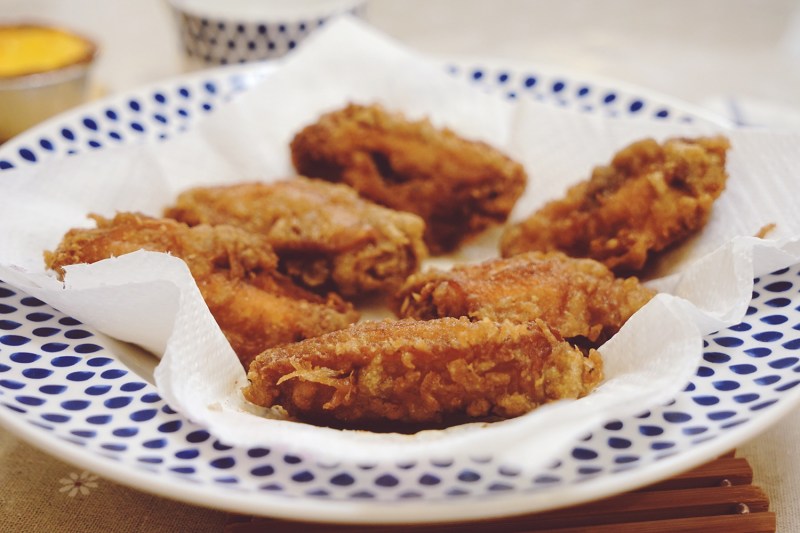 "Pork rinds and a Cajun spice blend make a great substitute for conventional, high-carb breading," Geerts says. "Use avocado mayonnaise and egg to form an adhesive for the 'breading' as well as to help add fat. Serve alongside cauliflower or broccoli topped with cheese for a complete keto meal. Don't like pork rinds? Try almond flour instead."
Ingredients:
.75 cup pork rinds
1 tsp Cajun spice
Avocado mayonnaise (combine .5 avocado with .5 cup mayonnaise)
1 egg
cauliflower or broccoli
.25 cup shredded cheese
Method:
Put pork rinds and Cajun spice blend in a bowl and create breading.
Combine avocado mayonnaise and egg in a bowl to form an adhesive for the breading.
Place chicken in adhesive and then roll in breading.
Heat oil in a deep fryer or cast iron skillet to 375 degrees Fahrenheit.
Using a tong, carefully place chicken in the hot oil. Be careful not to overcrowd the skillet!
Fry chicken until golden brown, turning once every 10-15 minutes. Chicken is done when it is no longer pink inside.
Drain chicken on paper towels. Let it cool for at least 10 minutes. Serve alongside cauliflower or broccoli topped with shredded cheese.
Keto Nachos
You're not gonna not eat nachos anymore, right? "Mini peppers replace tortilla chips for a low carb alternative," says Geerts. "Beef, cheese, avocado, and sour cream are all high in fat, making it ideal for keto."
Ingredients:
2 medium bell peppers
4 oz ground beef
.5 cup shredded cheese
1 avocado
.25 cup sour cream
Vegetable oil
Salt (to taste)
Method:
Cut bell peppers halfway through, removing stem and seeds.
Transfer to a microwave-safe bowl with a splash of water and a pinch of salt. Cover and microwave until the pepper pieces are bendable, about 4 minutes.
Let cool, then arrange close together on a baking sheet, open sides facing up.
In the meantime, heat oil in a large nonstick skillet over medium-high heat. Add ground beef and .25 teaspoon salt and cook, stirring and breaking up into crumbles, until browned and cooked through.
Spoon beef mixture onto each pepper. Sprinkle with shredded cheese and broil until the cheese melts, about 1 minute.
Top with avocado. Drizzle sour cream over nachos.
Keto Philly Cheesesteak
"It's hard to imagine a cheesesteak without bread but use bell pepper with the same sandwich filling and you won't be missing it," Geerts says. "The cheese and steak will carry most of the fat content for the dish and contribute very few carbohydrates."
Ingredients:
1 pound lean ground beef
4 medium green or red bell peppers
2 cups mushrooms
.5 cup onions, chopped
1 tbsp olive oil
8 slices cheese
Salt and pepper
Method:
Cut tops off peppers and remove seeds.
Place in a microwave-safe bowl, cover with wrap and cook for 3-4 minutes or until soft. Preheat oven to 350 degrees F.
Meanwhile, heat a pan over medium heat. When hot, add oil and coat pan. Stir in mushrooms to coat in oil and let cook for 2-3 minutes. Add onion and stir. Remove from the pan.
Add ground beef, breaking into crumbles while cooking.
When cooked through, add mushroom mixture back to the pan and season with salt to taste. Add pepper. Season the peppers with salt and pepper.
Place 1 slice of cheese in each pepper and evenly divide the ground beef. Bake for 20 minutes.
Top with the remaining shredded cheese and place in the oven on broil to melt and brown.
Editors' Recommendations