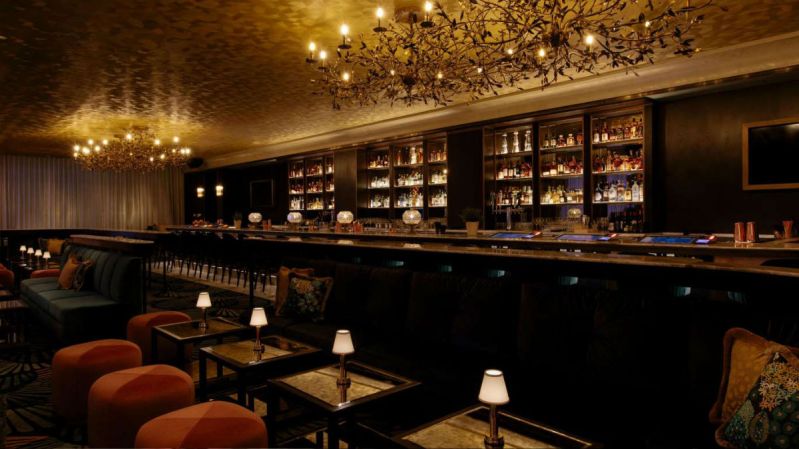 The newest mixology destination in Las Vegas is like a spice cabinet.
At least, that's how Craig Schoettler describes Juniper Cocktail Lounge, a gin-centric bar with more than 80 gins from across the globe. Schoettler is the executive director of beverage and corporate mixologist for MGM Resorts, which opened Juniper last month as the Monte Carlo made its full transition to its new brand, Park MGM.
The extensive gin selection is used to offer an eclectic cocktail lineup representative of the multitude of flavor possibilities of the spirit.
"We haven't seen a gin-focused bar, so we saw a niche to fill," he said.
Las Vegas moves quickly with spirit trends, and bars catering to those changes. Underneath the booms of bourbon, rye, and mezcal, gin has stayed strong and under the radar, making it ripe for a full menu.
"You don't see many gins neat; it's prime function is in cocktails," Schoettler said. "My background is in cooking, so I think of flavor profiles and a certain gin isn't just a brand to me. When we come up with the menu, we try making the cocktail 10 to 15 times with different gins to find which flavors work best."
"When you look at classic cocktails, they predominantly have gin playing a major part. It's the king of the cocktail movement," he added.
Gin's clean backbone and nearly infinite flavor possibilities (based on the myriad botanical compositions) offer a canvas for other ingredients. Most have to have juniper at the front – hence the new bar's name – but the piney flavor doesn't have to be as dominant as some drinkers believe. Schoettler knows some who might have sworn off the spirit can have their minds changed by one of the many gins on the shelves at Juniper.
"With the neutral background, it helps smooth everything over," Schoettler said. "But they also have those botanical profiles that give it their character and some have profiles that work well in some cocktails and not others."
A particular bottle Schoettler points to is Gracias a Dios, which is made with an agave distillate. The base spirit is then infused with a botanical from every state of Mexico, making what Schoettler said is essentially a mezcal gin.
"It'd make a horrible gin martini," Schoettler said. "If you're making a cocktail, like a sour with citrus, it makes a truly unique experience. Anything you'd think to make with tequila, you can use it."
Also behind the bar are gins from Argentina, India, Scotland, Sweden, United States, and traditional gin producing nations like England and the Netherlands. Classics like Tanqueray, Beefeater, Plymouth, and Bombay all are well represented as tried and true examples of excellence.
Not every gin makes the cut, and the bar does feature cocktails made with other spirits, but Schoettler had the "difficult task" of tasting through all the gins and determining which ones fit the bill. Each gin was tried multiple times over several weeks as Schoettler said a beverage's flavor profile changes with any number of variables, from what was eaten at lunch, what mood he's in, and the environment it's surrounded by.
Eventually, his coworkers laughed as bottles filled his office.
"I've tasted a fair amount of gin," Schoettler said. "I went through them all because we want a variety of flavor profiles, but also wanted to learn the stories behind them. If you're a gin purist, you can come and see what they see as a true representative. If you're not, this is challenging what a spirit can taste like."
Editors' Recommendations