If you've never heard of chef José Andrés, you've clearly been living under a rock for the past few years. Not only is he a Michelin-starred and James Beard Award-winning chef, but he is working on solving the world's food crises one meal at a time, whether anyone else wants to help him or not. Recently, he offered a job to a New Hampshire cafeteria worker who was fired for giving a student lunch when the student couldn't afford it. Then there was all of the work he did for Puerto Rico in the aftermath of Hurricane Maria (as well as the ongoing work he continues to do through his charity, World Central Kitchen). Oh, and then there was the Nobel Peace Prize nomination this year.
He's just a bit busy being awesome, you might say.
Now, with his new book (written with Matt Goulding), Vegetables Unleashed (Anthony Bourdain Books/Ecco Hardcover 2019), Andrés is on a mission to change how people look at vegetables.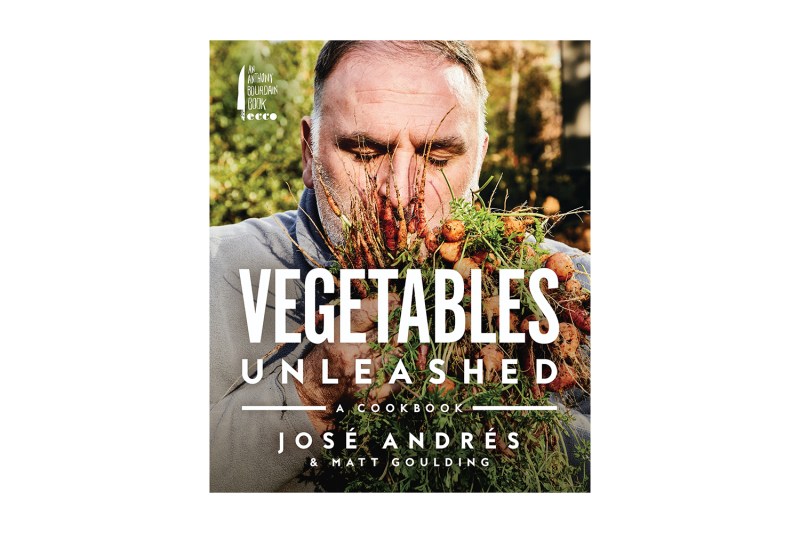 The last book in the Anthony Bourdain book series, Andrés creates a paean to the earth's bounty. In his introduction, he writes:
"There's a reason chefs love to cook vegetables: The possibilities are endless. What can you do with a pork chop or strip steak? Grill it, pan-fry it, broil it, but the end result is always the same — a piece of cooked meat. What can you do with a carrot? Shave it raw into a salad. Pickle the peelings. Slow-roast it whole…"
You get the point (to wit: Andrés adds three other options just for carrots in that paragraph).
A short time later, he sets up his main goal: "I want this book to be the Anderson Cooper of the plant world: Vegetable 360°."
"I want this book to be the Anderson Cooper of the plant world: Vegetable 360°."
It's a bold claim, but if anyone could do it, Andrés manages to. From a 20-vegetable fried rice dish to gazpacho to a vegan pisco sour, page after page of Vegetables Unleashed expounds on just how malleable (and delicious) vegetables can be when put in the right hands (those hands being yours after you read the book). While there are some vegan recipes, not all of them are, so if being a vegan scares the hell out of you for some or any reason, never fear.
One of our favorite recipes out of the book was a poke bowl, except instead of fish, the main ingredient is beets. Not only is it eye-catching in its royal purple brilliance, but it's damn delicious. We recommend making this as a side for any meal that you cook outside this summer. Really.
You can purchase Vegetables Unleashed here.
Beet Poke Bowl Recipe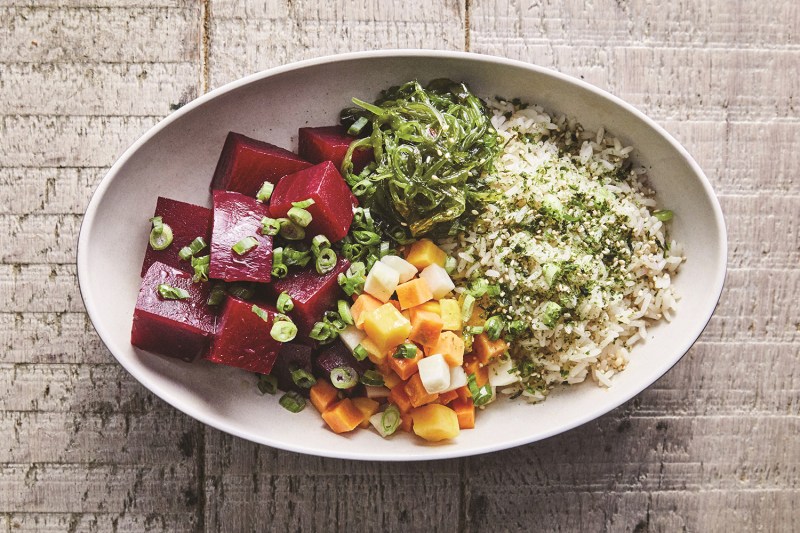 (Serves 4)
"Pooki? Pokay? Pokémon? I barely know how to pronounce it. How can you cook something when you can't even pronounce its name? This is a bowl of marinated beets and rice, but it's also one of our best sellers at Beefsteak. Charisse Dickens, our amazing Hawaiian chef and a dear friend who manages a lot of our R&D, cringes a bit when we use the word poke to describe these beets. To her, poke is marinated fish, the dish that has started showing up everywhere across the United States these past few years, and that's it. I told her we could call this marinated beets and rice, but then it would only be half as popular at Beefsteak."
Ingredients:
4 medium beets, or 4 packaged cooked medium beets (1 pound), cut into .5-inch dice
1 c seaweed salad (from the sushi counter at a gourmet market or grocery store)
Furikake
2 scallions, white and light green parts only, thinly sliced
Cider-ginger marinade*
*Ingredients for cider-ginger marinade:
5 c water
1 c apple cider vinegar
.25 c sugar
2 tsp kosher salt
1 tsp whole black peppercorns
1 1-inch piece of fresh ginger, peeled and minced
2 tbsp soy sauce
1 tbsp toasted sesame oil
2 carrots, peeled and cut into .25-inch dice
.5 c diced sweet onion, such as Maui or Vidalia
3 c cooked white rice
Method for the marinated beets:
If using fresh beets, boil whole until fork tender, about 50 minutes. Drain and run under cold water. Use a paper towel to peel the beets, then cut into ½-inch dice.
Put the beets in a medium heatproof bowl. Combine the water, vinegar, and sugar in a small saucepan and heat over medium heat, stirring, to dissolve the sugar.
Add the salt and peppercorns and bring to a boil. Strain the hot marinade over the beets and stir in the ginger. Let cool, then cover and refrigerate overnight.
The next day, drain the beets and transfer to a bowl. (You can reserve the marinade to use again; store it in an airtight container in the refrigerator.)
Add the soy sauce and sesame oil to the beets and toss well.
Method for the rice bowls:
Toss the diced carrots and sweet onion together in another bowl.
Divide the beets, rice, seaweed salad, and carrot-onion mix among four shallow bowls, arranging them in separate piles so that the colors and textures really stand out.
Sprinkle the rice with the furikake and sliced scallions and serve.
Excerpt from Vegetables Unleashed by José Andrés and Matt Goulding. Copyright 2019 by José Andrés. Excerpted by permission of Ecco, an imprint of HarperCollins Publishers.
Editors' Recommendations