When one thinks about America, one often conjures up images of apple pies, majestic eagles, and Jack Daniel's. However, a luxurious version of this beloved American whiskey brand has floated under the radar in certain pockets of Asia: Jack Daniel's No. 27 Gold Tennessee Whiskey. In many Asian cultures, gold is an auspicious symbol, so combined with the region's discerning taste in whiskey, we can forgive this initial exclusivity.
Now, Jack Daniel's No. 27 Gold Tennessee Whiskey is finally available in the U.S. for your sipping pleasure. You know how much you love some classic Jack Daniel's? Well, they've doubled up on their award-winning process by double-barreling and double-mellowing.
"It's the standard Jack Daniel's Tennessee whiskey recipe. Our flagship grain bill," said Chris Fletcher, Jack Daniel's assistant master distiller. "So, it starts just like Old No. 7 does. With all the same quality parameters that go into Old No. 7. What makes this product different is towards the end, the barrel aging. Old No. 7 is gonna range from four to five years old, typically. Once the whiskey comes out of the oak barrels for this product, we will re-enter it into a maple barrel."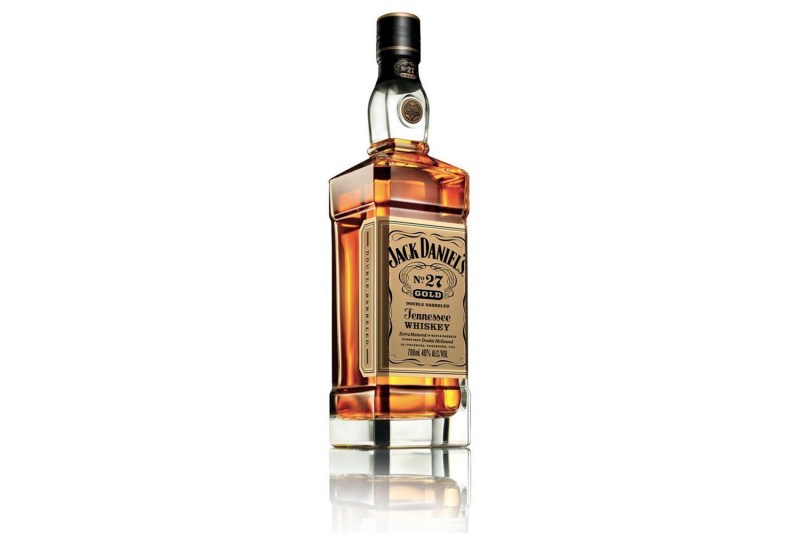 Imagine being the whiskey in these oak barrels, not knowing if they're headed off to join some ice and Coca-Cola in your glass or spend another six months to a year in a new barrel. Not knowing if their oaky base would have the opportunity to soak up sweet notes of maple. Not knowing if, after all that, they would be charcoal mellowed yet again.
"It's a light charcoal mellowing the second time. The first mellowing is done prior to the first barrel, so the whiskey is clear," said Fletcher.
Old No. 7 is hardly anything to sneeze at, but if whiskeys were sentient, they should definitely be jealous of all the TLC No. 27 receives. All that care and attention results in a smooth, sweet, and complex drinking experience.
"The natural amber hue, along with a scent of toasted oak and honey, offer an intricate texture and taste, making this whiskey a very distinct and luxury product," said Jack Daniel's Master Distiller Jeff Arnett in a statement.
Jack Daniel's No. 27 Gold Tennessee Whiskey can be yours for a cool $99.99 a bottle.
Editors' Recommendations