The world of Italian amari is a vast one. There are the ultra-popular brands like Fernet-Branca and Campari, and there are others that are just becoming more common in home bartending circles, like Ramazzotti and Sfumato.
Then you have the brands that still are considered obscure. Perhaps it's something that's been gathering dust in the back of Nonna's liqueur cabinet for a couple decades and you're just now discovering its digestive power. That's how we feel about Strega, a bright yellow, herbaceous amaro that's been popping up on cocktail menus across the country this year.
Strega was developed by father-son team Carmine Vincenzo Alberti and Giuseppe Alberti in 1860 in their hometown of Benevento, Italy, a city famous for its folkloric tales dating back to the seventh century. Legend has it that Benevento was a gathering place for witches that would meet under a walnut tree near the Sabato River, a scene that is illustrated on Strega's bottle (strega is Italian for "witch"). The potent liqueur is made using approximately 70 herbal ingredients (to put that somewhat in perspective, Jägermeister uses 56), but it gets its bright yellow color from the addition of saffron, one of the most expensive spices in the world.
While we're sure that Strega has remained popular in Italian households around the world these last few decades, it's not something you saw often, if ever, on cocktail menus in the recent past. But lately, the vibrant liqueur has been appearing everywhere and we can't get enough.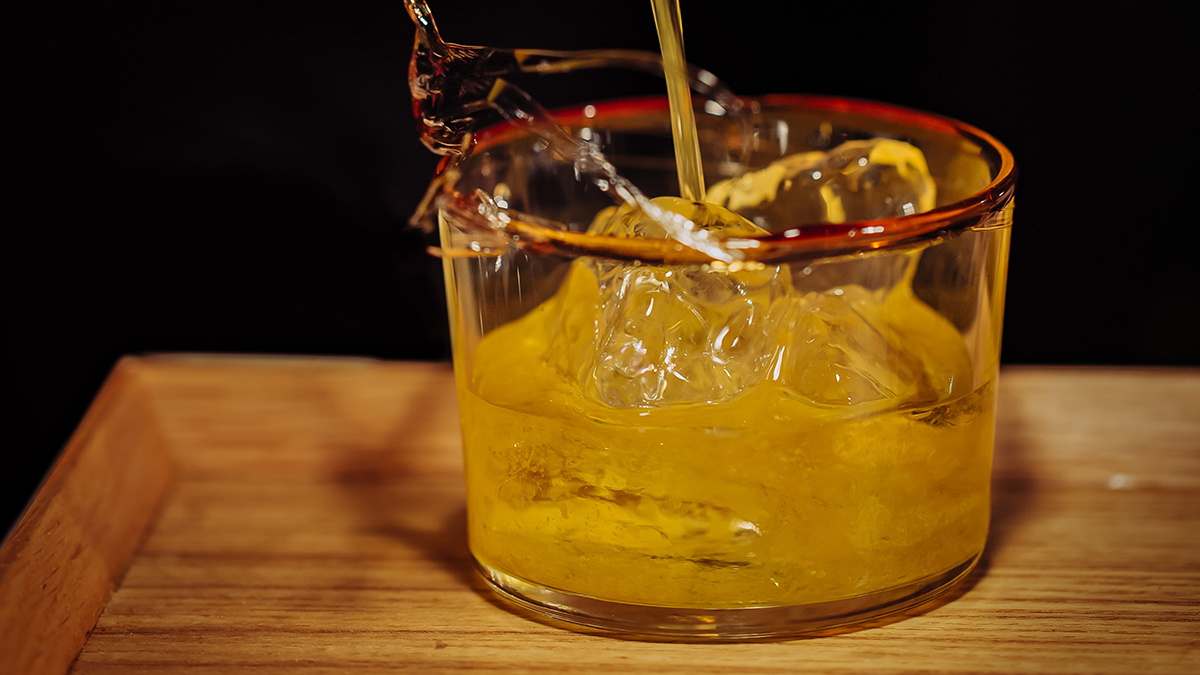 "I think that the cocktail consumer is more educated than ever before," says author and Amor y Amargo bar director Sother Teague. "This thirst for knowledge has them seeking out interesting components and there is definitely a renewed interest in well-made liqueurs. The professional bartender has to continually update the consumer's knowledge, and I can see Strega reclaiming a seat that it once had as both a neat [drink] and a cocktail component."
Strega has a strong flavor profile, which you should take into consideration when mixing it into a cocktail. "My favorite bases to use with Strega are rum and whiskey," says Kate Fugate, the service manager at Sweet Auburn Barbecue. "Just remember, with such strong herbal flavors, less is more. Strega is better used as a flavoring agent as opposed to a main flavor profile."
Teague agrees and prefers to mix Strega with aged spirits or those with bolder flavor profiles. "Strega crosses some bridges — it's simultaneously sweet, floral, and savory," he says. "Pairings that leap to mind are r(h)um, whiskey, and gin."
Strega is also a smart buy, as it can work in place of pricier modifiers. "It's also a more cost-effective substitute for Chartreuse, which is a win-win," Fugate says.
If all this Strega talk is making you thirsty, you're in luck. These three cocktails are simple to make and delicious ways to acquaint yourself with the Italian bottling.
Beet It
(Created by Jamie Dodge and Nerissa Alberts, Reyla, Asbury Park, New Jersey)
Sometimes Strega is simply used to give a drink some herbal sweetness. Other times, it acts as the entire inspiration behind a cocktail. "I fell in love with everything about this spirit!" says Reyla's Jamie Dodge and Nerissa Alberts. "It was really the bright color that I wanted to capture in the Beet It. The deep earthy flavor of golden beets with a subtle sweetness really inspired me to work with Strega. I wanted this cocktail to feel warm like the summer sun." Dodge and Alberts love the way that Strega pairs with lighter spirits that are packed with botanicals, and it works particularly well with caraway-tinged aquavit in this drink.
2 oz Rowhouse Aquavit
.5 oz Strega
1 oz golden beet shrub*
.75 oz lemon juice
2 dashes orange bitters
2 dashes lemon bitters
Orange twist, for garnish
Method: Add all ingredients to a cocktail shaker with ice. Shake and strain into a coupe and garnish with an orange twist.
*Golden beet shrub: Add 10 golden beets (peeled, diced, and small enough to blend) and four cups of apple cider vinegar to blender. Blend and strain through a chinois. Add two tablespoons of sea salt, two tablespoons of toasted and crushed coriander, and four cups of white sugar and stir to combine. Let sit for two days and strain again.
Truth Prevails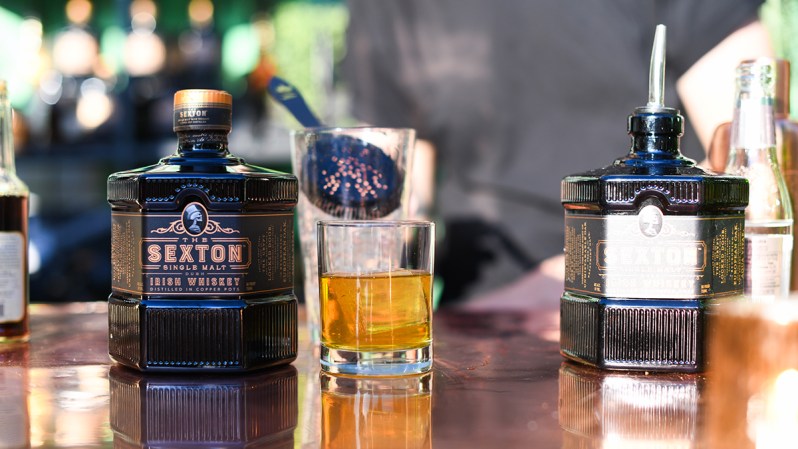 (Created by Sother Teague, Amor y Amargo, New York City)
The Sexton Irish Whiskey is one of our favorite new expressions from last year — and at around $28 a bottle, it's a real steal. It's smooth enough to sip neat, and it also works particularly well in strong, stirred libations. "I used Strega as the sweetener in my Truth Prevails cocktail to add a layer of floral savoriness," Teague says. "The Irish whiskey already has notes of heather, so adding some saffron seemed natural. The interplay with Becherovka (a cinnamon and clove liqueur from the Czech Republic) is beautiful in this Old Fashioned variation." We couldn't agree more.
1.25 oz The Sexton Irish Whiskey
.5 oz Becherovka
.5 oz Strega
2 dashes DeGroff bitters
Grapefruit twist, for garnish
Method: Pour all ingredients, save for the garnish, into a double rocks glass. Add ice and gently stir to combine. Express the oils from a grapefruit twist over the drink and place in the glass.
Strega Nona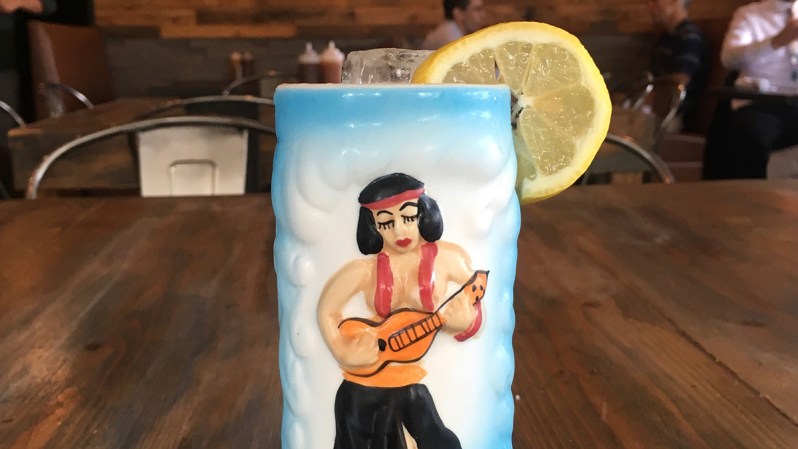 (Created by Kate Fugate, Sweet Auburn Barbecue, Atlanta)
At Sweet Auburn Barbecue, Fugate likes to play with Strega in different ways for each season. For fall, she decided to create a warming Tiki-inspired libation that mixes the herbal liqueur with spiced rum, lemon juice, and ginger ale. Its balanced sweet and bitter flavors make it a perfect crowd pleaser for your next game day celebration.
.25 oz Strega
1 oz lemon juice
.5 oz honey syrup
Ginger ale, to top
Lemon wheel, for garnish
Method: Add honey syrup, rum, lemon juice, and Strega to a cocktail shaker with ice. Shake and strain into a tiki mug or Collins glass filled with ice. Top with ginger ale and garnish with a lemon wheel.
Editors' Recommendations