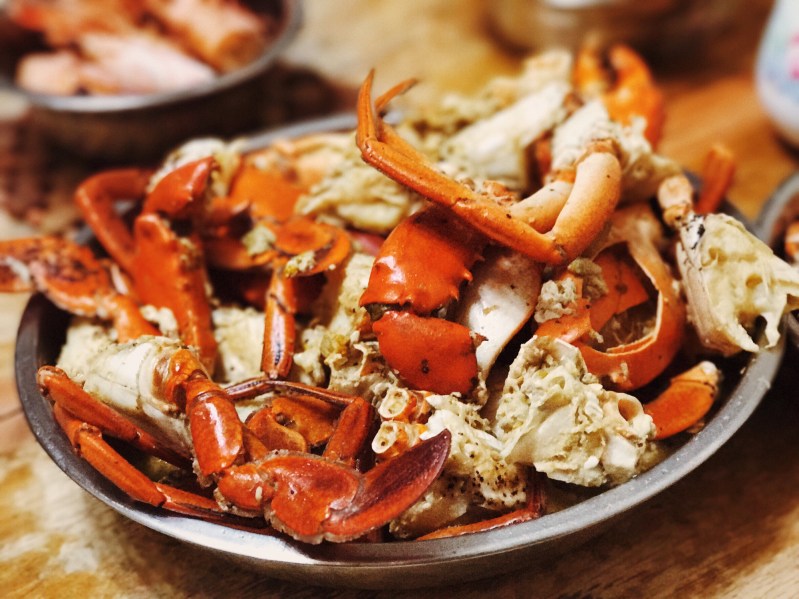 Within the vast ocean of seafood, crab holds a special pace. The crustaceans are other-worldly, the meat is rich and delicious, and the act of eating it is all kinds of fun. So much fun, in fact, you're likely to order too much and have some leftovers to work with.
Now, it hasn't been easy for our seafaring and pinching friends lately (especially snow crabs). Climate change has altered water temperatures and made the environment for any number of species of crabs more challenging (meanwhile, green crabs are invasive in many areas and some companies are getting pretty creative about eradicating them). That said, do your homework before buying or ordering and make sure you're doing things sustainably.
Cold crab legs are totally edible either by themselves, or mixed in with a nice leafy or pasta salad. But, sometimes you want to replicate the fresh out of the steamer taste.
The trick to reheating crab legs is to use an option that won't dry out the meat — an air fryer, microwave, stove, or steamer make ideal choices. It only takes about 10 to 20 minutes to reheat crab legs, and you can have a warm and delectable meal.
If you're not sure how to reheat your crab legs, here is how you should do it:
How to reheat crabs with a steamer
Using a steamer is ideal for warming your cold crab legs. It makes them juicy while giving them a fresh taste. Here is what you need to do:
Fill your steamer's pot with water — just ensure it doesn't touch the bottom of the basket.
Place the basket over the pot and cover it to allow the water to boil.
Place the crab legs in the basket and cover with a lid.
It should take about 6 to 8 minutes for your meal to reheat. You can then remove them and serve with your favorite side dish.
How to reheat crab legs in an air fryer
Crab legs are also super easy to reheat in your air fryer. You simply need to season them and allow the air fryer to warm them up.
Wrap the seasoned legs tightly in a foil paper
Place them in the air fryer basket.
Air fry them at 380 degrees Fahrenheit for three to five minutes.
Once the time elapses, remove your meal from the air fryer and serve immediately. When you want to air-fry them, you can add other ingredients as needed, such as olive oil, garlic powder, old bay, black pepper, etc.
How to reheat crabs in the microwave
For most people, using a microwave is the simplest way of reheating cold meals. Just make sure to set your microwave correctly, and this is what you should do:
Place the legs in groups of three — if they're too long to fit in your microwave, you can cut the claws off at the joints.
Wrap each bundle in damp paper towels. Also, wrap them in cling wrap to keep the steam inside.
Microwave each bundle for about two minutes
Once you're done, remove them from the microwave and remove the wrap and paper towels. Serve immediately with your preferred side dish!
How to reheat boiled crab leftovers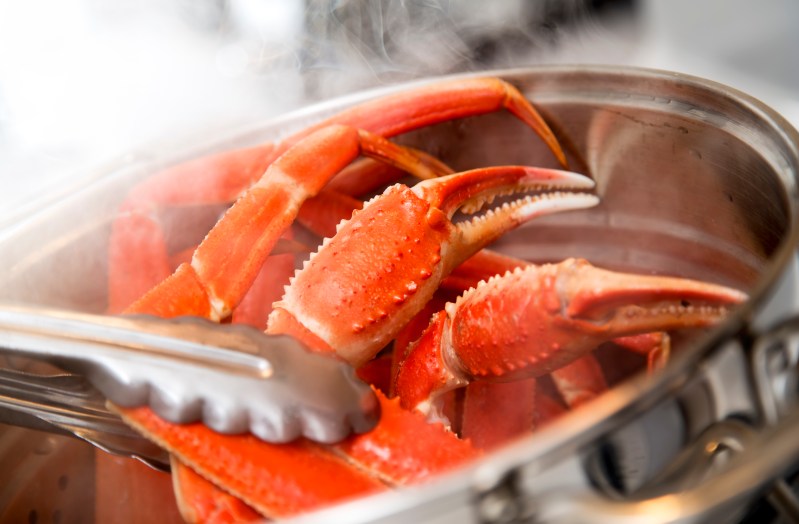 If you have cooked or boiled crab legs, boiling is the ideal way to reheat them. It's perfect for reheating cold crab legs, particularly when it's still in the shell. Follow these steps:
Fill a pot with water — about two-thirds full.
Heat the water until it boils.
Place your crab legs in the boiling water — make sure they're completely submerged in the water.
Allow the legs to boil while flipping them as needed to ensure even heating.
After five minutes, remove your crab legs from the water using a pair of tongs and serve. You can eat them with sprouts, roasted asparagus, or sweet potato fritters.
How to reheat crab legs in an oven
Baking your crab legs is not as easy as boiling, steaming, or air frying them. Still, it offers a reasonably quick way of warming up your dish. Here are the steps you should take:
Preheat your oven to 400 to 450 degrees Fahrenheit.
Place your crab legs in a dish and add ingredients as needed, such as salt, pepper, lemon halves, and garlic cloves.
Cover the dish using aluminum foil to retain the steam during baking.
Place the dish in the oven and bake your dish for 10 to 15 minutes or five minutes for thawed legs.
You can then remove your crab legs and serve.
Reheating crab legs on the grill
If you have a grill in your backyard, it can still be useful for reheating king crab legs. When you're ready, follow these steps:
Wrap your crab legs in aluminum foil — double up the foil to cover up pointy edges that poke through the surface.
Grill the legs at an indirect medium-high heat for 10 to 15 minutes
Move them over the heat for three to five minutes per side.
You can then unwrap them and serve. Alternatively, you can simply place your crab legs directly on the grill grates. Be sure to flip them as needed to ensure even heating.
How long do you warm up crab legs?
Depending on whether the legs are refrigerated or frozen and the method you're using, it takes about three to 25 minutes to warm up your crab legs. It particularly helps to learn how to how to reheat frozen crab legs — you'll shorten the time if you understand what to do.
If the legs are frozen, you'll need to thaw them overnight in the refrigerator — it takes about 8 hours for them to thaw. Running cold water over them can also help. While you can reheat frozen crab legs, thawing helps ensure even heating when cooking or reheating them.
Once your frozen crab legs are sufficiently thawed, it only takes about 3 to 10 minutes to warm up your dish just in time for your lunch or dinner.
How to store leftover crab legs
Refrigeration is the ideal method for storing your leftover crab legs. Remember to refrigerate them within two hours after cooking. Place the legs in a dish and cover the dish with plastic wrap. Then place ice on top of the wrap to ensure freshness.
Still, you can store them in a freezer if you're not planning to eat them soon. Just put the legs in airtight food containers or heavy-duty bags and put them in your freezer,
When you're ready to eat your leftovers, be sure to use any of the methods above to reheat your crab legs for a satisfying meal. And keep in mind that much of the above applies to other crustaceans, like the California spiny lobster.
Editors' Recommendations