If you're looking for air fryers deals from brands like Ninja, Bella, and Instant Pot, you'll soon find that while deals are plentiful, not all air fryers are alike. Air fryers continue to be extremely popular because of their cooking convenience as well as their versatility in preparing healthy foods and snacks with little or no added oil. We took over a chunk of the grunt work for you to locate some of the best air fryer deals on a range of models. If air fryers don't exactly match your cooking needs and preferences, check the best Instant Pot deals as well.
Today's Best Air Fryer Deals
Bella Pro Series 4.2-quart —

$40, was $60

Ninja Air Fryer XL 5.5-quart —

$100, was $120

Instant Pot Duo Crisp 6-quart —

Ninja Foodi 4-in-1 8-quart —

$169

Ninja Foodi 8-in-1 —

$180, was $230
Bella Pro Series 4.2-quart — $25, was $60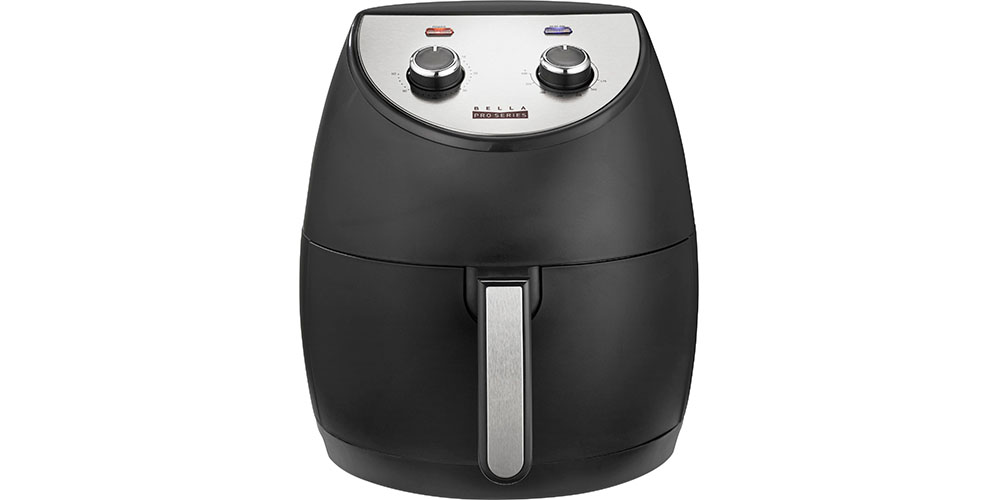 Why Buy:
Ideal for small kitchens
Simple controls
Easy to clean design
Very inexpensive
The Bella Pro Series 4.2-quart Air Fryer might not be from one of the best air fryer brands, but it's still pretty great. With a 4.2-quart capacity, it's ideal for smaller homes and kitchen spaces, able to handle 3.6 pounds of food at a time.
Alongside that is an adjustable temperature range between 175 and 400 degrees and a powerful 1,500-watt heating system. It's possible to use it to air fry, broil, bake, roast, and reheat without any effort. Other safety features include a 60-minute timer that automatically shuts off with an audible tone, so you don't have to worry about any issues there.
Ninja Air Fryer XL 5.5-quart — $69, was $142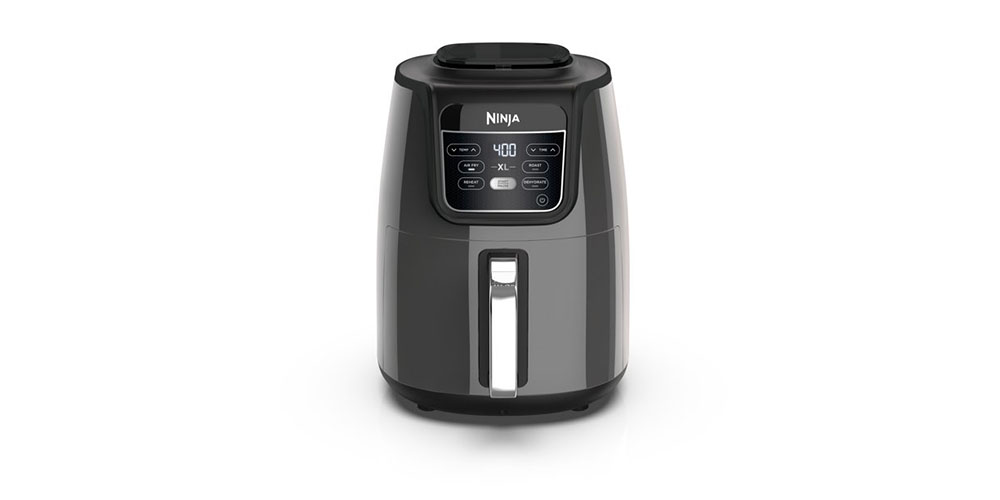 Why Buy:
Well respected brand
Stylish design
Family-sized capacity
Easy to clean
Try all the best air fryer recipes with this Ninja Air Fryer XL 5.5-quart and you won't be disappointed. It has a substantial family-sized bucket that's ideal for cooking up to 3 pounds of French fries or wings without any oil. With four versatile programs, including air frying, roasting, reheating, and dehydrating, it'll make cooking a breeze and far healthier than before too.
With a wide temperature range, you won't be short of options here. Additionally, an easy-to-clean two-layer nonstick-coated basket makes cleanup a breeze afterward.
Instant Pot Duo Crisp 6-quart — $130, was $150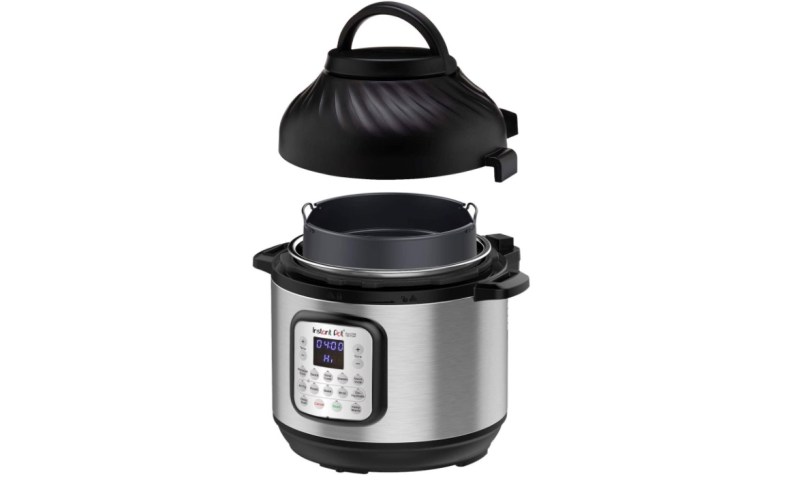 Why Buy:
Save space in your kitchen with a versatile cooker
Air fry, pressure cook, and more in one cooking appliance
One-touch cooking with customizable programs
Easy to clean
The Instant Pot Duo Crisp appears on our list of the best air fryers as the best pressure cooker with an air fry feature. It comes with an air fryer lid that allows you to prepare deep-fried food without needing much oil, as well as the regular Instant Pot lid that enables 11 functions such as pressure cooking, slow cooking, roasting, and baking.
To help you easily prepare meals, the Instant Pot Duo Crisp offers customizable Smart Programs for one-touch cooking. Once you're done, clean up is easy as the appliance's components are dishwasher-safe.
Ninja Foodi 4-in-1 8-quart — $169, was $200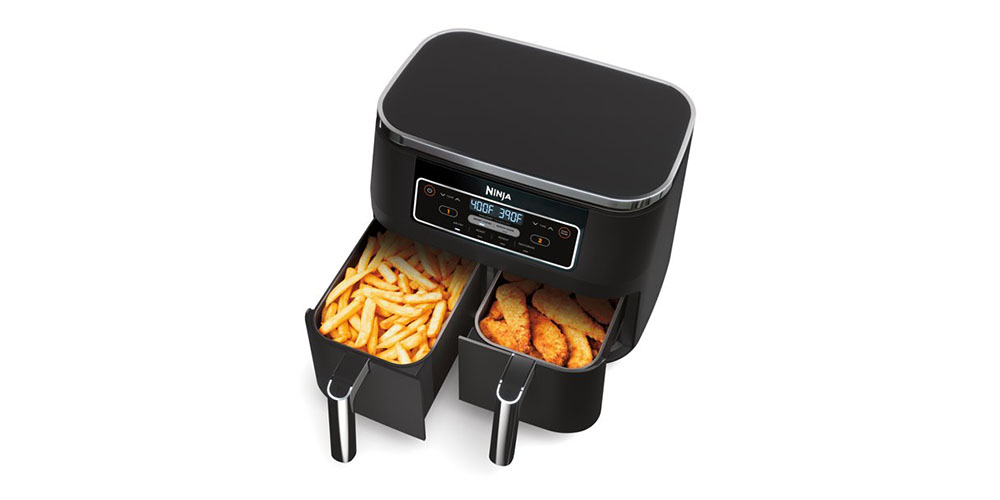 Why Buy:
Two independent baskets for better cooking
4-in-1 capabilities
Large capacity
Easy to clean
With two independent baskets, the Ninja Foodi 4-in-1 8-quart is the first air fryer to allow you to cook two foods at once and at different temperatures. That way, you can cook twice as quickly without having to worry about getting your timings just right. Clever technology means you can even easily copy settings across zones, so it's all super simple to do.
An extra-large capacity means you can cook up to 4 pounds of French fries or chicken wings at once, so it's great for a large family. Elsewhere, an extensive temperature range of 105 to 400 degrees is super useful too.
Ninja Foodi 8-in-1 — $200, was $240
Why Buy:
Convection oven, air fryer, and toaster oven all in one
Huge capacity
Does pretty much everything you could need
Flip-top design for easy tidying
One of the best air fryer ovens out there, the Ninja Foodi 8-in-1 does it all. It's an air fryer, convection oven, and toaster oven all in one, so it'll cook pretty much everything imaginable. From air frying to roasting, baking, and toasting, it has you covered. A powerful 1,800-watt appliance, it'll cook in no time too.
In addition, it has a 45% larger usable pan cooking area than competitors, offers easy and more even baking, and it'll even let you choose just how well cooked you want your toast or bagel to be. It also has a flip-away design, so it can easily be stored against your backsplash.
How to Choose an Air Fryer
There are a lot of different air fryers out there, so it can be confusing to know what's best for you. Your first port of call here should be our look at the best air fryers. It's a great insight into a wide range of different brands and how they can benefit you when air frying.
Ultimately, of course, you kind of need to know what you can afford at first. It's possible to spend hundreds on an air fryer, but they can also be very cheaply available. The differences here tend to relate to either capacity or the features they provide, and only you know what matters most for your needs.
For instance, a small-capacity air fryer is no problem at all if you're just frying for yourself or one other person. However, if you plan on using your air fryer for the whole family or even a gathering, then you need a capacity that works for that, too. You can't change the capacity once you've bought it, so it makes sense to go a little bigger than you think you'll need. That way, you've got room if you plan on cooking some extras.
You also need to consider the features and settings you might need. Thanks to the big discounts in air fryer sales, you can generally get more features than you'd ordinarily expect , but it's important not to go too crazy. If you simply want a basic air fryer, then you won't have to worry about the ability to roast, broil, or dehydrate, but any of those functions can be be a useful bonus. Think about your general cooking habits and plan accordingly.
It's also worth looking for neat extra features that could save you time. Some products may include non-stick materials or dials that are a bit more longer lasting than others, and these soon add up, especially if you want to invest in an air fryer that you'll use for a number of years.
Some air fryers are also built into other devices such as convection ovens or pressure cookers. Only you know if it's worth going for these. They cost more than basic air fryers, but if you're in the market for a new pressure cooker or convection oven, it can be a good way to consolidate the two and save on some storage space in your kitchen.
Still not entirely convinced if you want to jump on the air fryer bandwagon? They're truly useful if you reheat a lot of food, which is why we've looked at things like how to reheat fries and how to reheat rotisserie chicken or hot to reheat fried chicken. Each guide will remind you why an air fryer can add so much more to your cooking experience.
Editors' Recommendations