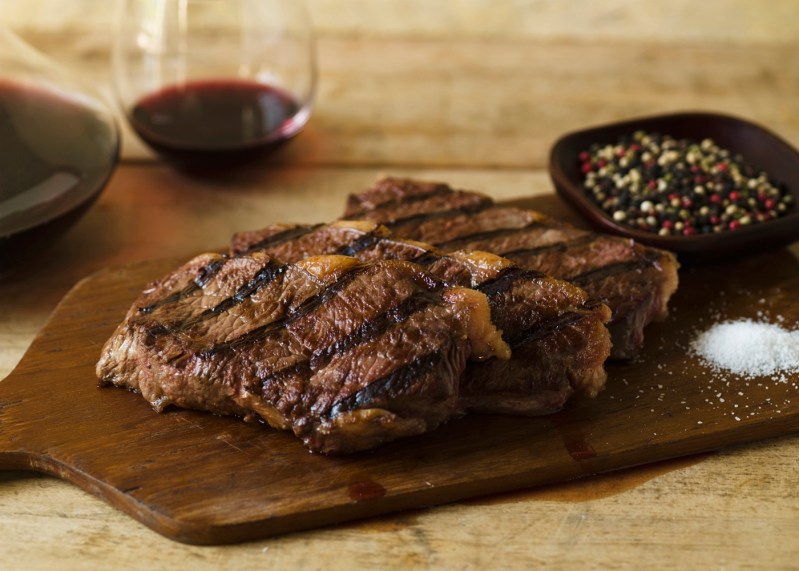 When the word "brine" comes to mind, you may imagine yourself the night before Thanksgiving, wrestling a 19-pound turkey, trying to fit the thing into a container large enough to hold it and the salty water bath you're submerging it into. It isn't always the most fun activity, sometimes resulting in slippery poultry skidding across the kitchen floor and spewing curse words that make your visiting pearl-clutching mother-in-law blush. Thankfully, today, we're discussing dry brining, a much easier, much less stressful way to tenderize and flavor your proteins, and a new way to cook steak.
Essentially, dry brining is just a fancy culinary term for salting, then resting meat. And it's certainly not just for turkey. When you salt a piece of beef, pork, or poultry and allow that salt to penetrate the meat, you're creating flavor magic. When a piece of protein is seasoned with salt, it draws the juices from the meat to the surface. After a few minutes, that juice will break down the salt, which creates a concentrated dry brine. When left to rest in this way, meat becomes far more flavorful and tender than if you'd merely seasoned the meat right before cooking.
Furthermore, everything you dry brine, from steak and chicken breasts to pork chops, will have a far more even, beautifully golden, crispy crust. This is because the moisture that draws back into the meat after salting creates a much drier surface. And a dry surface is a deliciously golden one when cooked.
The recipe below is a beautifully simple one from Omaha Steaks, walking you through how to dry brine a steak, but this method to make steak will work on just about any protein you can think of, so get creative! And maybe next Thanksgiving, skip the water bath.
Dry-brined New York strip recipe
(From Omaha Steaks)
Omaha Steaks deliciously pairs these New York strips with grilled brown butter balsamic onions, which is exquisite. Enjoy these dry-brined steaks by themselves and/or with your beloved side dishes.
Ingredients:
4

11-ounce boneless New York strip steaks

4 tablespoons of kosher salt
1 tablespoon of coarse ground pepper
Method:
In a small dish, combine salt and pepper.

With the salt and pepper, season the steaks generously on all sides.

Place the steaks on an elevated rack on a baking sheet and refrigerate them for at least 1 hour — overnight is best.

Preheat the grill.

Place your steaks on the grill and cook on high heat until they're 5 degrees from desired cooked temperature.

Remove them from the grill and let them rest for 5 to 10 minutes.
Editors' Recommendations