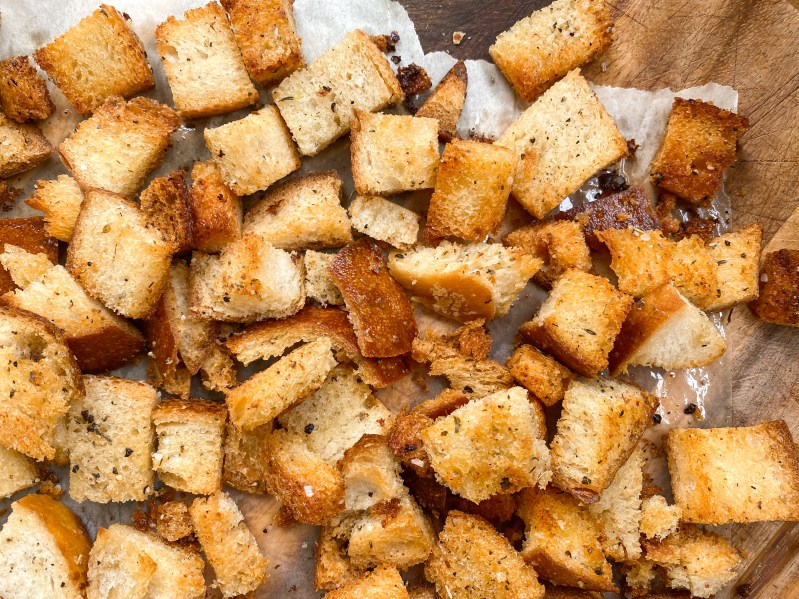 If we're honest, croutons are the best part of a salad. The crispy, buttery, herby, carby crunch is, quite frankly, the only thing that can sometimes get us through an otherwise humdrum salad. And then, of course, there's the magic spell croutons can cast over soups, taking a boring bisque to all new levels and adding a satisfying bite with that beloved crunchy texture. Yes, croutons are wonderful for the added character they provide to just about any "healthy" meal. They're our tasty little life rafts in a boring sea of healthy foods, and we are grateful. And because these beautiful little cubes do so much for our dishes, both lackluster and magnificent, we owe it to them to treat them well. Not with the store-bought foil packets found next to the candied pecans on sad little grocery store displays, but with homemade love and care.
Homemade croutons are almost embarrassingly simple to make. Not only that, but they're a great way to use up any extra bread you have lying around that may have gone a bit stale. Instead of throwing that loaf away, cut it up, toss it with a little oil and herbs, bake, and voila – homemade croutons. It really is that simple, and once you make these crunchy cuties at home, you'll never go back to buying the packaged version.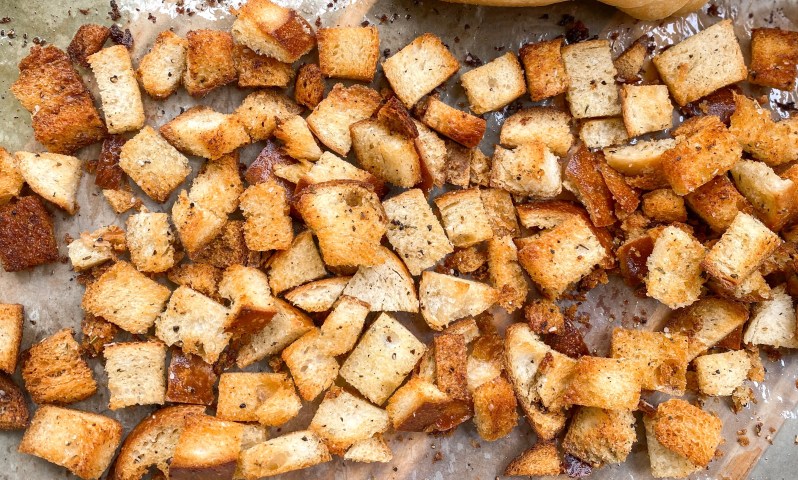 Homemade croutons recipe
Ingredients:
1

loaf bakery Sourdough bread

4 tablespoons olive oil
3 tablespoons butter, melted
1 teaspoon garlic powder
1 1/2 teaspoon Italian seasoning
Kosher salt and pepper to taste
Method:
Preheat oven to 400F. Cover a large baking sheet with parchment paper and set aside.

Cut the sourdough into 1-inch cubes and place in a large bowl.

Over the sourdough pieces, pour oil, butter, and seasonings. Toss all of the ingredients together, being sure to coat each piece of bread thoroughly.

Pour bread pieces onto the prepared baking sheet, spreading into a single layer.
Bake 12-15 minutes, tossing every 3-5 minutes, until golden brown and crisp all the way through.
Homemade croutons tips and tricks
This sourdough crouton recipe is perfect for just about anything, but feel free to mix up your bread choices. French bread, Italian loaves, focaccia, and even leftover sandwich bread all make great croutons with varying textures. One of our favorites is cornbread.
If you're making croutons for a specific dish, such as a creamy soup, it's a great idea to use complementary flavors in your crouton spices. Italian seasoning is pretty versatile, but any combination of herbs and spices you love will work well. It's fun to add some heat with cayenne if you want to add a kick to your dish. You can even add warmth to fall or winter dishes with spices like cinnamon and nutmeg.
Store-bought croutons are generally crunchy all the way through, and they're delicious this way. But you can bake your homemade croutons a minute or two less if you like a little chew in the center. We like to cook them a little longer if they're going into soup and a little bit less if they'll be in a salad.
Editors' Recommendations