There's a common conception that combining alcoholic drink styles is a bad idea. There's even a rhyme about it, one I can never quite get straight, but am pretty sure goes like this: "Liquor then beer, never fear. Beer then liquor, never sicker."
For many, the concept of "sicker" is enough to stay away from mixing your drinks all together. But for those a bit more adventurous, Highland Park Scotch Whisky and Sixpoint Brewery have just the drinks for you.
Pairing beer, wine or other alcohol with food is nothing new and the last few years have seen a growing trend in the world of beer cocktails, where beer is used as the base in a more exotic mixed drink. It's within that context that Highland Park, a Scottish distillery with more than 200 years of experience, and Sixpoint Brewery, one of New York's most creative breweries, came together to design two beers that complement two of Highland Park's Scotch Whiskys.
Rune, a golden oat ale with honey malts is designed to pair with Highland Park 12 Year Old Scotch. Sköll, a dark beer imbued with chocolate and coffee flavors, is crafted for Highland Park Dark Origins.
I sat down for a tasting with three Savannah, Georgia based craft beer aficionados to get their opinions on the collaboration.
Corbin Parker is the owner of Bowtie Barbecue, a restaurant focused on upscale takes on classic barbecue recipes ,which boasts an impressive craft beer and whisky selection. David Barker is the proprietor of Hops & Barley, a craft-centric bottle shop in historic downtown and Raymond Gaddy is a beer columnist for Connect Savannah, SAVCraftBeer.com, and Brew / Drink / Run.
Rune with Highland Park 12 Year Old
Parker: I tried the whisky first and that flavor had taken over my mouth. Then, I tried the beer and the Scotch unlocked lots of different qualities in the beer. Some very nice fruity flavors came out. The oat is present in the finish that combines well with the peated qualities in the Scotch.
Gaddy: I think the Scotch complements the beer very well. At first I thought the beer's flavors were muted, but after a few sips of the Scotch, some citrus, and tropical fruits came out and the beer really impressed me.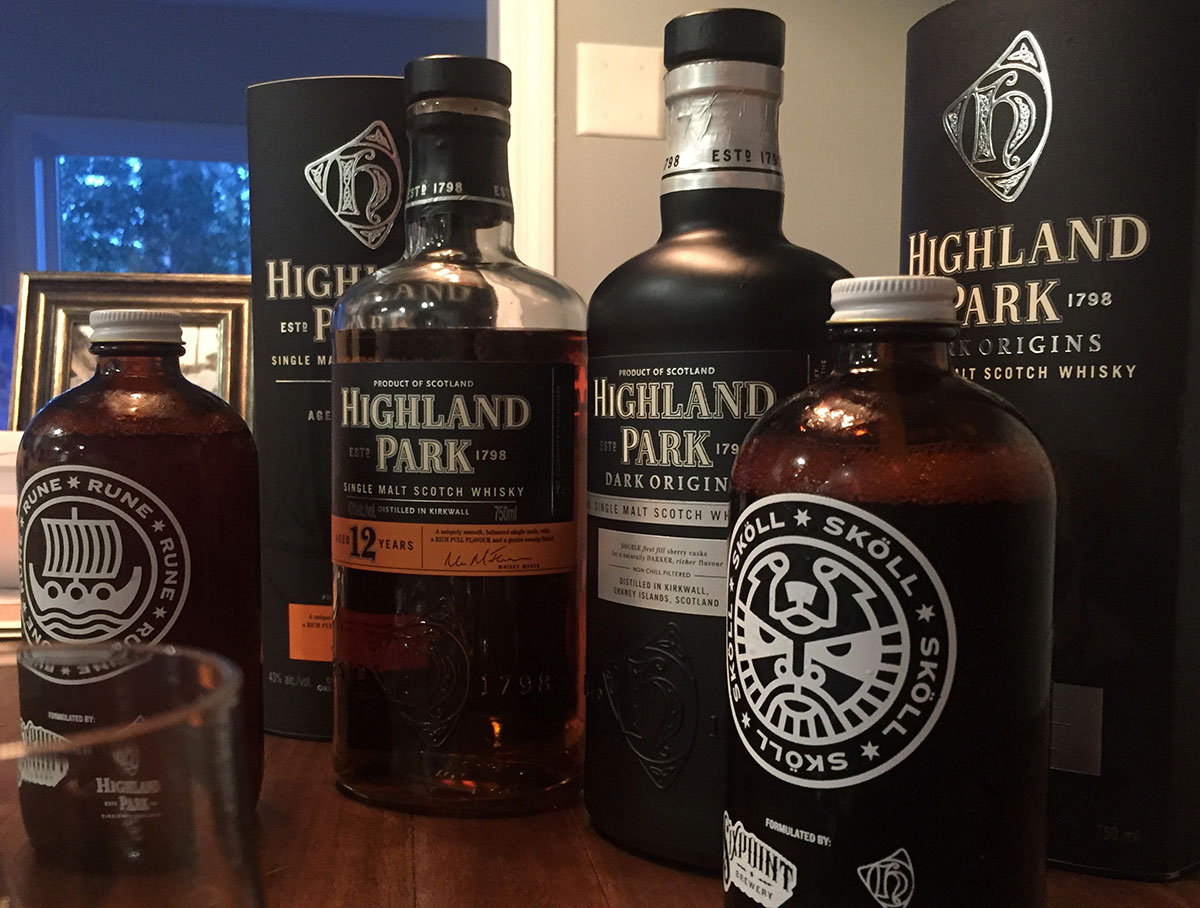 Sköll with Dark Origins
Gaddy: This whisky is really good. It's subtle and airy with a good burn to it. The beer has some woody and smoky flavors. It's not as flavorful as Rune, instead really dry and earthy. This time, the beer complements the Scotch for me, making it sweeter and richer.
Barker: The beer tastes like a thin porter with a little roast. I like this pairing because it's almost an opposites-attract type of situation. The Scotch has a big bite, but the beer is something you can drink all day.
Parker: The Scotch has some nice spiciness that the beer immediately put out, which made it refreshing. By itself the Scotch has an incredibly long burn.
Final thoughts
Barker: It's interesting because when I think of Scotch, I think of a leather bound chair, smoking a cigar, and being wealthy. It's an interesting concept to pair with beer, something I associate with being more laid back and social. It's definitely novel to combine them.
Parker: These are both high end breweries and distilleries and I think that this is very special. I'd like to see more of this sort of thing on a grander scale.
To taste these combinations for yourself, find Rune and Sköll in select New York bars for a very limited time. Follow @HighlandParkUS on Facebook, Twitter and Instagram for more information.
Editors' Recommendations