As we move deeper into the fall season, inching ever closer to the holidays, the pumpkin frenzy must make room for another flavor: the warm, spicy notes of gingerbread. Right on time, Virginia-based Hardywood Park Craft Brewery is releasing its highly acclaimed Gingerbread Stout (GBS). This year, the fun gets even bigger with a total of eight variants of GBS available through retail (with a few exclusives for sale only at its Richmond brewery).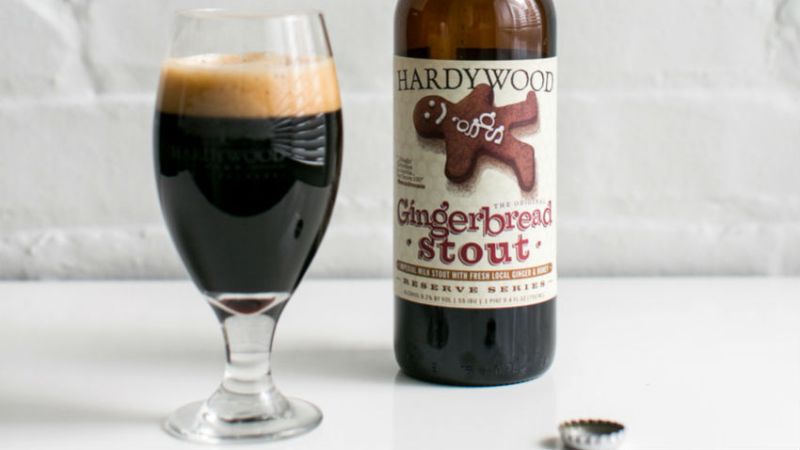 Gingerbread Stout
The original imperial milk stout measures 9.2 percent ABV and is brewed with vanilla beans, cinnamon, baby ginger from Casselmonte Farm, and wildflower honey from Bearer Farms. This commitment to supporting local providers is key to Hardywood's "brew with a purpose" mantra. Six years after its initial launch, fans still clamor for this beer all year long.
Bourbon Barrel GBS
After 12 weeks aging in bourbon barrels, this is the perfect winter warmer. Look for enhanced notes of vanilla and a sweet, clean alcohol sting.
Rum Barrel GBS (brewery only)
Three months spent in Caribbean dark rum barrels smooths out all the edges on this burly sipper.
Apple Brandy Barrel GBS (brewery only)
This variant of Gingerbread Stout is aged with cinnamon-kissed oak staves from apple brandy barrels, adding to the seasonal spice.
Christmas Morning
Another returning fan favorite, Christmas Morning sees the Gingerbread Stout conditioned with locally roasted Mexican Chiapas coffee beans from Black Hand Coffee Co.
Rye Whiskey Barrel GBS (brewery only)
This variant is released in 2017. The GBS is aged in A. Smith Bowman Distillery rye whiskey barrels.
Kentucky Christmas Morning
The previously mentioned delicious Christmas Morning is aged in bourbon barrels — sufficiently amazing.
Double Barrel BBS (brewery only)
Double Barrel GBS is aged for four months in Caribbean dark rum barrels, then transferred into bourbon barrels and aged for another four months. Expect a bold, complex beer ideal for sharing.
Join the brewery's Family Tree beer club to get a head start on next year's small batch releases and good luck hunting this year's bottles individually.
Editors' Recommendations