What happens when a former research and development brewer from Samuel Adams in Boston moves to Portland and joins a small batch brewery working out of an allegedly haunted historic hotel with ties to kidnapping and subterranean tunnels?
Some funky, unique, and altogether surprisingly palatable beer.
Last year, Andrew Lamonte, the lead brewer for Portland's Old Town Brewing, took some time out of his regular beer-making schedule to brew up an exclusive single batch beer that became the talk of 2015's Oregon Brewer's Festival. Old Town Brewing's 1-Up Mushroom Ale took social media by storm, with most BrewFest participants commenting on the beer's similarity in taste to, of all things, maple syrup. Lamont describes the reception to his 1-Up Mushroom Ale as, "Polarizing. Many people either liked it or they didn't. There were a few in the middle who didn't know. But that beer was really unique because we used candy cap mushrooms. They're not mushrooms you would normally think of on a pizza. It's not a Chanterelle or anything like that. These are more of a dessert mushroom. They smell different than the character they put in the beer. They smell a little like soy, but when you taste them and have them in food or drink, they taste like maple syrup."
Adam Milne, owner of Old Town Brewing went further, "Maple syrup and pancakes. We wanted to do a beer we knew would be polarizing because a lot of people don't like mushrooms in general. But we wanted to put this out there and let beer drinkers know that some mushrooms are delicious and that it can work. We're actually just beginning the bottling process for the 1-Up Mushroom Ale—a year later—because there's been such demand. It's going to be a premium product, distributed commercially."
Following the frenzy surrounding last year's Festival-Beer, Lamonte and Milne are back at it again with a new brew just as daring and adventurous as its predecessor—this year's Old Town Brewing 2016 Oregon Brewer's Festival festival-beer, Kentucky Refresh-Mint.
"The inspiration for this beer was a mint julep," explains Lamonte, "I like mint juleps; I find them to be delicious. So I had never had a beer made like a mint julep—I've had Mojito beers and other kinds of stuff like that, but never a mint julep. So we ended up brewing a relatively light-ish base, going after the kolsch style a little bit, but with a different malt of course."
To that light base, Lamonte added nine pounds of roughly chopped locally sourced mint and uncountable quantities of bourbon barrel wood chips, which flavored all fourteen barrels of this small-batch beer. As Milne noted, "We did trials before hand. The mint was so powerful we scaled it way down and dialed up the wood. That's what [Lamonte] is so good at–developing a balanced tasting beer."
But, boy is this beer minty! Before you write this draft off forever, however, know that the light notes of the mint are balanced by the smoky notes of the bourbon wood chips, leading to a, dare we say, refreshing and infinitely drinkable summer brew that will remind you of the Kentucky Derby.
If you're currently in Portland, be sure to stop by the Oregon Brewer's Festival from July 27th through the 31st.
If you aren't able to snag a glass of Old Town's Kentucky Refresh-Mint at the festival, head on down to their brick and mortar location and give their new tipple a try. While there, ask about the Shanghai Tunnels in the basement, where unsuspecting late 19th-century sailors were allegedly kidnapped from saloons and forced by violence or intimidation into sailing slavery. Also, check out the small back room where you'll find a brick carved with the name of Old Town Brewing's oldest tenant, a ghost named Nina, who can sometimes still be seen roaming the halls to this day.
Also on Tap at Old Town Brewing
Shanghai'd IPA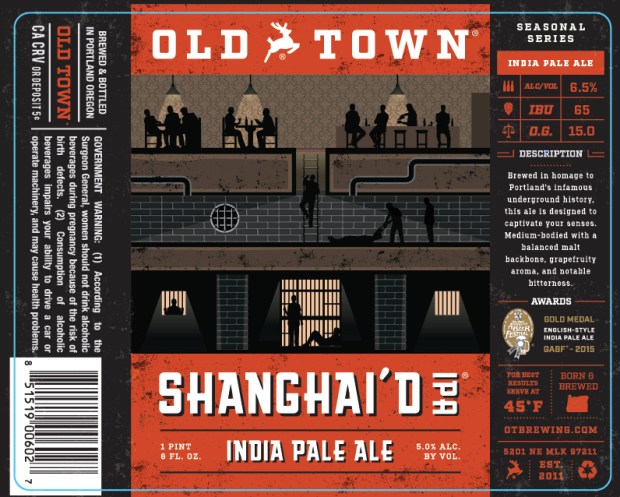 This Gold Medalist from the Great American Beer Festival 2015, Old Town Brewing's Shanhai'd IPA was named after the alleged Shanghai tunnels located below the brewery's Old Town Location. With a seriously hoppy smell and a surprisingly mild taste, this IPA is accented with a grapefruity-citrus high-notes and scores a 65 on the bitterness scale. With 6.5% alcohol, Old Town Brewing's flagship IPA goes great with a medium-rare steak and a handful of frites.
Sun Dazed Kolsch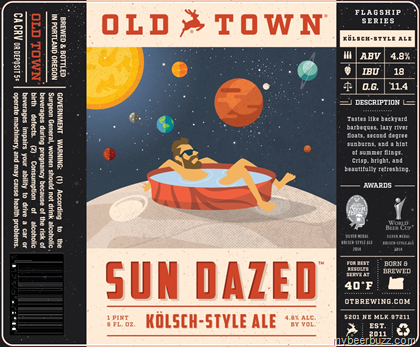 Old Town Brewing's Sun Dazed Kolsch is available year round in 22 oz bottles, even though the look, flavor, and feel of this beer screams summer. From the kiddie-pool-lounging man on the label to the crisp, light, lingering taste, Old Town's Sun Dazed Kolsch is the perfect beer for a backyard BBQ.
Beer Label Image Credit: mybeerbuzz.com