Feasting is our column dedicated to cooking, grilling, eating and discovering what's on the menu across America and the world.
There are hundreds of cooking shows out there, from the traditional to those that go a little out of the box. And though BBQ is the subject of many, there was never a program that focused solely on smoking. Until now, that is, as Project Smoke just premiered July 4th weekend on PBS.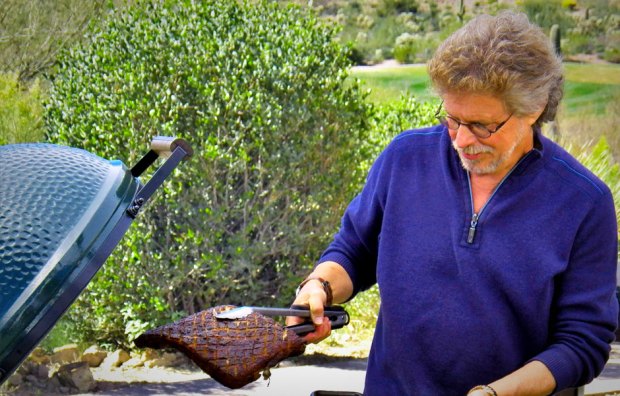 Hosted by Steven Raichlen – a five-time James Beard Award-winner, author of the internationally best-selling Barbecue Bible cookbook series and the man credited for reinventing modern BBQ – the 13-week series focuses on both traditional and cutting-edge smoking techniques with episodes on everything from cold smoking to using wood, spices, herbs and even hay.
"Smoking is the new grilling," Raichlen says. "Project Smoke focuses on the iconic smoked foods, such as Texas brisket, Carolina pulled pork and Scandinavian smoked salmon, plus dishes you would never dream you could smoke, from cocktails to dessert."
Related: Feasting: BBQ With Franklin Premieres on PBS
Each 30-minute episode is sure to make your mouth water as you learn to smoke everything from prime rib, Jamaican jerk chicken and homemade pastrami to smoky Manhattans and cheesecake. Set in Arizona's stunning Sonoran Desert, Raichlen has an awesome collection of smokers on deck so you can watch him work his magic on everything from an upright barrel smoker to a wood-burning grill. And with an emphasis on grass-fed beef, heritage pork, wild seafood and organic poultry and produce, where their food comes from matters just as much as how they cook it, which we can always stand behind.
So what are some of the amazing recipes you'll learn watching Project Smoke? The first episode covers Smoking 101 with essential techniques to make things like smoke-roasted chicken with horseradish dip and smoked baby back ribs with prickly pear barbecue sauce. Episode 2 focuses entirely on shoulders and bellies from house-cured pastrami to barbecued lamb shoulder. And if seafood is more your style, the Surf Meets Turf episode features dishes like smoked shrimp cocktail with chipotle orange cocktail sauce and smoked planked trout with caper dill sauce.
Hungry yet? To find out when the series airs in your area, check listings on pbs.org.
Food photos by Richard Dallett