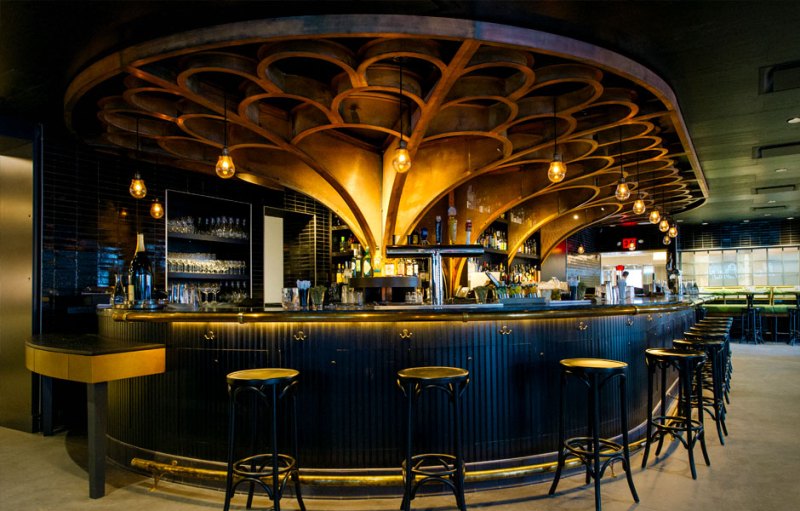 One of the perks of living in a big city is being able to visit whatever country you want anytime you please. Not by traveling far, but simply by visiting the Little Italy or Chinatown of a metropolis, you can get an instant taste of that country's culture. And we think the absolute best way to learn about someone's traditions and way of life is through food. So when Le District, a 30,000 square foot French-inspired marketplace, opened in NYC's Brookfield Place, we had to pay a visit to check out all the goodies they have in store.
Divided into four different districts – Market, Garden, Cafe and Restaurant – the space is set up like a true French marketplace with individual shops specializing in all your culinary needs. There's even a local economy between them. Chefs from the restaurants will actually step into the marketplace to buy ingredients for the day, like loaves of bread from the bakery and fish from the poissonnerie.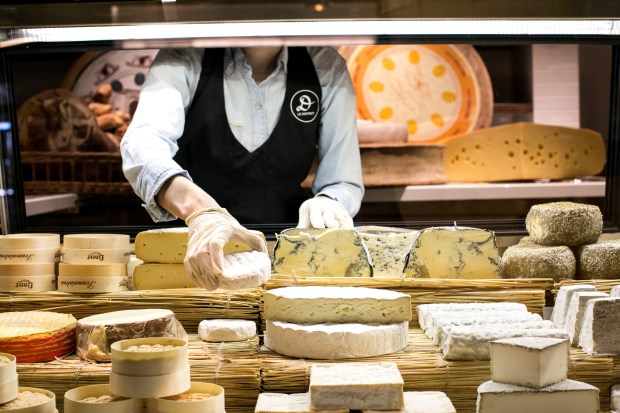 "There is a huge advantage to having the marketplace within Le District because as chefs, we have limitless resources and inspiration," Jordi Valles, Executive Culinary Director of Le District, said. "The specials in Beaubourg are always changing based off of what we have available in the market; if the Poissonnerie has a beautiful cut of fish available, then we can decide to make it the special that night."
The Restaurant District offers indoor and outdoor seating from both Beaubourg Brasserie, a full-service eatery with casual and classic French fare from Chef Nicolas Abello, and the Bar, serving up fine wines, Belgian beers and craft cocktails. We suggest ordering from the raw bar and dining al fresco to take in the gorgeous harbor view on their massive terrace. Next month, stop back in when the intimate, fine dining chef's table concept L'Appart opens its doors.
If you have a sweet tooth, the Cafe District is a dream. The Patisserie cooks up Belgian waffles and sweet and savory crepes made to order as well as traditional French pastries and cakes. You can pick up a cappuccino or espresso to sip while you shop for candies, biscuits and chocolates from La Cure Gourmande, the first American outpost of this famous French confectionary.
Related: Feasting: Matt Moore Teaches How to Cook Like a Southern Gentleman
What might be our favorite section is the Market District. Here you'll find the Boulangerie with all types of fresh baked breads; Fromagerie for cheese; Charcuterie stocked with all the cured meats you could want; Rotisserie where you can take home a freshly roasted whole chicken; the Boucherie which offers either delicious cuts of meats to take home or the option to choose your piece and have them cook it right there in front of you; and the Poissonnerie with fresh whole fishes and shellfish. Have a seat at La Comptoir wine bar to sip on a variety of vintages on a rotating menu from the best French wine regions.
Le District's newest addition, the Garden District, is a home cook's paradise. The shelves are stocked with specialty goods and European imports that are difficult to find in the states, and its selection of Belgian beers is one of the best we've seen. It's a great place to grab fresh fruit and vegetables on your way home, and the Delice du Chef prepared food bar has a wonderful selection of homemade French favorites. Every day at 4pm, the salad bar transforms into a chocolate mousse bar with eight different varieties and an array of specialty toppings.
To learn more, visit Le District at ledistrict.com.
Photo credits: Daniel Krieger and Jeff Thibodeau