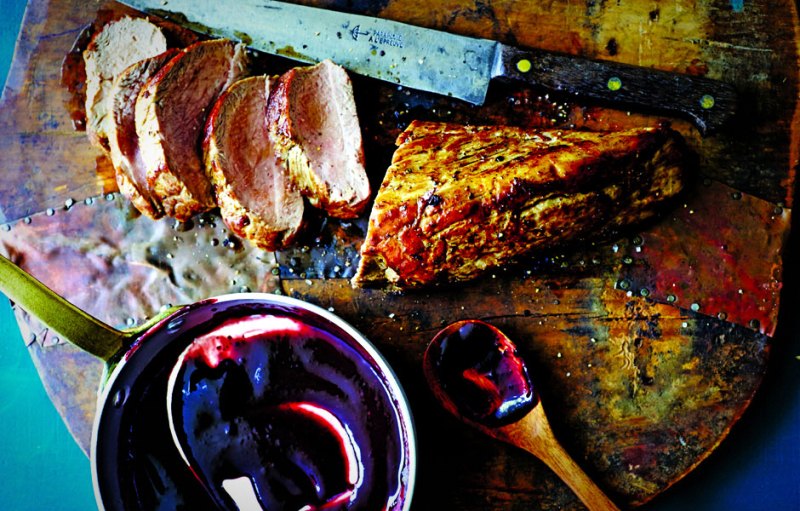 Feasting is our column dedicated to cooking, grilling, eating and discovering what's on the menu across America and the world.
There are certain values a modern Southern gentleman holds near and dear to his heart. There are chivalry, intellectual curiosity, honor and respect for tradition, just new name a few. But perhaps the single most important thing a southern gentleman is known for is his hospitality. When presented with company he should know how to fix a proper drink and make a delicious meal while still being available to entertain his guests, whether it's a backyard full of family or a one-on-one date with his girl. But he doesn't have to figure out everything himself because Southern Living magazine teamed with author and self-taught chef Matt Moore for one of our favorite cookbooks. A Southern Gentleman's Kitchen: Adventures in Cooking, Eating and Living in the New South is a look into the life lessons, traditions and recipes that helped shape today's modern Southern man.
After the success of his self-published debut cookbook Have Her Over for Dinner, Matt wanted to shift his focus on a subject he's been passionate about for quite some time: a culinary journey of discovery into the soul of the new Southern gentleman. "Together we'll pay homage to a culture filled with tradition and folklore while cooking up some mighty tasty and delectable recipes you will be proud to serve to your family and friends," he says in the intro. "Together we shall live, eat, cook, drink and learn!"
A Southern Gentleman's Kitchen isn't just a book of recipes. Matt dives into the stories and history that tell tales about the food, like making pasta with Nashville's Tom Lazzaroli or perfecting the salmon croquettes his great-grandmother Addie used to cook for this father. Along the way are gent's tips that will guide you on substitutions, shortcuts and what to do with things like leftover duck fat. Matt also highlights the artisans, farmers, family members, musicians and artists who inspire him the most in "Walking the Walk" segments throughout the book. There's even a section in the back with all the necessary advice on stocking your pantry and selecting the proper gear to get the most out of your time in the kitchen.
Related: BBQ with Franklin premieres on PBS
Now on to the really good stuff. A Southern Gentleman's Kitchen is divided into six chapters with more than 150 essentials recipes. If you're a seasoned cook, you'll be familiar with the ingredients and techniques Matt uses throughout. But even if you're a beginner, most of the recipes are easy to intermediate, making this book a great learning tool as well. "To Start + To Share" is a collection of dishes every guy should have up his sleeve for entertaining, such as Stuffed Grape Leaves and Crab Cakes with Caper Rémoulade. The "Greens + Soups + Gumbos" chapter has great ways to start your meal and comforting main dishes like a Chopped Seafood Cobb Salad and Callie's White Bean Chicken Chili. Matt's "Main Attractions" includes delicious dishes like Pan-Seared Duck Breast with Southern Fried Rice and Lowcountry Shrimp with Geechie Boy Grits which perfectly pair with his "Tried + True Sides" like Sweet Potato Smash and Sweet Peas with Bacon and Mascarpone. Save room for a "Sweet + Simple" dessert like Fresh Peach and Blueberry Cobbler. And because no meal would be complete without libations, the "Cocktails + Curiosities" section has everything from Cajun Vodka Lemonade to the classic NOLA Sazerac.
Whether you live in the south or just have love for its rich culture and traditions, this cookbook is a must-have on every man's shelf. The recipes are hearty and straightforward, and it's full of tips and tricks to actually help you become a better cook. If you want to learn more and give the book a spin in your own kitchen, grab it on amazon.com.
Editors' Recommendations