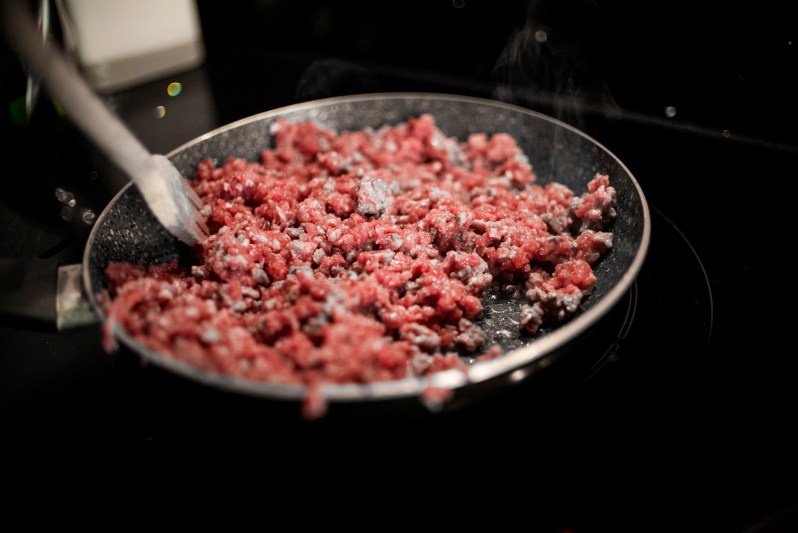 Ground beef wins the award for being one of the most convenient and versatile meats you can buy. From Taco Tuesday to Thrifty Thursday, ground beef can be transformed into a fast and fun dinner any day of the week. For starters, it's super easy to make, perfect for meal prep, and easy on the wallet. Whether you're flipping some juicy burgers or serving up a slice of mom's meatloaf, the options for these bits of beef are endless.
Related Reading
Basic Ground Beef Recipe
Ground beef is so easy to cook and perfect for those days when you're pinched for time. For novice home chefs, this simple ingredient is also the perfect starting place to learn your way around the kitchen.
Once cooked, you can keep your ground beef refrigerated for up to a week or keep it frozen for three months. When you're ready to use it, you can add more seasonings to create flavorful recipes in half the time. It doesn't get any more convenient than that!
Method
Heat the pan and coat it with oil. The amount of oil needed depends on the fat percentage of your ground beef. Lean meat requires more oil, but fattier beef doesn't need any oil if you use a nonstick skillet.
Once the pan is hot, add the ground beef and use a spatula to break up your meat into large pieces. Once the beef starts looking brown, break it into smaller pieces. Season it with salt and your favorite spices. Continue to stir and crumble the beef until it's evenly browned and fully cooked.
How to Make Ground Beef Tacos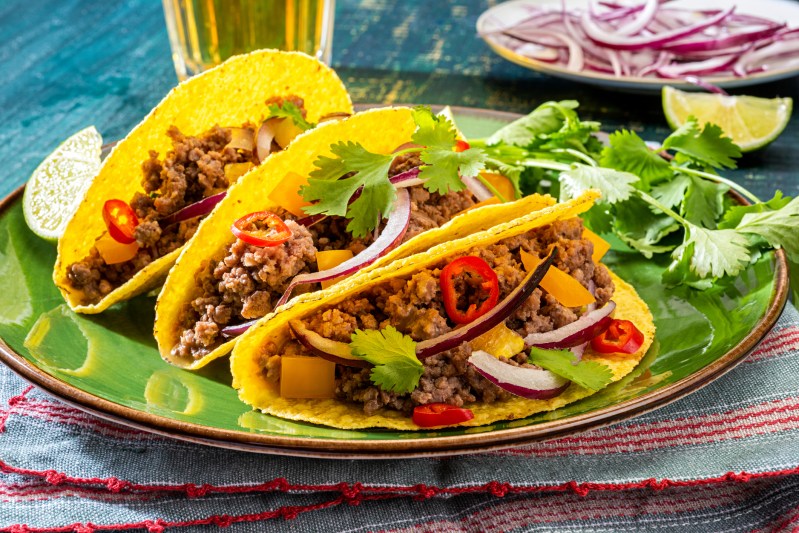 Cooked ground beef makes for an easy Mexican feast that you'll love. This recipe is so convenient and flavorful, it'll become your go-to dinner every time you have people over. But be sure to make plenty because they'll probably want seconds, por favor.
Method
Heat the pan and add your pre-cooked ground beef with a bit of water to rehydrate it. Stir in your favorite taco seasoning mix. You can also make your own taco mix using chili powder, paprika, onion powder, garlic powder, oregano, and cumin.
Simmer until the water reduces and the beef absorbs the flavors of the seasoning. Spoon the warm meat into taco shells. Garnish with sour cream, Pico de Gallo, and Mexican cheese.
Tip: Living la vida paleo? Substitute your taco shells for lettuce leaves and you've got yourself a low-carb taco that's just as delish.
How to Make Spaghetti with Ground Beef
A traditional Italian supper satisfies the soul any day of the week. With your pre-cooked ground beef, pasta, and marinara sauce you'll whip up everyone's favorite spaghetti in no time!
Method
Cook spaghetti according to the package instructions. Drain, drizzle with olive oil, and set aside.
Combine ground beef, diced onion, and chopped garlic in a large saucepan. Stir in marinara sauce and add oregano, basil, salt, and pepper to taste. Simmer the sauce, stirring occasionally. Then, serve your pasta with the sauce and sprinkle it with parmesan cheese and parsley to taste.
Tip: If you have leftover spaghetti sauce with ground beef, use it to make homemade lasagna and you'll have another delizioso midweek dinner.
How to Make Crock Pot Chili
A heartwarming chili doesn't need a crockpot or hours of slow cooking to fill your mouth with those rich flavors everyone loves. With cooked ground beef and fresh ingredients, chili is easy to make and just as appetizing.
Method
Heat oil in a saucepan or pot and cook chopped onion and garlic until soft. Add cooked ground beef and a can of crushed tomatoes. Stir in a pack of chili seasoning, a can of beans, and a cup of lager beer. Simmer for 25-30 minutes until the flavors integrate. Once ready, serve with nachos, sour cream, and shredded cheese.
Tip: This chili is so delicious, you probably won't have leftovers. But if you do, you can turn them into sloppy joes for a quick dinner that makes the most of the food you already have in the fridge.
Knowing how long to cook ground beef and how to repurpose it is key to make the most of this versatile meat. It's the healthy protein that nourishes the body and satisfies your appetite no matter which recipe you choose to make.
How do you make ground beef tender?
For juicy ground beef, start by choosing meat with higher fat content. This gives it a better flavor and keeps it from drying up while you cook. Covering the pan also helps retain some of the moisture in your meat.
Adding some water or tomato juice to extra-lean ground beef helps your meat stay tender and avoid clumping. Once the meat is cooked, you can always drain any excess liquids.
Do you need to add oil to ground beef?
If you're using extra-lean ground beef, you should add oil to avoid sticking. If your ground beef's fat percentage is 15% or higher, you can skip the oil and cook it in a nonstick pan. As you cook the meat it'll release its natural fat, and this will keep it from sticking to your pan.
What spices go well with ground beef?
Spices and herbs are necessary to bring out the flavors of ground beef. Spice it up with popular seasonings like cumin, red pepper flakes, curry powder, mustard powder, oregano, rosemary, parsley, and chives.
Editors' Recommendations