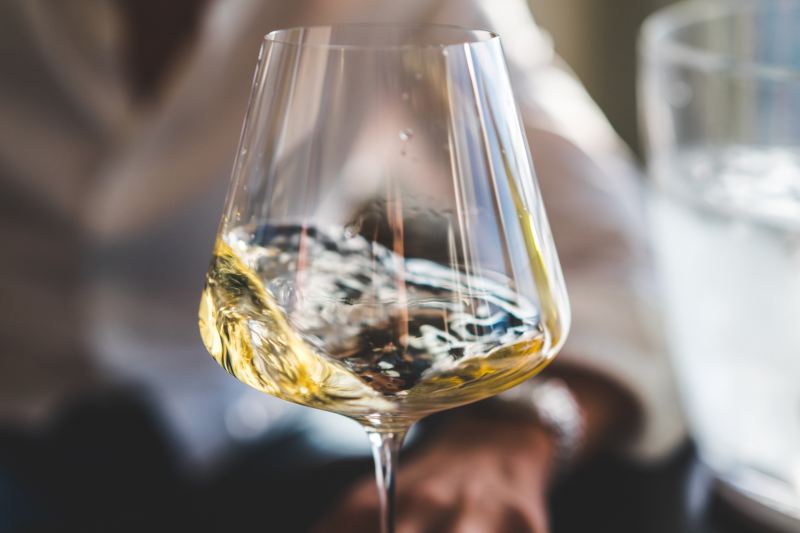 Like fashion or the roster of your fantasy football team, wine changes fast. One minute Red Mountain Merlot is having a minute and the next it's all about skin-fermented Pinot Gris. With so many places on the wine map to choose from — not to mention the influx of somm culture and wine tastemakers appearing from just about everywhere — it can be hard to keep up.
That's where we come in. When it comes to wine, we have friends in knowledgeable places, from sommelier shop owners to experts running restaurant floors. With fall coming (and another wine harvest with it), we decided to reach out to a few experts and get the skinny on upcoming wine trends to look out for. Here's what they offered.

Cleaner orange wines
The somm at Galit in Chicago, Scott Stroemer has a high wine IQ, able to spot a trend before it becomes one. He thinks cleaner orange wines are on the horizon. We're poised to see less funky orange wines and more elegant ones that have undergone malolactic (or secondary) fermentation. In particular, he notes releases like the Of Service Pinot Gris from the Willamette Valley and the Phoenix natural wine from Mersel in Lebanon.

Indigenous and Middle Eastern varietals
Indigenous varietals have taken off as of late all over the globe. It's part of a large movement looking to maximize terroir and revive grapes that thrive in their native homes. Stroemer is also seeing interest in native Middle Eastern wines and putting more on his restaurant's wine list. He says diners are genuinely curious about these wines and the related history of varietals like Merwah, Obaideh, Marwai, Dabouki, Hamdani, Karasakiz, Öküzgözü, Xynisteri, Mavro, Areni, and Voskehat.

Old, Old World wines
By old, we mean ancient. Stroemer predicts an increase in popularity related to wines of the ancient world such as Armenia, Turkey, Georgia. He says there are even winemakers working with fruit grown in Iran, but producing the wine elsewhere as it is illegal to do so within that country. Those who sip on wines from this part of the world are essentially enjoying the birthplace of wine, as some of the oldest winemaking artifacts have been unearthed here.

Hybrid American wines
Not every American region is blessed with a great grape-growing climate. Yet, there are wines being grown just about everywhere, including places with harsh winters. That's due largely to the hybrid wine, developed in the lab to withstand less than ideal conditions. Tons of research continues to go into the topic and growers in the Midwest especially are starting to dial-in their takes on grapes like Chardonel, Frontenac, and Marquette.

Better boxed wine
The boxed wine movement is arguably in its best form yet. Winemakers are taking it seriously and consumers are looking for larger quantities of wine at a reasonable rate, without the environmental hangups of glass production, cork, etc. We're already seeing great options, from the offerings of Juliet to the incredibly refreshing Picpoul from Big Naturals. Look for more in the near future.

Climate change and wine production
Sam Huecker is a somm and the manager of customer experience at SommSelect. He says climate change will shake up the game, altering the wine map and creating opportunities for new regions to experiment with grape-growing. "As a result, we may notice shifts in availability of our familiar wines, but we will also witness winemakers adapting to these circumstances by exploring new grape varieties and regions or trying new blends and wine-making techniques which may introduce exciting and unexpected options into our fall wine selections," he says.
He points to a wine from Eyrie Vineyards that shows just how quality vintners can adapt to these changing conditions. "Faced with a global pandemic, badly-timed June rains reducing yields by 60%, and catastrophic wildfires in the Cascades, these Willamette Valley producers rose to the occasion with an innovative solution," he says. "The sumptuously textured 'Trifolium' blend combines Pinot Noir, Pinot Meunier, and Trousseau to delicious effect, standing as a testament to winemakers' ability to turn adversity into a delightful and memorable wine."

Beaujolais
"With its light and fruity profile, Beaujolais is a classic that seamlessly bridges the transition from summer to autumn," Huecker says. "The wine's vibrant red fruit — usually close to wild berry and cherry — and subtle earthy undertones complement the flavors of fall cuisine, from roasted root vegetables to hearty stews and Thanksgiving feasts."
What does he suggest? This wine, which he says combines minerality with soft fruit. "The wine is extra pretty, loaded with aromas of wild strawberries, raspberries, rose petals, violets, cinnamon, clove, barely ripe plum, green peppercorn, and that distinct, granite-induced, rocky minerality," he says. "There's nostalgia for summer flavors with the confidence and depth to hold its own, offering a lighter pairing option for heavier fall dishes."

Dinner party favorites
The pandemic is mostly over and we're looking to congregate again, especially as things cool down and we gather indoors. "In a return to the basics, dinner parties are set to be a big trend this fall leading to an increase of drinkable yet intriguing wine," he says. "As passionate millennial wine drinkers are upgrading from grocery store basics we're seeing an increase in popularity around well-priced, unique bottles."
He points to an Austrian wine. "If you're looking the bottle that will hit the spot at the next dinner party you host at home, the Johann Donabaum 2020 Grüner Veltliner Federspiel from Wachau, Austria is a bright, tasty choice that pairs well with almost any meal — a hard find in the wine world," he says. "The nose is high-toned, classic, and precise with aromas of sliced green pear, creamed apple, lime zest, white flowers, a radish-like spice, watercress, parsley, and white pepper. It's easy to drink while maintaining an interesting and memorable complexity."
Don't let the wine content stop there. Check out our guide on how to order wine as well as our piece on wine tasting etiquette. And if you're looking for some to try, crack open The Manual Wine Awards.
Editors' Recommendations