Los Angeles has plenty of rooftop bars, but most don't have a giant neon "Jesus Saves" sign shining down on them, automatically downgrading the other options. Upstairs Bar at Ace Hotel Downtown Los Angeles offers an oasis of epically cool calm while still allowing you to bask in the glittering skyline.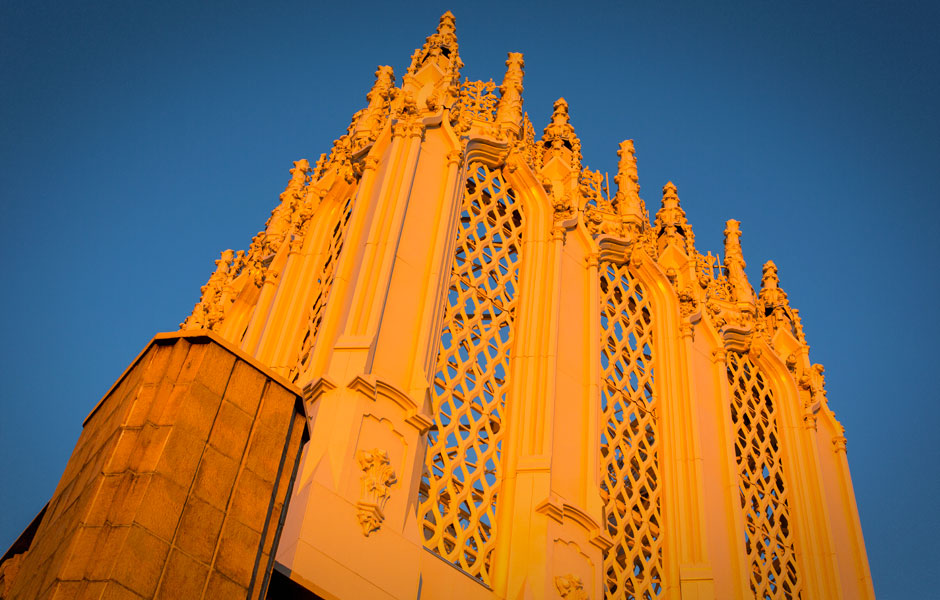 The building itself is worth the trip: built in 1927 as the theatre and offices for the newly created United Artists
(UA) company, formed by screen goddess Mary Pickford, Charlie Chaplin, Douglas Fairbanks, and D. W. Griffith, the guy known as "The Inventor of Hollywood." (When at the bar, please try to channel Griffith's ghost and ask for his opinion about all the remakes, specifically "Splash" starring Channing Tatum as a mermaid. That's a real remake that's happening). Pickford, a mogul in her day, was a big fan of Spanish Gothic, so the building reflects that: the massive tower– the centerpiece of the Upstairs Bar–looks like she pulled a Hearst and stole it from some Catalonian cathedral. The theatre downstairs, once used to screen UA movies, is a marvel, having been lovingly restored by Ace Hotel who rents it out for concerts, premiers, conferences, etc.– if you get a chance, attend something there. It's like being in Spanish Gothic church of entertainment.
Upstairs Bar has its own entrance, so no need to go through the lobby. You'll take an elevator up to the 14th floor rooftop, which at one point was the highest spot in LA. You're immediately welcomed in a cozy Moroccan-inspired nook, graphic tapestries hung overhead, and a wall of windows under the long booth, showcasing the skyline, but keeping out the noise. If you need a breeze, feel free to open a window.
Turn the corner into the open courtyard directly underneath the gothic tower. LA's skyline surrounds you on all sides. A roaring fireplace anchors the center of the room, along with a massive coral tree that makes the space feel either romantic or casual–whatever the moment demands. The seating is shockingly ample, leather, Equipale-style chairs, bench seating with pillows made of salvaged kilims, a kind of Turkish rug, and wooden tables and stools of pencil cedar made by renowned artist Alma Allen. The faint reddish glow comes from the massive "Jesus Saves" sign, which dates from when the theatre was used as a church.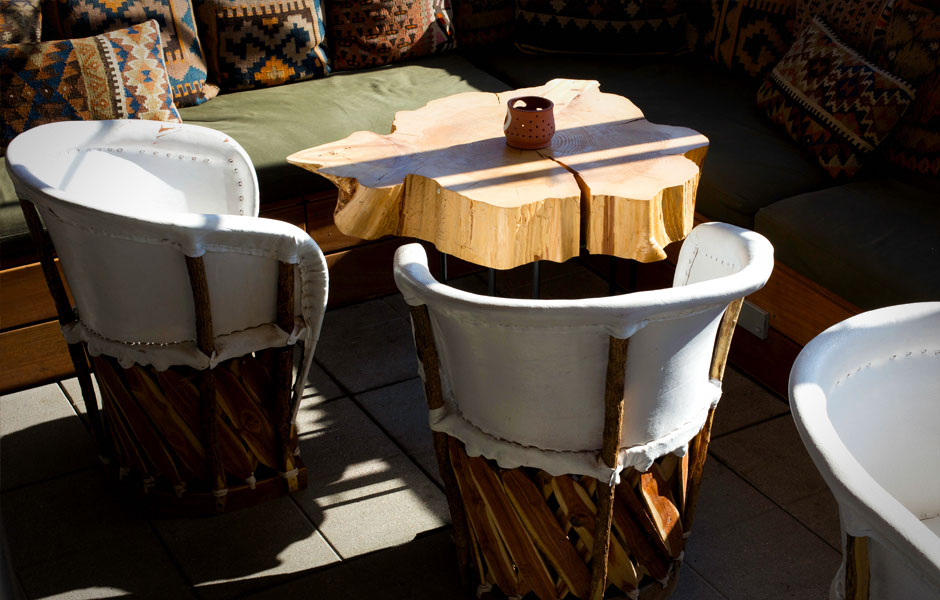 Walk through the "bunker-like bar" as Ace Hotel lovingly calls it, of concrete and theatrical lights sourced from the theatre downstairs and you'll find the glowing concrete rooftop pool. The view and the poolside lounges cannot be beat.
The food and drinks menu is courtesy of Jud Mongell, of Brooklyn's Five Leaves. This ain't your average bar food: the plates are relatively small, but some deliciously hint at the decor with Moroccan inspiration. You've got a classic lobster roll, a pretzel dog: bratwurst fennel kraut, mustard and pickled red onion smooshed into a pretzel bun; Yellowfin Tuna Tartare with harrisa, orange, avocado, and corn nuts; Tandoori lamb with cucumber riata, mint yogurt, and shallots on flatbread, hell even half a dozen oysters in a white balsamic
cucumber mignonette. You can't go wrong.
As for drinks, the menu is cleverly laid out like a metro map, with a key noting the flavors each drink offers: Fruity, Light & Refreshing, Boozy & Spirited, Herbaceous, Complex, or Tart & Sour. Never has ordering a cocktail been this fun or easy. Take their Little Tokyo, marked as Complex, Herbaceous, as well as Light & Refreshing. It's made of green tea vodka, plum wine, salted honey, Douglas Fir eau de vie, ponzu, cremant di limoux, and dried chili tincture. Or maybe you consider yourself Complex and Boozy & Spirited: order yourself the Covent Garden: vodka, Stumptown cold brew, Cynar, pineapple orgeat, and cacao bitters. You can order by the pitcher, for lack of a better word, by ordering from the "Transit Hub" section of the menu where each offering serves 6 to 8 people, or "straphangers" as Upstairs calls us. They've got a decent beer list with a lot of lesser-known breweries, but they're all can-served. Nothing on tap.
Now here's a pro tip that will save you a lot of time. There are servers! You won't know this because they wear plain clothes so they look just like other bar-goers. But if you sit down at a table, they'll magically appear. There is a service bar dedicated for the servers, so instead of waiting in line in the "bunker bar," which admittedly, even at quiet moments is quite slow, you can get much quicker service with a server.
Everyone from the very best of LA's tragically hip to business-folk to out-of-towners staying at the hotel can be found up there on any given night. It's a relaxed vibe, that creates the sense you're at a bar in Morocco, run by a Spanish artist, who lived in Los Angeles for a while.