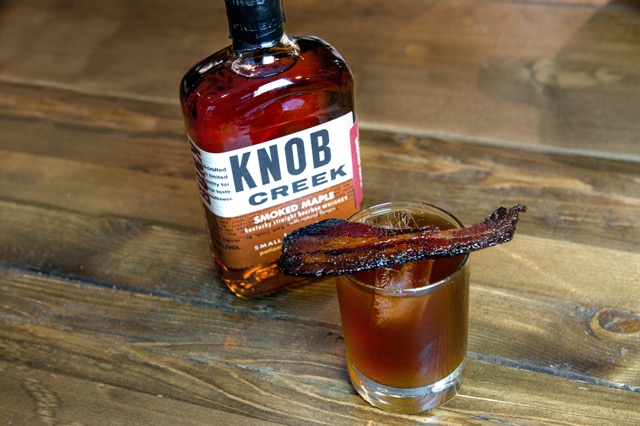 There are two things to know about September. First, It's Bourbon Heritage Month. If those words in that order doesn't have you running to the liquor store (because it should), then consider that it's that time of the year when the fashion-forward in the world decry that white is no longer, well, fashionable.
With these two things in mind, we've put together a list of 5 brown liquor-based drinks that will help you celebrate Bourbon Heritage Month in style while keeping the everyone from New York to LA enviable of the contents of your glass.
Related: Celebrate Bourbon Heritage Month with Russell's Reserve
Knob Creek® Sweet & Smoky Old Fashioned
(Recipe by Celebrity Chef Michael Symon)
1.5 oz. Knob Creek Smoked Maple Bourbon

1/2 tsp Raw sugar

.5 oz. Madeira

1/4 tsp Curry powder

3 dashes Chocolate bitters

Candied bacon for garnish
Method: Add sugar, curry powder and chocolate bitters to a rocks glass and muddle. Add all other ingredients, then add ice, stir and garnish with candied bacon.
The Anytimer
1.3 oz. Bulleit Bourbon

1 oz. Orange juice

1 oz. Lemon juice

.5 oz. Simple Syrup

.5 oz. amaretto
Method: Shake ingredients and strain into an ice filled tumbler. Garnish with an orange and cherry.
Grilled Peach Old Fashioned
2 oz. Reserva de la Familia

.75 oz. Carpano Antica

1 slice Fresh Yellow Peach

2 Italian Amarini Cherries (Luxardo)

2 cube Demerara Sugar

3 dashes House Citrus Bitters

1 slice Fresh Grilled Peach for garnish
Method: In a mixing glass, muddle peach, cherries, sugar and bitters. Add Reserva de la Familia and Carpano Antica and stir to combine. Strain over fresh ice in a rocks glass and garnish with a grilled peach slice.
And for those that want something with a little less frill, serving up Orphan Barrel Rhetoric 21 Year Old or The Annasach 25 Year Old are the way to go this season.